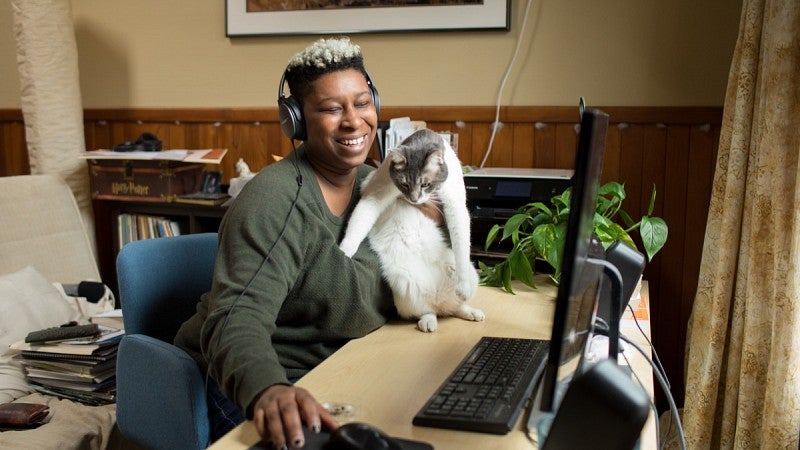 For most people, getting a master's degree is the next step in their desired career path. For Tiara Darnell '17 and '18, graduate education was a natural extension of her career.
While in the multimedia journalism master's program, Darnell created the podcast High, Good People as her MMJ terminal project to showcase skills she learned outside of the classroom.
She eventually submitted her podcast and application to Spotify's Sound Up Bootcamp, a podcast accelerator program for emerging women of color in audio. Out of 18,000 applications, Darnell earned one of ten coveted spots in the inaugural program.
After the bootcamp, she served as the editor for NATAL's podcast docuseries about the realities of having a baby while Black in the U.S. She currently works remotely in Buffalo, New York as an associate podcast producer at Spotify.
Why did you decide to attend the University of Oregon?
I didn't expect to stay as long as I did when I moved to Portland, but the city and Pacific Northwest excited me, so I decided to put my roots down here in Oregon for a while.
I'd been working the front desk at Oregon Public Broadcasting and realized I had so much more to offer than simply being a receptionist. I wanted to get a job in journalism, and I thought getting my master's degree in that field would help me stand out among the journalists I was supporting every day would also realize my talent and potential. The University of Oregon was the only graduate school in the area that had the program I was looking for, so that's where I applied, and I was offered a spot.
I learned a lot from my experiences at UO and OPB and ended up going in alternative directions and doing things I hadn't thought possible. I'm where I am today in part due to hard work and perseverance, but also in part due to a community of people who invested in me by sharing their time, expertise and friendship, and I'm very grateful.
How did you become interested in audio storytelling?
During one of my final terms in the multimedia journalism master's program, I took a class with visiting instructor Emily Harris, a senior reporter and producer at Reveal.
She encouraged me and my peers to do our terminal project in a medium we were uncomfortable with, and for me, that was audio. Throughout the process of putting together my first audio story, I realized I loved the medium; I got better at it the more I invested in my learning and professional development outside of the classroom. I eventually applied it to my podcast endeavors.
Audio was a natural fit for the way I creatively express myself and my interests. I was inspired by how visual audio storytelling is and the ways listening can stimulate wonder and imagination.
Why did you decide to pursue a master's degree in both strategic communication and multimedia journalism?
I saw the value of understanding branding, marketing, audience, stakeholder engagement, and developing content to breathe life into communications plans in a tangible way.
No one has ever completed both programs or attempted them simultaneously, so I saw an opening to be the first person and set a precedent for anyone who followed behind me in that way.
What was your reaction when you were one of ten women to be selected for Spotify's inaugural 'Sound Up' podcast bootcamp for women of color?
It's a funny story. I almost talked myself out of applying to the program so many times because I didn't think I would get it. The night the application was due—probably two hours before the deadline—I decided to apply.
I waited and waited and due to the huge volume of applications they received. They had to extend the deadline to review the applications. When I heard that, I said, "Oh wow, there's no way I'm going to get this."
When I initially heard from Spotify, I received a rejection email. I was like, "Alright, that happened." And, then five minutes later, I got another email from them saying, 'Congratulations, you were selected for the bootcamp!' It turns out they accidentally sent a blanket email to everyone that applied, including those that were accepted.
That moment was an emotional roller coaster.
Tell us about your job at Spotify?
I got hired by Spotify in August 2019. I actually turned down an offer to work as a producer on NPR's Fresh Air with Terry Gross.  I felt being able to work on a multitude of shows and topics, including my original ideas, would offer me more latitude in terms of creative growth and success.
It was the right decision: In addition to shaping and pitching my ideas, I'm working on We Said What We Said with Rickey Thompson and Denzel Deon, two best friend Gen Z social media influencers. I'm also working on a comedy podcast that will go live in spring. I can't say much about it right now, but let's just say it's something a lot of Portlanders will be able to relate to.
What advice do you have for people that struggle with imposter syndrome?
Imposter syndrome is rooted in fear, especially fear of failure. No one interesting has ever succeeded without failing, so those feelings are ones you'll have to work through consistently throughout life, personally and professionally. It's how you react at the moment and learn from it that means the most. The more often you make yourself do things you don't think you can do or are afraid to do, you surprise yourself and start developing muscle memory to overcome again and again.
Don't forget it's okay to acknowledge that you struggle with imposter syndrome and talk openly about it with others because I can guarantee you there are other people out there feeling the same way you are. Lift each other up!
— By Alli Weseman, class of '22
---
Alli Weseman (she, her, hers,) class of '22 is a first-year student in the SOJC's multimedia journalism master's program in Portland, She has freelanced for Portland Monthly Magazine and hopes to work in a newsroom one day. You can find more of Alli's work at alliwesemanphotography.com