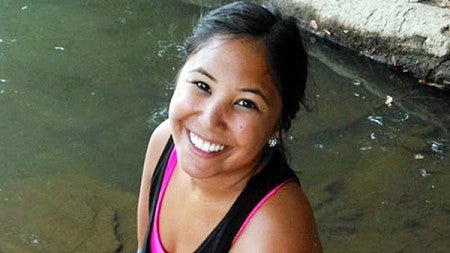 Editor's note: We updated this article in November 2018 to reflect Tai Locke's new position at Amazon.
University of Oregon School of Journalism and Communication (SOJC) alumnus Tai Locke '13 (PR) moved to Atlanta after graduation to put her SOJC skills to the test, as she began working for MaxMedia, an agency that creates meaningful, measurable digital retail experiences for brands and retailers. Since then, she's moved up in her field and is now a senior user experience producer for Amazon in Seattle. 
We sat down with Locke as she reflected on her time at the SOJC and how her experiences there have helped in her career.
What made you chose MaxMedia and how was the transition to Atlanta?
When I started my job hunt, I wasn't sure what I was looking for. I had experience in traditional advertising but wanted to try something more challenging and in a new city. Although the criteria were broad, I started reaching out to all my contacts and doing independent research. I came across MaxMedia on a job search engine. To be honest, MaxMedia's portfolio spoke for itself. The opportunity to work with Fortune 500 companies in a digital capacity was something I couldn't pass up. I had no experience in managing digital projects but my previous experience in managing budgets, timelines and deliverables was applicable to the day-to-day tasks of my new position.
Atlanta was a really unexpected choice for me. Within two weeks of my first interview with MaxMedia, I packed up my life into two checked bags and moved to a city I had never been to and knew no one. It was a change I was mentally ready for. I wanted to be challenged professionally and personally. Being alone in a new city forces you to try new things, meet new people and do things you normally wouldn't do. That being said, it was the best decision I've ever made. Atlanta is a transition city for many young professionals in the south so I was blessed with opportunities to meet a lot of people in similar situations.  
Is there an example of how an SOJC faculty member aided you with your career?
This is the easiest question to answer so far! Without a doubt, there are two women from the SOJC who continue to be influential in my career – instructor and public relations area director Kelli Matthews and Kellee Weinhold, former director of communications at the SOJC. Both women taught me what it means to be a strong, independent female.
Matthews taught me the importance of building relationships and having no shame in asking for what you want. After my first PR class with Matthews, I knew that she was someone I aspired to be like. I followed her advice to do informational interviews with industry professionals and it really sparked my career. My first informational interview turned into an internship, which eventually lead into a full-time position following graduation.
I was a student worker for Weinhold my senior year. Like most seniors, I was trying to figure out what I wanted in my first job and constantly questioning the differences between agency and corporate, marketing and advertising, account management and project management, etc. She was the person who helped me identify my strengths in project management. Without her advice, I would not be where I am today.
What is the most important piece of advice you'd like to give current SOJC students?
Never settle.
What impact do you think SOJC education has had on your life?
Often times you hear about recent graduates feeling lost or have trouble finding jobs. My experience at the SOJC was the exact opposite. Thanks to the instructors and faculty, I gained a world-class education and applicable experience that I've been able to leverage during my first few years out of college.