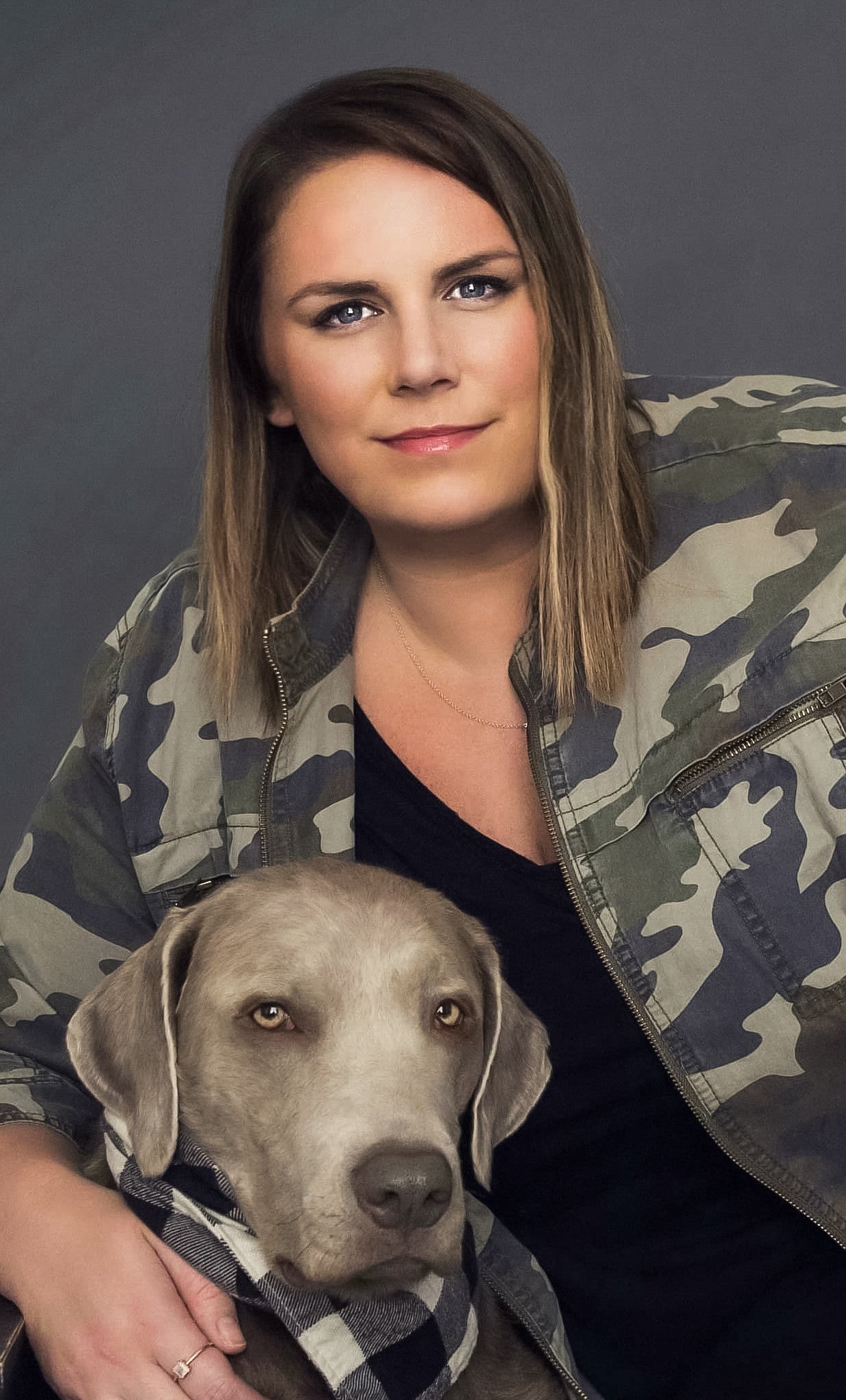 As an eager high school senior ready to spread her wings, Staci Stringer '08 thought she had her next steps all figured out. She was leaving her hometown of Lake Oswego, Oregon, to study business at a Southern California college on a volleyball scholarship. Then she was diagnosed with severe rheumatoid arthritis.
The diagnosis meant she couldn't play volleyball, and she gave up her scholarship. So she made a new plan, following in the footsteps of her parents and older brother to attend the University of Oregon.
"It was fine by me," Stringer said. "I was excited to go to UO, not only for the academics but for the football, Greek life and traditional fun college atmosphere."
Stringer's interest in pursuing a business degree quickly subsided when she encountered college algebra. After a phone call with her father, who reminded her of her love for poetry and writing, Stringer redirected her studies and enrolled in the UO School of Journalism and Communication (SOJC) to pursue a public relations (PR) degree.
"The SOJC really allowed me to open up because I found my place in the storytelling and communication part of it all," she said.
The heightened rigor of her second-year journalism classes corresponded with an increase in the intensity of her arthritis. Stringer was often nauseous from the chemotherapy she took in conjunction with her arthritis treatment to help prevent her immune system from attacking her joints. She often suffered from chronic pain and fatigue, making it difficult to write notes through the pain. As a self-sufficient college student, asking for help was the last thing Stringer wanted to do. But it eventually became too much to manage, and she sat down with Senior Instructor Kelli Matthews to arrange accommodations, like selecting a note-taker.
"That conversation really stuck out for both of us and is something we both remember vividly all these years later," she said.
Stringer never let the burden of her arthritis deter her from getting a full college experience. She worked as an assistant account executive at Allen Hall Public Relations (AHPR), a nationally affiliated student-run PR firm in the SOJC. Working with real clients and collaborating with peers to deliver strategies was an experience she still draws on throughout her career.
"AHPR allowed me to dip my toes into the world of PR, but I still had my floaties on," she said. "It was all-encompassing of college in general because you worked alone but were still tethered to a bigger picture."
Putting her public relations degree to work
Stringer also credits Matthews with kicking off her career. When Stringer graduated, Matthews retweeted a job opportunity, so Stringer used the 140-character limit to pitch herself and secure her first job offer — an impressive feat during the 2008 recession. The role was at Doyle Dane Bernbach advertising agency in Seattle, where she worked in advocacy relations for breast cancer and brain cancer organizations.
Three months into her position, the company had to merge its three West Coast offices, knocking out various jobs, Stringer's included.
"It was a really good learning experience to see what things to look for in future jobs when things start to get uneasy and learn how to bounce back on your feet," she said.
Stringer used the staff reduction as redirection. Not long after, she found herself working for Health Advocacy Strategies, a specialty firm that creates patient advocacy networks for pharmaceutical companies and helps incorporate the patient's voice into marketing and advertising. She did everything from monitoring the database to web development. But her primary responsibility and passion was working one on one with patients, helping to write and tell their patient stories — something she learned in the SOJC. Stringer also worked on a mentorship program, training patients and getting them on board to help others taking the same medication.
"It was so rewarding, helping tell other's arthritis stories, especially being on the same medication as the advocates I was working with. My personal life was colliding with my work life in the best way possible," Stringer said.
Extending her public relations degree
Stringer continued her PR journey at WE Communications on the Seattle Children's Hospital account. But then her arthritis started putting a large strain on her life and prevented her from working normal hours. She began a new medication, and the side effects caused her to be bedridden for one week a month — requiring time off not permitted in a typical 9-to-5 work schedule.
Her father extended an opportunity to do social media and sales for the family business, Siskiyou Sports, which manufactures and sells NFL-, NHL- and NCAA-licensed products. She never imagined she would end up in sales, but the job allows her flexible hours and enough sick time to fit her needs. Now she has a wide variety of responsibilities, from pitching new business, creating business plans and programs for customers, attending trade shows and making cold calls, to training, calling and emailing current and prospective customers.
"I still use the communication skills I developed in the SOJC daily, when presenting our product line to customers, creating business programs and constant communication and problem solving skills I learned from all of the hands-on training working through my PR courses," she said.
Stringer is also a high school volleyball coach. She said she even applies her communication skills to her coaching, such as when she strategizes with players and leads coaches' meetings.
"I love coaching high school volleyball and impacting young women in developing their communication skills," she said. "I want to inspire kids to have a voice for themselves at an early age."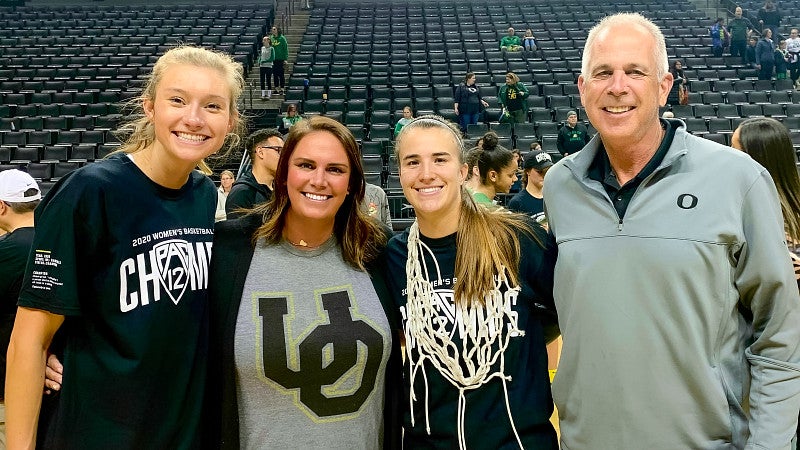 Making an impact with her public relations degree
It's clear that Stringer's story left a lasting impact on Matthews. In 2021, Matthews joined the board of the Arthritis National Research Foundation (ANRF), crediting Stringer as her "why." ANRF funds grants to early career scientists at a time when their ideas are ready for development into research. Stringer missed working in healthcare, and, inspired by Matthews, she followed suit and joined the board in March 2022.
"It was really touching for me because we had this tiny conversation 15 years ago that stuck with [Matthews], and it warmed my heart that my story made that much of an impact on her," Stringer said. "It's an awesome organization to be a part of and give back to, and amazing to be able to work alongside my mentor."
Stringer sits on the foundation's governance committee and venture committee. ANRF currently only funds early-stage research that may not come to fruition for another 15-20 years. The goal with the venture fund is to fund research that is further along so patients may see the outcome sooner than ANRF's traditional early-stage research.
"The research that ANRF is doing literally impacts my future and quality of life. Being a part of the board of directors helps me feel like I'm leaving an impact for others suffering from autoimmune diseases such as mine," Stringer said. "Having my voice heard is really meaningful to me."
—By Whitney Conaghan, class of '23
---
Whitney Conaghan, class of '23, is a public relations major and multimedia minor. She is currently working as a social media and writing intern for the SOJC's Communication Team.