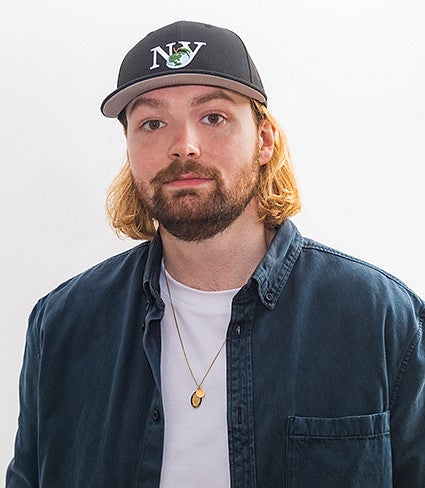 Since graduating from the UO School of Journalism and Communication (SOJC) with a bachelor's degree in advertising in 2018, Spencer Kupish has mastered the ability to take complex ideas and break them down in a way that makes them fun. Building a brand from scratch is daunting. But when communicators are guided by the right questions, values, tone and position, he says, the brand tends to reveal itself.
"In the last handful of years, I've had the pleasure of flexing my creative muscles and strategic thinking while working with some of America's biggest brands," Kupish said.
As creative, art director at Superdigital in New York City, the SOJC alum has worked on campaigns with major brands such as H&M, American Express and Xbox.
Recently, Kupish brought his skills full circle when he returned to the UO as a consultant to lead members of The Oregon Accelerator (OA) — a new full-service, student-led organization created to elevate name, image and likeness (NIL) opportunities for UO athletes — in a branding workshop. He shared the expertise he has gained on the job, moderated brainstorming sessions and guided student conversations to help the OA determine its values, tone and other brand elements and solidify The Oregon Accelerator brand.
We sat down with Kupish to learn more about his career and how he is giving back to the next generation of students at his alma mater.
What does your day-to-day look like?
My formal title is creative, art director. I act as creative lead at Superdigital for all Xbox projects. Each day my schedule looks a bit different, changing based on client priorities and goals. On certain days I may be leading brainstorms with the team to ideate for social channels, while on others, I may be art directing shoots or creating social content myself.
How did your time at the SOJC prepare you for the projects you work on?
Looking back at the SOJC classes I took, there aren't many I didn't enjoy or gain some form of knowledge from. Writing Design Concepts and Portfolios, taught by Tom McDonnell, were exceptional at preparing me for the workload and speed of the industry.
During my first month at Superdigital, I worked on a [video] piece called "Gen Z Reacts to the Original Xbox." This piece allowed us to highlight the universal love for gaming — a love that transcended graphics or consoles. The piece would not have come together the way it did without multiple lessons learned from the SOJC, such as the importance of looking at a project from multiple points of view.
Why were you chosen to speak to The Oregon Accelerator?
I was pleasantly surprised when [advertising area head and Oregon Accelerator faculty adviser] Troy Elias asked me to speak. As far as I know, I was chosen for the skillset I've grown in the industry.
When I spoke in March, I led a brainstorm for students and faculty around branding, from general topics like what a brand is to more specific topics like what The Oregon Accelerator should be and stand for. During the workshop, I enjoyed hearing from a younger generation of students; it allowed me to glean insights into their interests, skill sets and hopes for the OA.
Leading the OA workshop was appealing because it allowed me to share the knowledge I learned beyond my time at the UO. If the OA existed while I was attending the University of Oregon, I would be part of the creative team and work closely with the strategy team to deliver Oregon student-athletes killer work that would be both shrewd and attention-grabbing.
What advice do you have for SOJC students?
Start observing how your projects evolve from the initial brainstorm or research and think critically on when to push a project further creatively and strategically. Complexity can be the downfall of a great idea.
Over the past handful of years, I've learned that the best plan is sometimes no plan. With how quickly audiences change, it's important to keep an ear to the ground and eyes forward.
—By Ava DiGrande, public relations, class of '22, with additional reporting by Jane Nyman '24 and Gabby Vera '23
Ava DiGrande (she/her/hers) is a fourth-year student majoring in public relations. She is currently working as communications director for The Oregon Accelerator.
Jane Nyman is a second-year student majoring in public relations. She is currently a communications specialist for The Oregon Accelerator. 
Gabby Vera is a third-year student majoring in marketing. She is currently a communications specialist for The Oregon Accelerator.