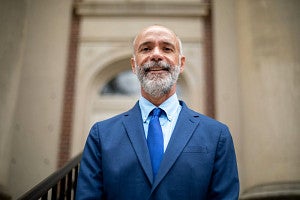 Growing up in Belém — the largest city on Brazil's Northern coast, near the mouth of the Amazon River — Raul Reis, PhD, excelled in math and science as a young student. But while studying as an undergraduate at Belém's Federal University of Pará, his natural curiosity led him to use that scientific knowledge to pursue a career in science and environmental journalism.
In 1997, he developed and began teaching the first courses in journalism and media at California State University, Monterey Bay, and he later served as professor and journalism department chair at California State University, Long Beach. He was recruited by Emerson College to be the dean of the School of Communication from his position as dean of the School of Journalism and Mass Communication at Florida International University. In 2022, he became the dean of the School of Journalism and Media at University of North Carolina at Chapel Hill (UNC).
When Reis reflects on the path that brought him here from his early years as a reporter and editor, one word often comes to mind: curiosity.
What opportunities brought you to your current role as dean of the School of Journalism and Media at UNC?
When I was recruited for this new position, I immediately saw the opportunity to join one of the best journalism and media programs in the country. My own personal history and vision are aligned 100 percent with UNC Hussman School's mission of providing access to high-quality education to qualifying students, regardless of financial status. As the oldest public university in the country, UNC is focused on access, student success and social impact in a way that matches my own trajectory and aspirations. I'm the product of public education, including at UO, an alma mater I'm very proud of, so I'm happy to be back at a public university focused on access, excellence and social impact.
Tell us about your early years and how you first got started in journalism.
I had always had an interest in writing. I approached an editor at a local newspaper and told them I had a willingness to learn journalistic writing and that I could provide my expertise in understanding science and the environment. The editor liked my attitude, but they didn't have a science and environment section, so they put me on a beat writing about medicine. After writing for them for a few years, I got a position as a reporter at the financial journal Gazeta Mercantil writing for their environmental section, and later as an editor.
What motivated you to leave Brazil and pursue graduate studies in the United States?
I received a scholarship that provided me with the opportunity to study in the United States for one year. I thought of it as a great chance to both further my education and improve my English.
I was still on staff at Gazeta Mercantil, and the idea was that they would hold that position for me until I returned after my year abroad. At least, that was the plan.
Once I had gotten deep into my academic work [at Kansas State], I began to take it very seriously. I enjoyed doing research and working as a graduate assistant teaching the undergraduates. My advisers took notice of my enthusiasm and the work I was putting in, and they provided a lot of encouragement. It became apparent that a career in academia was something that appealed to me. So I began asking, "What do I need to do continue on the path of becoming a professor?" The obvious next step was that I would have to earn my PhD.
Why did you choose the SOJC to pursue your doctorate?
The SOJC was very convincing during my phone interviews in campaigning for me to come out to Oregon. I had the curious urge to "go west," plus, there was an environmental element coming out of the University of Oregon and the Pacific Northwest that I felt I could connect to.
What did you enjoy about your time at the SOJC?
When I was driving from Manhattan, Kansas, to Eugene, once I hit Highway 126, along the McKenzie River, I knew I had made a great decision. The landscape I saw driving through that part of Oregon was the most beautiful I had ever seen! My experience at the school only further confirmed this.
The university campus was welcoming, and the city of Eugene was a very enjoyable place to live. I was a part of the first cohort of PhD students at the SOJC, and our advisors did a great job of making us feel like we were part of the program and the institution, working alongside them as peers. They really respected and valued our industry and academic experience.
I have great memories working with my advisors, people like Carl Bybee, Leslie Steeves, Janet Wasko, and Deanna Robinson. We engaged in wonderful discussions and conversations, in and out of the classroom, and I felt they really cared for my development as a scholar and academic. I'd extend that observation to all faculty in the SOJC I interacted with while I was there.
How did your journalism education and background prepare you to be dean of a communication school?
In my journalism program, we were always told to take as many classes outside of journalism as we could, because it's not like we are going to be writing about journalism. We needed to be out there talking to experts, asking the right questions and doing the research on the things we will be writing about and reporting to the public. So, as a dean, needing to understand all the departments and disciplines I oversee, I follow the same process. I have to listen to and rely on the expertise of the professors and department heads who are leading these programs, and my job is to understand what they are doing and give them the support and resources they need to do effective research and provide the necessary learning environments for our students.
Community engagement and service learning has been a focus of your time as an educator. How do students benefit when the academy facilitates these type of experiences?
I deeply believe in giving back to the community and in using the opportunities you were given to engage in action that will have a positive effect on people's and communities' lives and wellbeing. That applies to the academic experience as well. I believe that when classes engage in civic learning and civic action, students have a much better chance of learning. Applying concepts they learned in class to real life, and benefitting the lives of others in the process, opens the doors to higher-level learning in a way that lectures alone can't.
—Jeff Collett
Editor's note: This article was updated in October 2022 to reflect Reis' new position at UNC.
---
Jeff Collet is going into his second year as a graduate student in the SOJC's Portland-based Multimedia Journalism Master's program. He has been a content creator for the SOJC Communication Office in Portland since November 2017. Jeff studied visual communication design as an undergraduate at Western Oregon University. Prior to that, he served over nine years in the U.S. Army and Army Reserves as a combat photographer/videographer and multimedia illustrator. See more of his work at jeffcollet.com and follow him on Instagram @colletasyouseeit.