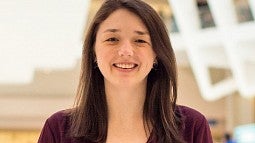 Editor's note: We edited this alumni profile in September 2018 to include an update on Paige Landsem's life and career. She is still working for "The Rachael Ray Show" and continues to move up in her career.
University of Oregon School of Journalism and Communication public relations alum Paige Landsem '12 moved to New York City after graduation to work in sports public information. She's now a publicity coordinator at "The Rachael Ray Show" and relies on information she learned in the SOJC to do her job.
Landsem took a moment to reflect on her time in the SOJC and how her degree has helped her career.
What have you been doing and what's next?
Immediately after graduating in 2012, I moved to New York City with the goal of working in sports public relations. After working as an intern for the New York Mets and as a temp in the communications department at Sports Illustrated, where I had interned the summer between my junior and senior years at UO, I landed my current position at Rachael Ray's daytime talk show. I work in publicity, which in its broadest definition involves publicizing everyday show highlights and big events like season premieres and milestone shows, as well as being part of our social media team. It's afforded me so many incredible experiences and solidified my desire to work in the media industry.
Could you describe one person and/or experience in the SOJC that shifted the course of your career, and/or that illustrates one of the SOJC's core attributes of ethics, action or innovation?
The most important experience of my SOJC career was my involvement with Allen Hall Public Relations (AHPR), the SOJC's student-run PR firm. I worked with AHPR for three years and served as the Firm Director my senior year.
AHPR is unique because it gives students a chance not only to practice what they're taught in classes, but also to deal with real-life situations they're sure to encounter in their internships and first jobs. It taught me so much about how to put basic PR principles into action, and it provided me some amazing opportunities to hear from professionals – both in our weekly agency meetings and in trips to Seattle and San Francisco, where we visited agencies and met with corporate PR professionals.
I met and worked with amazing fellow SOJC students through AHPR who I still keep in touch with. And while I think it's hard to replicate an exact "real-world" experience in college, AHPR looked impressive on my resume when I applied for internships and jobs. It demonstrated my own initiative to apply and get involved, but more, it showed how my school knew the importance of giving students an opportunity to put their knowledge into practice.
Is there an example of how an SOJC faculty member aided you with your career? 
Kelli Matthews and Pat Curtin helped me succeed while at the SOJC and have given me support and advice since graduation. Throughout my SOJC career, they answered thousands of my questions, coached me through hundreds of problems, and patiently guided me through the occasional meltdown – Kelli as the faculty adviser to AHPR, and Pat as my adviser when I was completing my Honors College thesis.
Kelli's ability to balance teaching the "book knowledge" side of college and advising students on how to handle the "real-world" side when working at AHPR was incredibly helpful to me. She gave us access to all of her resources, knew how to handle every situation we encountered, both internally and with our clients, and always knew what was coming next with social media trends.
Pat had enormous patience when I was writing my Honors College thesis, basically giving me an individualized version of her research methods course – it wasn't a requirement for students in my year, but I needed those skills to complete my thesis research. She gave me confidence in my abilities, told me where I needed to do better, and helped me find new ways of looking at and analyzing my subject.
What's the single most important piece of advice you'd like to give to current SOJC students?
My main advice—work hard and be honest about your career goals, and know that you don't have to have it all figured out right now. It's ok if your interests change and evolve. For most of my time in the SOJC, I was dead-set on working in sports, but when my opportunity came with Rachael Ray, I knew I couldn't pass it up. And honestly, I haven't looked back. I'd never rule out working in that field, but working in entertainment and television has helped me discover so many new interests and skills. I've become obsessed with movies and film criticism; I read and watch more about global news. It isn't that working in sports doesn't expose you to other things – it's just that I never expected my new field to open me to so many untapped interests.
On the flip side, trust your gut when it comes to career decisions, and don't ever stay stuck in a rut. Make an effort to build community around yourself wherever you move after graduation, seek out the advice of people you trust, and try not to compare your career trajectory to anyone else's.
What impact did you think your SOJC education has had on your life? 
The SOJC gave me so much solid training – in the academics and in the hands-on preparation for a career – and so much of it has come into play in my post-graduation life. It's sometimes funny to me what seemingly random moments from class or tidbits of knowledge from a professor pop into my mind and help me with a task at work. I was also an SOJC student at a time of transition for the school, as the Gateway curriculum was being introduced, and I think that helped me understand the changing nature of media and journalism, right off the bat.
And, especially because I live on the east coast where it's less common to find an Oregon grad (though there is a solid NYC contingent!), I love being able to say with pride that I'm from Oregon and graduated from the University of Oregon and the SOJC.
What have you been up to since we last talked to you in May 2015?
I recently got married, which has been a big life change, but I am still loving life in New York City. In terms of work, my role at "The Rachael Ray Show" has expanded over the past year or so. I'm still responsible for pitching daily show content, but I'm also responsible for pitching and securing interviews for talent that are focused on wide-ranging brand promotion and not solely tied to the daytime show.