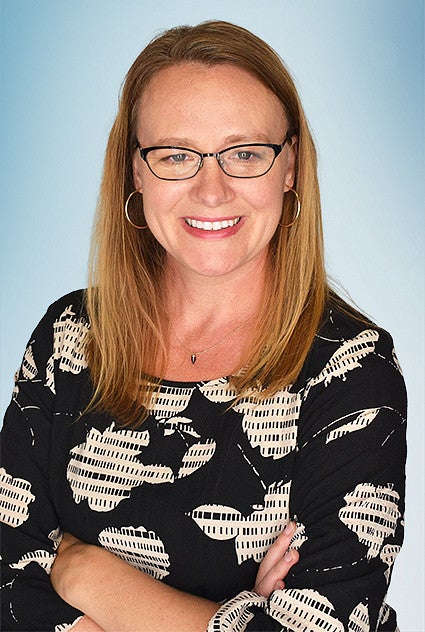 If you ask Nicole (Waddell) Leverich '99 how she became vice president of communications at LinkedIn, she would say it was luck. Yet Leverich doesn't view luck as an arbitrary thing but instead as the balanced combination of preparation and timing.  
Leverich grew up in Dundee, Oregon — a town so small it didn't have a stop light until she was in fifth grade. Her journalistic aspirations began during her senior year at Newberg High School, where she served as the co-editor of the school newspaper and was an active contributor to the school yearbook. 
This experience, paired with her desire to interact with the world, drew her to the UO School of Journalism and Communication (SOJC), where she planned to study reporting. But when she began taking courses in the SOJC, she discovered a passion for public relations (PR). Leverich's first PR class was taught by Professor Thomas Bivins, who bestowed on her advice that she still uses daily: "Don't write anything until you can summarize it in one sentence."
Coming from a small town, Leverich was impressed by the wealth of opportunity UO offered. She dove headfirst into new experiences, from joining a skydiving club to becoming a reporter at  the independent student newspaper, the Oregon Daily Emerald. 
One of her favorite experiences as a student journalist was interviewing a Nobel Peace Prize recipient who spoke on campus. 
"It was an incredible opportunity that most people never have in their lives, and there I was as a sophomore in college getting to do that," she said.
Although Leverich reflects on her experiences at UO fondly, she adds that it wasn't always easy. To be accepted into the SOJC, students had to pass a journalism grammar test, which was Leverich's most challenging subject. The amount of preparation she devoted to that test outweighed any other throughout her college career, but she still earned a below-passing grade. Her professor allowed her to retake the exam at the end of the week – which happened to be the last day of spring break. While her family and friends were basking in their time of rest, Leverich spent her break isolated in her hotel room with a grammar textbook. 
Her hard work paid off: She passed the exam with a 71 percent, and her perseverance crystallized into the realization that she cared enough about her journalism studies to sacrifice her spring break to conquer this challenging feat. 
"Giving up something fun because you want something so badly, even when it doesn't come easy, was a super important lesson that I learned," she said. 
Growing up, Leverich met some "bigger bars" with communication. She was dyslexic and suffered multiple ear infections as a baby, which caused her to grow up with a speech impediment. But when people couldn't understand what she was saying, or when she couldn't comprehend what she was reading, she became more motivated to want to communicate.
"When we have a breakdown in communication between two people, communities or societies, that's when things get hard," she said. "But when we spend time listening to each other and push to understand — that's when change happens." 
Leverich spent her later college years working at the UO Career Center, where she helped students refine their resumes, find internships and prepare for work after graduation. The position also gave her a huge advantage because she was able to see the vast opportunities available. 
She used the Career Center's services to land an internship at the global PR agency FleishmanHillard. The day following graduation, she flew to St. Louis, Missouri, to begin working. 
"I knew nothing and no one, and it was an incredible learning experience," she said. 
Interning at a PR agency exposed Leverich to a broad range of experiences, including writing the daily news summary for Walmart and pitching book drives at Cracker Barrel stores to local media outlets. 
Her goal destination was always San Francisco. The emergence of large consumer internet companies in 1999 in the Bay Area was a catalyst for Leverich's decision to enter the technology industry. Accepting a full-time tech PR position at the FleishmanHillard San Francisco office was the perfect place to launch this new venture. 
For Leverich, working in the tech industry allows her passion for learning to flourish because the industry is constantly reinventing itself. During her over 20 years of experience, she has worked for major tech corporations like Yahoo and Google, but her biggest professional growth occurred while she was working for the startup AdMob. 
Leverich was the 63rd employee to be hired at AdMob and was its first communications professional, which meant she had the ability to define her role. She started that job one month after Apple introduced the App Store – resulting in an explosion in consumer apps and technologies – and two years before the company was acquired by Google. AdMob supplied advertisements in thousands of mobile apps and had a unique insight into how people were using their phones, which the company published in the AdMob Mobile Metrics Report. The report was free, transparent and a widely accepted source of truth in the exploding industry, earning it a shoutout from none other than Steve Jobs in the Apple earnings call.
"Every company has something that makes them unique and gives them insight if they are willing and brave enough to share that information with a good story behind it," Leverich said.
 "If your data has a story, you can have a much bigger impact than you expect." 
That's the job that Leverich has at LinkedIn today: crafting stories that help the world understand the company amid an ever-changing industry. Her role is a "jigsaw puzzle" of various strategies, including planning the company's appearances on national TV shows such as "Today" show, organizing the launch of new features on LinkedIn profiles and helping recruiters find candidates. But at its foundation, her work is about talking to people and creating mutual relationships that build community. Leverich loves working at LinkedIn because it's a company that cares about cultivating economic opportunities. 
"When I do my job well, someone else finds a job or makes a connection that moves them along a career path. That's an exciting thing to be able to wake up every day and do," she said. 
Thoughts surrounding her future plans are characterized by her desire to continue learning and growing, a principle that she credits to her time at the SOJC. 
"There are so many exciting things you will get to do over the course of your career, and the more you are open to learning, the more you will be ready to meet it," she said. 
Leverich can track her success in her PR career in a direct line from her experiences and education in the SOJC. And her time working at LinkedIn has solidified the importance of investing in your network – advice she extends to current SOJC students. 
"Connect with the people you are meeting now because they are going to make great contacts as you progress along your career path … and create a LinkedIn profile," Leverich said. 
–By Whitney Conaghan, class of '23
Whitney Conaghan, class of '23, is a public relations major and multimedia minor. She is currently working as both an events and social media intern and a writing intern for the SOJC's Communication Team.