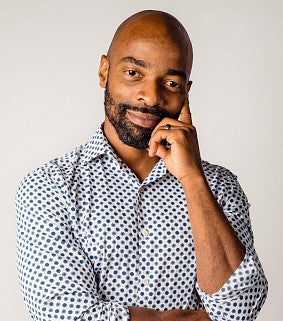 It was fall at the UO. The leaves were changing colors, the days were getting shorter, and it marked the beginning of another academic year. Nate Jackson was entering his junior year at the UO, and like many college students, he was experiencing doubts.
Jackson was studying business. Unfortunately, he wasn't very good at it. He knew he needed a new major, so he began exploring other classes and student groups. One day a classmate handed him a flier promoting a new campus TV program, Duck U, and urged him to audition. To his surprise, his audition went well and he was accepted.
The show, named "Out and About," was a hit and earned Jackson recognition as he roamed around campus and Eugene interviewing students and strangers. He soon had his own show, "One-on-One with Nate Jackson," where he interviewed student-athletes.
His former instructor in the School of Journalism and Communication (SOJC), senior instructor emeritus Rebecca Force, encouraged Jackson to strongly consider a career in TV and told him the SOJC would fit his personality, energy and unique ability to connect with others on camera.
"It was clear Nate had a future with a mic in his hand," Force said. "Nate was always the king of performance art. He had a unique ability to make people smile and conduct great interviews."
He followed her guidance, calling it the best decision he made in college.
"Man, I wasn't supposed to be in entertainment," said Jackson, who graduated from the SOJC in 2005. "It's crazy how one person can change your life around. Just one person can say something or do something that can get you on a completely different path."
Back in Eugene
Today, Jackson is certainly on a different path from his early college days. He is the live emcee for Oregon football and basketball and teaches social studies full time at Willamette High School.
As an emcee, Jackson is an instrumental part of the show that captivates the thousands of spectators who pour into Autzen Stadium and Matthew Knight Arena. He provides narration of the game's events and performs on-camera presentations throughout, bolstering a vibrant atmosphere. A few months ago, he also served as emcee for events tied to the World Athletics Championships Oregon22.
It's a busy life for Jackson, who now lives in Eugene with his wife, Rayna Jackson — a fellow UO alum and director of communications for the university's alumni association — and their two kids. However, it wasn't quite what Jackson expected when he returned to his college town.
"I knew when I first got into entertainment, I wouldn't be the person who pursued it for the rest of their life," Jackson said. "It worked out for a little bit, but then things slowed down, so when I moved to Eugene, I just assumed that was it."
Jackson's entertainment career
After all, it seemed like there was nothing left for Jackson to check off. He did broadcast journalism for a while, covering local news in Washington state after graduation. Jackson said he initially believed he had to pursue the traditional route because he wanted to be viewed as credible, working in "real" news. It didn't work out, and Jackson eventually moved to Los Angeles, unsure of his future and with no entertainment opportunities in sight.
His luck changed when a friend told him about a national competition by "The Tonight Show with Jay Leno," which was looking for correspondents. Jackson sent in his only highlight clip and got a call from a producer who was interested but asked for more clips. Jackson had to call the UO for more to send in.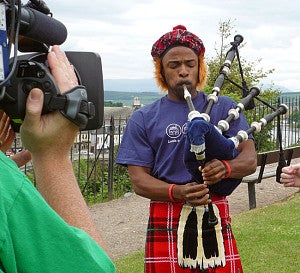 He got the job and covered spring break from Lake Havasu and Las Vegas. Come showtime, Jackson had to report to NBC Studios in Burbank. Undeterred by the fact that he didn't own a car, Jackson hopped on the bus for a two-hour trip to Burbank.
Winning one national competition wasn't enough for Jackson. He soon won another with the Travel Channel, where he reported for two months on attractive locales and interviewed residents, tourists, store owners and customers.
Part-time jobs are typical in the entertainment industry, and Jackson was also working at Best Buy. He was standing in the appliance center about to help a customer when he received a call from his agent about a position hosting an international TV show for FuseTV, which paid him to travel the world in pursuit of stories about culture, music and food.
After that show was over, Jackson became a corporate spokesperson for Ubisoft, where he served three years as the premiere speaker for the world's top video game conventions that hosted more than 50,000 attendees annually.
Next, he transitioned into radio, becoming the first African-American on-air radio personality at La Raza 97.9 FM, where he got to use his bilingual Spanish skills.
Jackson left the radio station after a year. After that, as it often goes in entertainment, opportunities became more scarce. For the rest of his time in California, Jackson worked as a substitute high school teacher and the emcee for UCLA women's basketball.
Becoming an emcee for Oregon
Once he moved to Eugene, Jackson wasn't thinking about his entertainment career until he attended a home UO women's basketball game.
The experience left Jackson yearning for more. He saw the need for entertainment between timeouts. Sensing an opportunity, Jackson contacted coach Kelly Graves and pitched the idea of an emcee.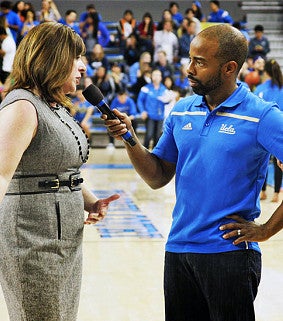 Fortunately for Jackson, Graves immediately recognized him.
"He goes, 'I saw you emceeing when we were playing UCLA, and I thought to myself, if we could have that guy at Oregon, that'd be great,'" Jackson said. "I was like, 'Oh, this interview process is going better than I thought.'"
The meeting with Graves resulted in an audition for Jackson, which he aced. It was a new stage for him, but no matter the stage he's on, the craft remains the same. It's also his craft that keeps him grounded and confident when it's showtime.
"Come game time, I get in the zone and focus on the now," Jackson said. "I forget the last play and try to stay present when I'm out there. Then, I've got to see what I can improve on. It's like a cycle."
It's almost poetic that Jackson finds himself back in the place that sparked his 15-year entertainment career. It's the place that catapulted Jackson into the position he is in today. And his experience at the UO remains as pivotal to him as ever.
"I honestly feel that if I didn't attend the School of Journalism, I would not be in entertainment," Jackson said. "It was never a dream of mine to be an entertainer. I never even thought about it, but because I received so much support and had so many hands-on experiences as a student, it really changed my mind and eventually changed my life."
Jackson's return to Eugene also meant he could continue his education with UO. He is now a "double Duck," having received his master's degree from the College of Education in 2022.  
—By Elias Esquivel, class of '22
---
Elias Esquivel is a graduating senior majoring in journalism. While balancing school work and a part-time job, Esquivel has had the opportunity to freelance for state, national and international publications. He has also made media appearances on behalf of the School of Journalism and Communication during his time with the SOJC Track Bureau and was a sports reporter for the World Athletics Championship Oregon22. Upon graduation, Esquivel will continue to seek freelancing opportunities, as well as internships.