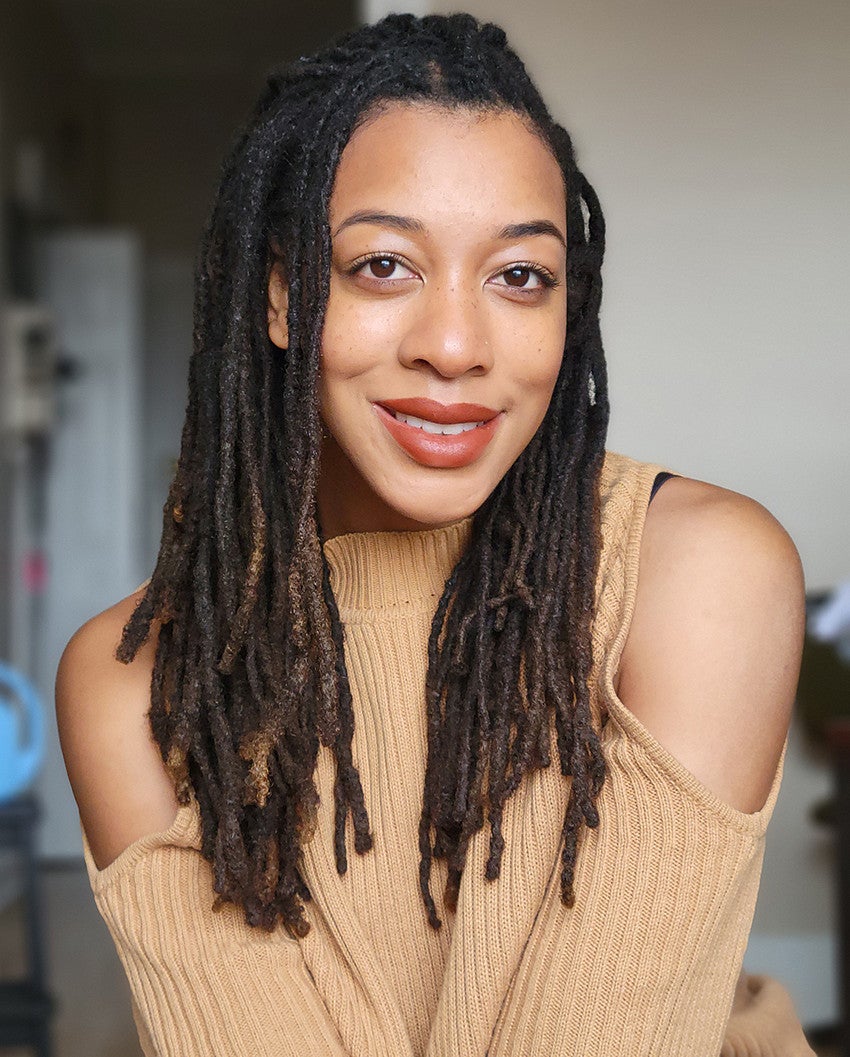 Mareshah "MJ" Jackson '21 has always been an avid outdoorswoman. She knew when she went back to school to pursue her master's degree, her focus would be on finding a career in the outdoor industry.
While she was pursuing her Strategic Communication Master's degree at the UO School of Journalism and Communication, Jackson worked at Hoyt Arboretum, establishing its social media presence and making horticulture — the science and art of growing plants — more accessible. She also developed a focus-group curriculum for Oregon Humanities, "Are You Safer Outside?" to talk to Oregonians about what outdoor safety entails. 
After graduating with her master's degree, Jackson expanded on her interest in transportation as well and now works as a communications outreach specialist at WSP USA , a civil engineering firm.
We talked to Jackson to find out how the Strategic Communication Master's program helped her launch a career focused on her passions.
Why did you decide to pursue a master's degree at the University of Oregon?
I always knew I wanted to pursue a master's degree, but I wanted to work and have a solid idea of what kind of work I wanted to do. I knew I wanted to do work with outdoor spaces such as parks, and they say you want to get your master's degree in a place where you want to network for the industries you want to be in.
Since I wanted to work in the outdoor industry, I looked at graduate programs in the Pacific Northwest. I ended up coming to the University of Oregon because I felt the staff, particularly the staff at the Portland campus, were very welcoming, answered all my questions, stayed in touch with me and were very helpful during the process of applying to graduate school.
Is there a specific professor you connected with at UO?
I really liked all my professors for different reasons at UO, but I connected with visiting professor Erin Birx Hart, chief innovation officer at Spitfire Communications.
The way she taught her class was not only eye opening but engaging. She confirmed there is a space for applying branding principals and strategic planning and strategic management techniques to areas of social change.
How did the Strategic Communication Master's program help prepare you for your career?
Even though I had some experience in communications before I came to UO, the Strategic Communication Master's program taught me how to connect all the projects I was working on.
Having the opportunity to take classes in branding, communication theory and messaging taught me the skills I needed to bring my ideas to life, with an emphasis on how I can apply what I learned in my classes to the projects I was working on, such as to a park space or a client in outdoor recreation or civil engineering. The master's program helped me take all the pieces of what I wanted to do and package them into something that was marketable as a career.
I was able to choose the projects I wanted to write about. I was able to do some projects that focus a lot more on equity and inclusion, and some projects focusing on the actual design piece or how we talk about different things, whether it's transportation, a park, etc.
Since I'm interested in parks and transportation, somebody at UO suggested I look for jobs at architecture or civil engineering firms because they need people to communicate with the public about projects they are working on.
How are you able to combine your interests with what you learned in the Strategic Communication Master's program to advance your career?
I'm a communications outreach specialist at WSP, a civil engineering firm, and my team helps with public outreach. As a team, we work to break down heavy topics the public may not understand into narratives they can understand, all while ensuring our messaging is consistent.
I can apply a lot of what I learned at UO because we took classes in different topics: color theory, storyboarding, user experience and design (UX), equity and inclusion, etc. Since I'm a consultant and my role is very project based, I use all the skills I developed at UO because each project and each client has different needs. One client might need a website redone, another client might need UX, a client right now needs proposal writing and editing. Then there's a video that's been completed and needs to be reviewed.
It's satisfying not only being able to contribute to the group, but also being able to guide why we did things a certain way. It's also been helpful to apply the equity and inclusion side to a lot of the projects — having that in the back of my mind and using it not only when I'm on the Inclusion and Diversity Steering Committee, but in everyday practice, such as when we are talking about the language we should use on projects.
What advice do you have for people who want to pursue a master's degree?
You should have an idea of what you want it for. I'm sure some people know exactly why they go want to go grad school right after undergraduate, but whether you are right out of undergrad or not, it's important to know what you want to get out of the master's program so you can go into it aiming to get what you wanted.
A lot of people will go into programs, especially master's programs, and think, "I'm going to get that piece of paper and it's going to increase my earning potential."
As someone who has two degrees in a communication space, it's such a broad field, you can technically apply it to anything. And while that's the freedom of our field, it can be overwhelming. If you don't have a focus when you graduate, it's easy for that degree to become something you whose value you don't know how to communicate. I would say for anyone who's looking to get a master's degree, especially in communications, what is it that you want to really communicate about?
I would suggest people think about what they want their personal mission to be first, and not even think about what they want their degree in. Once you know what you want, it can serve as a guide to what kinds of questions you are asking in your classes, what type of projects you are focusing on, and it's easier to focus your terminal project because you know what you want to get out of your master's program.
—By Alli Weseman, Multimedia Journalism Master's, Class of '22
Alli Weseman (she/her/hers) is a second-year student in the SOJC's Multimedia Journalism Master's program in Portland. She has freelanced for Portland Monthly Magazine and hopes to work in a newsroom one day.