Dangerous. Sexy. All-American girl.
These three simple ideas led Kathleen Ryan, a University of Oregon School of Journalism and Communication (SOJC) Ph.D. graduate, to explore and create a digital representation of a little known cultural phenomenon: the pinup movement.
"Pin Up! The Movie," an interactive documentary and the first-ever movie about pinup culture, is Ryan's most recent project in a longstanding career in video-based storytelling. Throughout the new film, which is currently on the film festival circuit, Ryan explores the history and significance of pinup, its recent popularity among 21st century women and its unexpected connection to the feminist movement.
Ryan spent 18 years working as a broadcast journalist before getting her Ph.D. at the University of Oregon, including 10 years at the network news level, primarily as a producer and reporter. She moved into long-format production when working at ABC doing news programming for cable stations outside the network.
Ryan initially became a journalist to pursue her love of storytelling and saw television news as a great way to combine her love of words and images. "I've moved through several different job paths, and daily journalist is only one of them," she said. "My career really is as a storyteller and educator."
When Ryan went back to graduate school, she knew she wanted to stay engaged in long-format nonfiction storytelling. "I believe that creative work can be as valuable to helping us learn about things as traditional research, and so I branded myself as a 'hybrid' scholar," she said.
In addition to work on her film, Ryan recently received tenure at the University of Colorado, where she is an associate professor. She works within the school's new College of Media, Communication and Information, which opened this past fall. She has been helping develop curriculum and is teaching a brand-new college-wide course in visual storytelling.
Interest in the past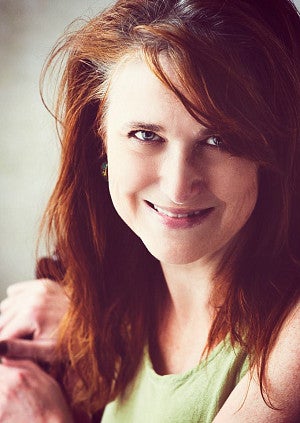 Exploring the past has been a common theme of Ryan's work. Before "Pin Up!" she shot a film titled "Homefront Heroines," which was based on her dissertation, an oral history about women who served in the Navy WAVES and Coast Guard SPARs. The film featured eight of those women talking about their experiences during the war.
Ryan's interest in pinup culture first arose when she was conducting research and publicity for "Homefront Heroines" and came across a book by Maria Elena Buszek called "Pin Up Grrrls." Wondering why so many older women were sharing pinup-style photographs of themselves, she began to investigate.
The timing for her newfound interest was good, as she was just beginning to brainstorm ideas for her next film. "Pinup jumped to the top of my brain," said Ryan. "I talked it over with my producer, David Staton, who's a current Ph.D. student in the SOJC, and he thought it was a great idea. From there, it was just finding people."
Ryan began attending pinup events, starting with the Miss 1940s White Christmas Ball and then a pinup contest. "It's a big thing, with thousands of people in vintage attire," she described.
After she reached out to an interested photographer in Los Angeles, Mitzi Valenzuela, the execution of the film really took off.
Multimedia of the future
A unique aspect of Ryan's new documentary is the interactive digital elements that will soon become available. "Pin Up! The Movie" uses a full spectrum of multimedia tools to engage viewers in various ways. Once its interactive documentary, or i-doc, elements launch, users will get to play a game where they are situated in a particular pinup style or subculture. The i-doc then tells the story from that perspective.
With an interactive documentary, the viewer is highly engaged and can decide to follow or not follow specific storylines based on his or her personal interest. Although this style requires allotting a lot of control to the user, Ryan said she relishes the challenge.
Ryan hopes this style of film will push the boundaries of traditional filmmaking and give viewers a new, exciting film experience. "Frankly, I'm trying to push myself. I want to see if I can actually tell a cohesive story in a way that doesn't have a traditional beginning, middle and end, and that's what i-docs allow," she said.
Ryan describes this documentary style as freeing: "While the feature film is limited in terms of length and number of characters, the i-doc is limited only by my creativity and patience with the project. I have lots of women who didn't have the rich storylines in the film I think they deserve. The i-doc allows me to do that."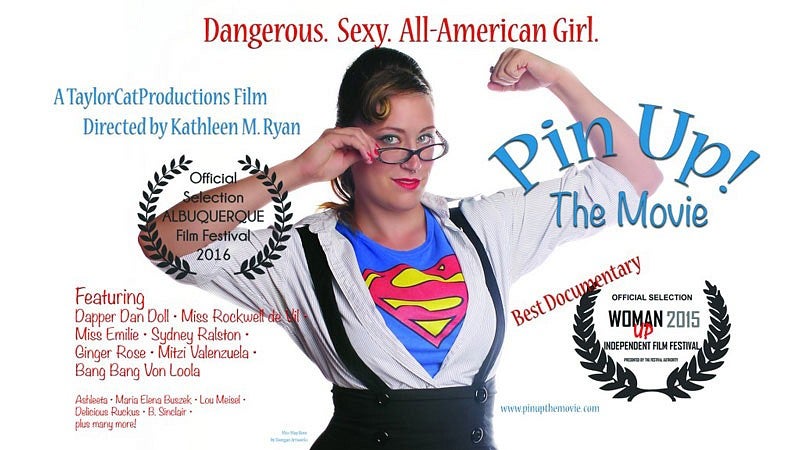 Pinup as feminist act
The film explores many of the misunderstood ideas of pinup culture and exposes its true significance and relation to feminism. The existence of a pinup culture comes as a shock to many people, and there's a common misconception that pinup shows are for male enjoyment and attention. Ryan says this notion is completely false.
"I still think a lot of people assume that the pinups are somehow doing this for men, which is so far from the case it's laughable," she said. "Sure, guys look at pinups, but the ladies are spending their own money, developing costumes and posing ideas, and are really the driving force behind all of this. And that's been part of the pinup's history."
In fact, the pinups of the World War II era weren't being shared with men, but with other women. Through these photos, they celebrated their audacity and strength in doing unexpected things for women of that era. In fact, 3 of the top 10 pinup illustrators of the time were women, and even the male illustrators were demonstrating women doing fairly radical things for that time, such as driving race cars and speedboats.
Ryan notes that it is important to remember that while a lot of people associate pinup with World War II and nose art on planes, the pinup herself really dates back to the mid-1800s and the evolution of photography. Burlesque performers, flappers, the Marilyn Monroe-style Hollywood bombshell of the 1950s and the model Bettie Page all have their roots in pinup culture.
"Pinup has strong roots in the rise of feminism, and many of today's pinups continue to advocate for feminism and identify themselves as feminists," she said. "They're trying to challenge how women are represented — and how women are allowed (or not allowed) to control their own sexuality in this world. That's a pretty feminist thing, and it would be arrogant for me to tell them that they're somehow not the 'right' sort of feminist just because they use sexualized imagery in their art."
For Ryan, a favorite part of making the film was meeting the different women involved. The documentary features a diverse and interesting group of subjects, from a cancer researcher to a mechanic, and it was these women who got Ryan hooked on the pinup community. "I've ended up becoming really good friends with many of the women in the film," she said. "They're a really neat, interesting group of women I would have never encountered had it not been for this project."
Looking to the future, Ryan's first priority is to finish the i-doc portion of the project, which she hopes will go live later this year. Ryan also has several other projects in development, including one with two Oregon alumni, Michael Huntsberger and Lauren Bratslavsky, on the role of women in underground rock radio. "My husband, who's currently completing his Ph.D. at the SOJC, jokes that I'm making my way through 20th century pop culture with a feminist lens," Ryan said. "I guess in a way that's true."
Ryan's work shows the craftsmanship of an expert who has been telling stories through film for a long time. But it's also exciting and progressive, full of the passion and innovation of a lifelong learner. And, by promoting female empowerment in her own storytelling, Ryan is using her art and her research to further a cause she cares deeply about: helping women take control of their sexuality and how they're represented in media and society.
Story by Nicole Rideout '16