While other children decompressed before bed by traversing through storybook plotlines or watching colorful cartoons, John Strong '07 sought comfort in the deep-toned voice of Bill Schonely announcing the Portland Trail Blazers. The romanticism of connecting with a sports team through someone's voice wasn't something he grasped as a kid, but now, as the lead soccer play-by-play announcer on FOX Sports, he understands his childlike captivation at a deeper level.
"From as young as I can remember, I always wanted to be a sports broadcaster. It has always been very fascinating to me that one person, their voice and their descriptions, is how the audience perceives the team," Strong said.
Strong set his dreams in motion as a senior at Lake Oswego High School (LOHS). He and his classmate, Erick Olson, entered the principal's office determined to launch the school's first broadcasting program. At a time when there was still a difference between a dial-up internet connection and Ethernet, the prospect of a teenager calling his school's football games was far-fetched. Nevertheless, the duo convinced the Parent Teacher Association to grant them $20 a week to stream games on the internet, and thus, "Laker Broadcasting" was born.
With a long family lineage of Duck alumni, Strong was practically destined to become an Oregon Duck. His fate took shape when he was accepted to the UO School of Journalism and Communication (SOJC) after graduating from LOHS in 2003.
"I always knew I wanted to go there. The fact that it had a good journalism school was perfect," he said.
Strong became acquainted with the campus' sole place for sports broadcasting at the time — the student-run radio station, KWVA. Within months, he was asked to host the station's 30-minute sports segments on Friday nights. Strong invited his "Laker Broadcasting" co-founder and longtime friend, Erick Olson, to partner with him on this new venture.
"Listen, just believe me, wherever I go in this world of sports broadcasting, I'm going to take you with me," Strong said to Olson over 18 years ago.
Flash-forward to today, and the pair has worked many sporting tournaments and is gearing up for their third FIFA World Cup together this fall.
"It's one of the things I most take joy from in what I've done — that so much of it has been done with a friend of mine that has been with me since the early trenches," Strong said.
When the UO women's lacrosse team launched in 2005, its coach, Jen Beck, promised parents of recruits that the games would be broadcast online. Posted on the KWVA door was a note advertising the team's search for someone to call their games. Despite his lack of lacrosse knowledge and the UO Athletic Department's hesitancy, Strong ambitiously agreed to start calling the games. He expanded his coverage to other sports and convinced KWVA to start airing the games on the radio station.
"Now I can listen to KWVA students call soccer games on the athletic department website or the Pac-12 app on my phone.… It's incredible. That just did not exist back then," he said.
Above all else, Strong is most proud of the legacy he has left for young sports broadcasters at UO.
"[Olson] and I have helped create something that other generations of students have benefited from in the 15 years since we graduated," he said. "That's really special to us."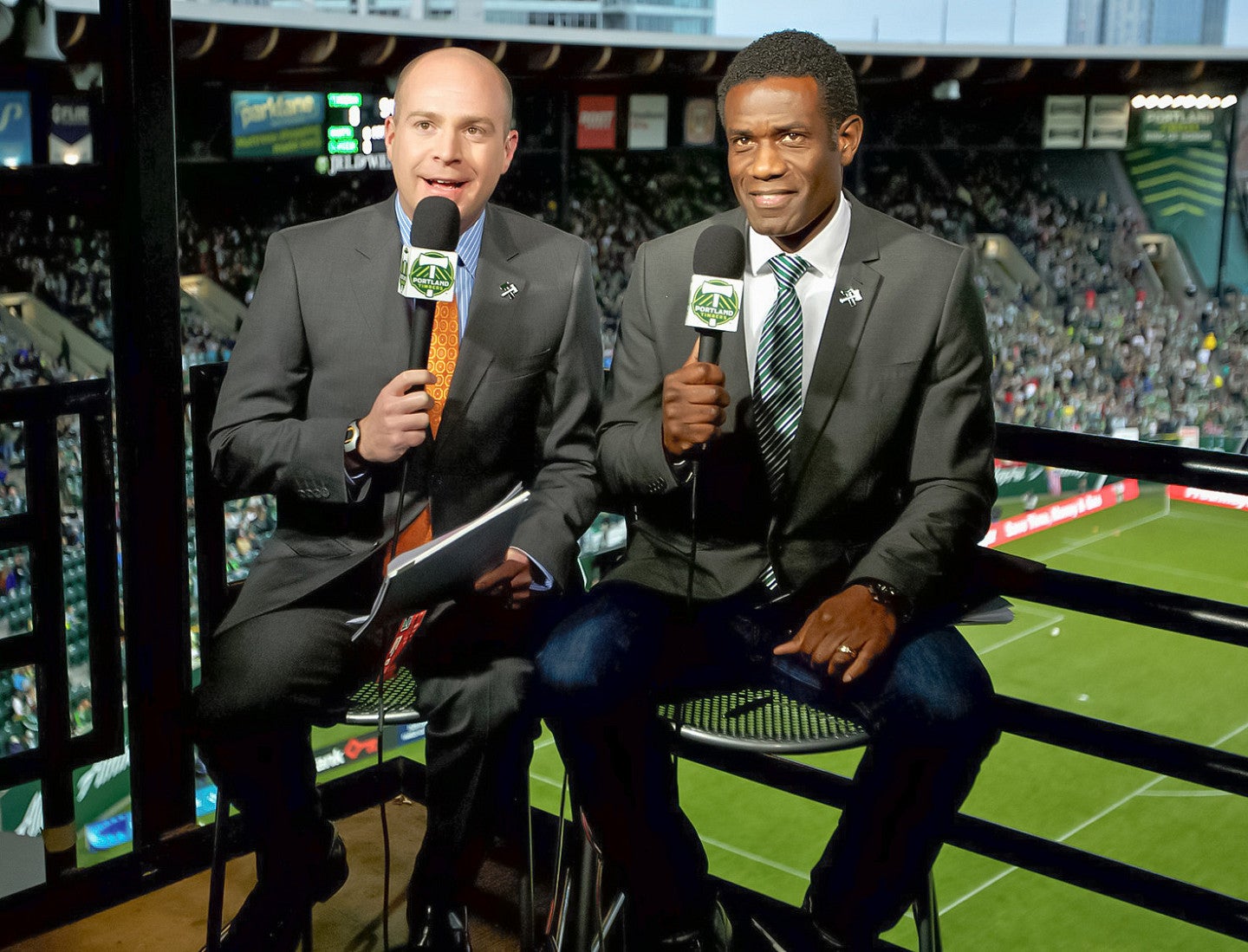 Strong made a connection during the summer before graduation that altered the trajectory of his career: Andy McNamara, the radio voice for the Portland Timbers, came to work in the UO Athletic Department. Along with an internship at Portland's KXL radio station, Strong began assisting McNamara on Timbers broadcasts and maintained both positions after graduation. In 2009, after it was announced that the Timbers would join Major League Soccer (MLS), KXL asked Strong to start broadcasting the games for the sports radio station 750 The Game. In Strong's words, "the two roles melded perfectly."
In 2011, once the Timbers were in the MLS, Strong became the team's full-time TV broadcaster. As a 24-year-old, being granted the opportunity to be a TV broadcaster was like "having an infant drive a car.… It was absurd." Strong pushed aside any imposter feelings, and as the world turned its eyes to the Timbers, his captivating radio voice and on-screen talent caught the eye of FOX Sports and NBC.
Strong started calling MLS games for NBC Sports and took a part-time contract with Fox Sports to call European and Concacaf games. When NBC lost MLS coverage in 2015, Strong signed with FOX Sports full time and was the play-by-play announcer for coverage of the MLS, FIFA Women's World Cup, Copa America and the FIFA World Cup, among other international soccer events.
While soccer players around the world are gearing up for the 2022 FIFA World Cup in Qatar this November, Strong is putting in his own kind of work to prepare for five weeks calling the games. He critically researches the players and analyzes the scoreboards, keeping a collection of stickers with players and their key information in front of him as he calls the games. In Qatar, he will call a game every day, partaking in a "24-hour fever dream" of calling one game, going to bed and waking up to reset for the next one. And of course, sitting to his right will be Olson, working as his statistician, research assistant, spotter and supporter all in one.
"We might have 20 million people watching the United States play England this Black Friday. And the person behind it all — that's going to be me," he said.
Strong owes his notorious TV presence to the teaching of SOJC professor of practice emerita Rebecca Force, who taught him "the single most important thing [he] took with him": how to read off a teleprompter. Force instructed her students to "tell the news to their grandma" to help deconstruct the formality and awkwardness that can come from speaking through a lens in an empty room. Today, Strong still imagines himself broadcasting to his mom and focuses on cultivating a conversation with her behind the screen.
It didn't take long for Strong to gain national recognition. He was named the 2011 MLS's Broadcast Call of the Year for Darlington Nagbe's momentous goal against Sporting Kansas City, and the National Sportscasters and Sportswriters Association's 2013 Oregon Sportscaster of the Year.
But through all the glitz and glory of big TV screens and international travels, Strong has never lost sight of his infatuation with sports radio that drew him to the industry all those years ago. He loves being a conduit for sports fans who can't attend games and helping to tell the stories of the athletes.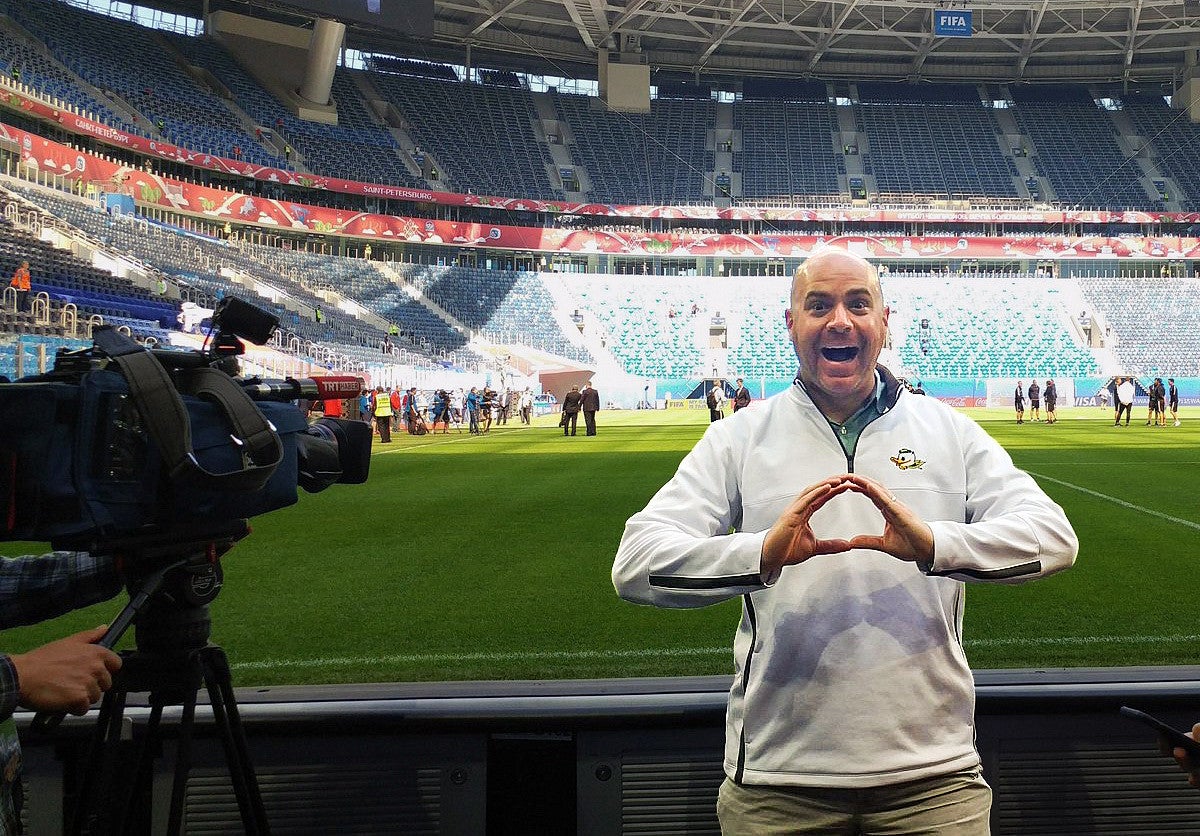 "It's about trying to connect people that much more to what they are seeing and to the stories of the athletes they are watching," he said.
At his core, Strong is a journalist — a position he takes very seriously. He understands that every word he speaks needs to be sourced, accurate and fair, which stems from a solid understanding of storytelling, information sourcing and deciphering fact from fiction. According to Strong, these were all skills he perfected during his time at the SOJC.
From his early days with KWVA and "Laker Broadcasting," Strong has always focused on long-term goals and advises young professionals to keep a big-picture mindset.
"Successful people are the ones that think about the long term and try to do the right things over and over even if there isn't an immediate response," he said.
While others refer to themselves as "Duck fans" or "Duck alumni," Strong says "I am a Duck." His coworkers poke fun at his chosen uniform of Duck gear. At the last FIFA World Cup, Strong was easily spotted by one of FOX's executives because he was the only person sporting a Duck T-shirt in Moscow.
Strong isn't looking to leave the sports broadcasting industry anytime soon.
"This is the only job I ever had any interest in, and I'm hopeful that it's the only one I have to have," he said.
He's looking forward to a fruitful career of calling soccer and traveling the world — all while wearing his Oregon "O" with pride.
–By Whitney Conaghan, class of '23
---
Whitney Conaghan, class of '23, is a public relations major and multimedia minor. She is currently working as a social media and writing intern for the SOJC's Communication Team.