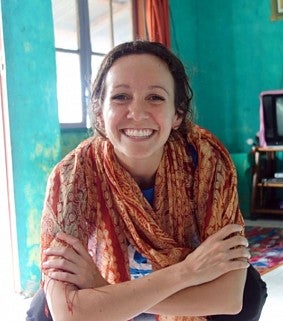 As one of today's fastest growing industries, public relations provides a world of opportunity. Jessica Lomelin, BA '08, is proving this to be true both figuratively and literally as a regional communications specialist for Plan International, an international child-focused nonprofit organization.
Lomelin graduated from the University of Oregon School of Journalism and Communication (SOJC) in 2008 with a degree in journalism and communication, specializing in public relations. Since then, Lomelin has worked as a public relations practitioner across the globe in locations ranging from Seattle to Uganda, Bangkok and Nepal.
Lomelin originally pursued PR to further her understanding of behavior, attitudes, choices and how people are influenced by their social, cultural and political environment.
"I often looked at public relations as problem solving," she said. "How can we change behavior and encourage different habits in order to accomplish a particular end goal?"
Her interest in these concepts then drove her to to use public relations and communications for meaningful causes that can create positive change.
For the last two years, Lomelin has been based in Plan International's Asia regional office in Bangkok, Thailand. Her job is to provide technical and strategic communications support to 14 country offices in Asia that implement programs ranging from health and education to disaster preparedness and youth employment.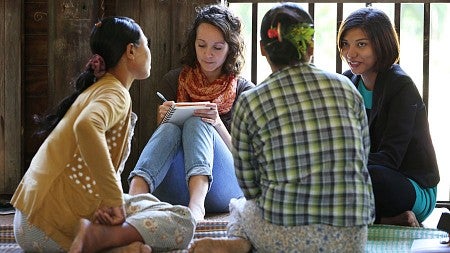 Lomelin says that working for Plan International in Asia requires a lot of crisis communication. "Asia is an area known for natural disasters, so supporting our country colleagues to prepare for disasters is a big priority," Lomelin said. "In my role, I build information management and communication capacity in the event of a disaster or humanitarian crisis. This may include media training, key message development or training on photography and storytelling."
As with any PR position, Lomelin has a wide range of professional responsibilities and is required to handle many different tasks. She says this was especially true during the eight months she spent working as an emergency communications specialist in Nepal after the 2015 earthquake. "My work changed daily and ranged from managing media requests and facilitating interviews to traveling to affected areas where Plan International was working to generate content to share with our offices for media, web and social media purposes," she said.
Lomelin says using the information and communication methods she learned at the SOJC to connect directly with affected communities has been the most fulfilling part of her job. "Trying to communicate with affected children and families when technology and infrastructure is nearly nonexistent and language and literacy levels may be low ultimately becomes a challenging, but dire task," she said. "However, without a steady and reliable flow of information to communities, rumors spread easily, information becomes manipulated and biased, and people struggle to know whom to trust. Accurate, reliable and timely information was crucial. When people are informed and feel like their complaints and questions are being addressed, then people are more in control, trust is built and the recovery process moves faster."
Lomelin finds inspiration through people who have defied the odds and are striving for a better life, and she hopes that her work in international public relations will be a force for positive change across the globe. "I feel very lucky that my work has allowed me to travel to some of the most remote parts of Asia and Africa," she said. "The essence of my work is to tell stories and share information. By doing so, I hope to shed light on these areas and situations and encourage people to take action."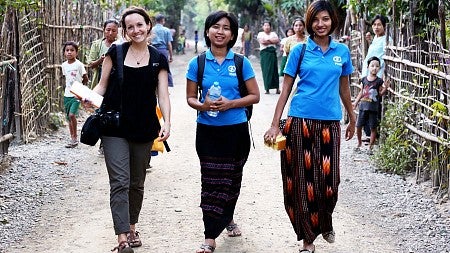 Lomelin shares that the SOJC and its faculty have played a distinct role in the shaping of her career. "One faculty member who has been involved in every step of my career is Kelli Matthews," she said. "Since working together in PRSSA, Kelli has always served as a mentor and friend, acting as my reference on numerous job applications and always providing me with sound, practical advice."
The SOJC's cutting-edge curriculum was also crucial to Lomelin's success. "Another experience at the SOJC that influenced me was the timely exposure and introduction to digital and online media," she said. "We were students in a particularly beneficial era when social media was just emerging. Kelli was able to quickly integrate the emerging online media space into our curriculum, and we were soon experts on topics like social media management and content creation, blogging and writing for the web."
For students who hope to pursue a career in communications, Lomelin advises striking a balance between being strategic, being open-minded and being brave. "It is good to be very motivated and intentional in what you do, but being on a one-track path also means that you may miss out on opportunities happening in the periphery," Lomelin explained. "Things come unexpectedly, but trust yourself to do something different, especially if it is something you are passionate about."
Story by Nicole Rideout '16