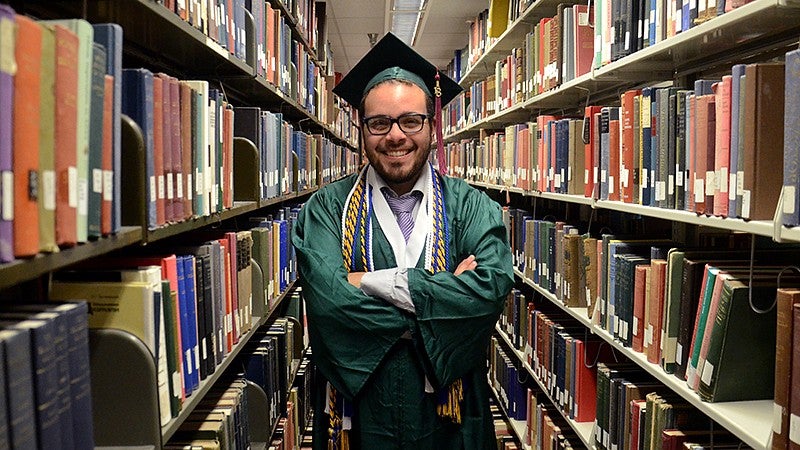 Story by Randy Newnham
First-generation college student Iago Bojczuk came a long way to study at the UO School of Journalism and Communication. Here are a few things the Brazilian-born media studies alum shared about his time at the SOJC, how it helped him plot his course to grad school at MIT and where he's bound for next.
Major and degree: Media Studies, BA '18
Where I'm from: São Paulo, Brazil
Follow me on Twitter: @IagoZuk
Favorite spot on UO campus: Mills International Center
What I'm doing now: I'm pursuing a master's of science in at the Massachusetts Institute of Technology as a Lemann Fellow and research assistant at MIT Global Media Technologies & Cultures Lab.
Research interests: New media technologies in the global South
What I want to do with my life: I want to establish a center for new media technologies and innovation in Brazil that will give a voice to underrepresented communities.
How the SOJC prepared me for my career: The SOJC Honors Program and the Robert D. Clark Honors College prepared me for a research career in media and technology, allowing me to receive graduate school admissions from MIT, Stanford, Columbia and Cambridge. At first, I wanted to pursue a career in international journalism, but after taking Introduction to Media Studies during my junior year, I instantly changed my mind. The highly interdisciplinary questions that the field of media studies addresses fascinated me and enabled me to rethink my career choices and explore what I was really passionate about.
How I want to give back: I want to create a scholarship to help minority students attend the University of Oregon, like the International Cultural Service Program that allowed me to come to the United States.
Why I chose media studies: I dropped college twice in Brazil before I moved to the United States in 2014. Since I wanted to be an astronomer, my first concentration was in computational physics. Then I switched to economics. I could never decide what I wanted to do, which made me question if college was something for me, as I was a first-generation student and had no direction. But at the UO, it was media studies that gave me a space me to critically reflect about all the media transformations that had impacted my life growing up in a developing country and, most important, speculate about these changes and the opportunities they create for generations to come. I was invested in exploring the interdisciplinary possibilities in the field — from social theories to applied research, technology, media arts and production. I could not imagine myself choosing a different major now.
What I do for fun: I like traveling to new places, learning about art and listening to songs from around the world.
Advice for current students:
Have a plan. Short- and long-term goals are very important.
Persistence is key. It is important to have your interests and goals well aligned with your routine.
Be humble and ask for help! There are good people out there willing to help.
Stay with it. Those of us who are first-generation students may feel discouraged because this seems to be a world in which we are always outsiders. As Michelle Obama recently said, "Going to college is hard work, but every day I meet people whose lives have been profoundly changed by education, just as mine was. My advice to students is to be brave and stay with it."
---
Randy Newnham, a senior majoring in public relations in the UO School of Journalism and Communication, would rather be pulling espresso shots and playing board games. But the world needs at least one more social media manager, and Randy has risen to the challenge. Together, with the plucky band of underdogs that is his family, Randy fights dirty for social justice. Randy can be found on Twitter, Instagram, LinkedIn, and in various coffee shops around Eugene, Oregon.