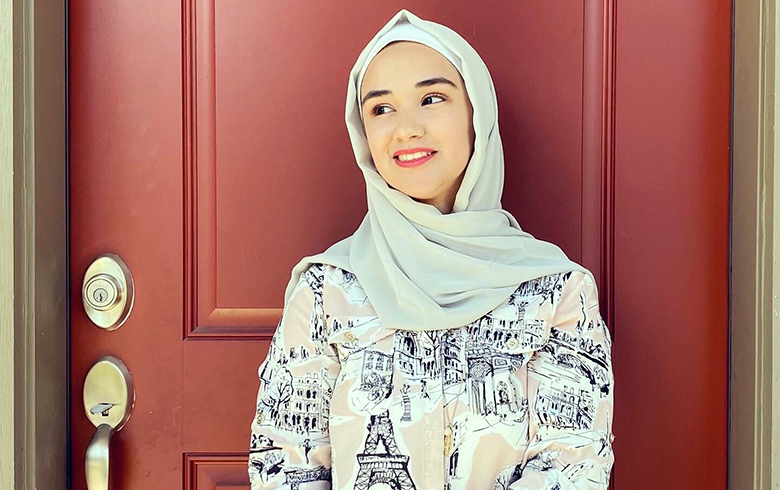 Hanin Najjar '21 is co-founder and editor-in-chief of Parachute Media. Photo courtesy of Hanin Najjar.
Hanin Najjar, a 2021 journalism and political science graduate, grew up loving storytelling. As an Arab-American and Muslim woman, she realized how underrepresented and misrepresented her community was in the media — and that all marginalized communities were dealing with this problem.
When Najjar saw young people leading the charge and raising awareness about problematic issues during the Black Lives Matter and Stop Asian Hate movements, she realized she wanted to do her part by improving representation in the media.
A friend introduced her to recent Lewis and Clark graduate Ochuko Akpovbovbo, who was in the process of starting her own media brand. Together, Najjar and Akpovbovbo co-founded Parachute Media, an inclusive media company run by Gen Z women and nonbinary people of color. As an economics graduate, Akpovbovbo focuses on the business side of Parachute, while Najjar focuses on the editorial side and serves as editor-in-chief.
"We are tearing down the assumption that all women of color are the same, that all women from a specific community are the same, and saying that every single woman is different, every single woman has her own story, and providing space for them to share that," said Najjar.
At first, the team wanted to be an Oregon-based media company, but they quickly realized the benefits of being remote: They could hire more people from across the United States and around the world to contribute to Parachute Media. Current contributors hail from Florida, New York, California, Canada and beyond.
Although the media company isn't affiliated with a university or institution, many of the writers and content creators are current UO School of Journalism and Communication (SOJC)students or recent alumni, and the managing editor and a few of the writers are SOJC graduates.
"I know I can rely on any person coming out of the SOJC," Najjar said. "One of the things with Parachute is that we've had a lot of people come and go, and it's like, how do we find reliable, dependable people? It's always been people from the SOJC who are the cornerstones of trying to get this publication up."
Recent SOJC graduate Shannon Daehnke '21 said she's continuing to build her journalism skills as Parachute's managing editor as she learns what it takes to keep a publication like Parachute running.
"Since it's a relatively newer startup, none of us are getting paid, so it's inspiring to see everyone working toward the goal of creating content, no matter how difficult it can be," Daehnke said. "We are passionate about Parachute's mission and trying to get past a startup, because I think Parachute has the legs to be something really big."
The team turned to Instagram to get the word out about Parachute. They also hosted virtual events such as a Zoom paint night, discussions about the biggest news events throughout 2020 and a few guest speakers, including a Samia Abbasi, Kulfi Beauty editor. During these events, both Millennial and Gen Z individuals expressed interest in contributing to Parachute. The media company has since grown to include over 70 contributors.
"We're saying everyone has their own experience, and we're giving you the opportunity to share your story," Najjar said.
—By Alli Weseman, class of '22, with additional reporting by Shannon Golden
Alli Weseman (she/her/hers) is a second-year student in the SOJC's Multimedia Journalism Master's program in Portland. She has freelanced for Portland Monthly Magazine and hopes to work in a newsroom one day. You can find more of Alli's work at alliwesemanphotography.com.