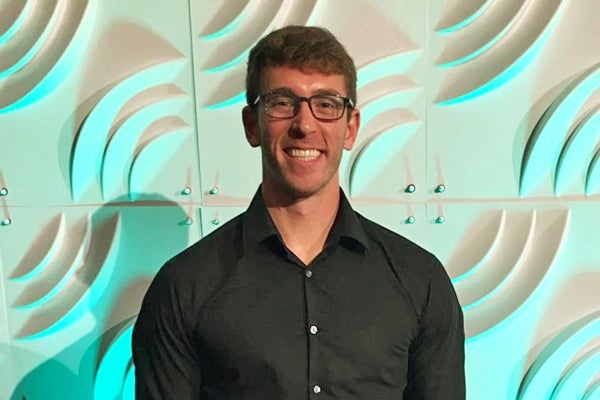 Since graduating with a BA in advertising from the School of Journalism and Communication (SOJC) in 2013, David Hyslop's life has taken some unexpected twists. But along the way, his experiences — and the valuable lessons he learned at the SOJC — have helped him develop a formula for personal and professional success: Find out who you are and remain true to that. Stay curious. And treat people well, because you never know where your next nugget of wisdom or opportunity of a lifetime will come from.
What have you been up to since graduation?
I've gone from an entry-level position at a marketing agency in Eugene to a Healthcare Communications Agency in Seattle, where I was promoted to a manager. Then one day, a former client of mine, Mark Peterson, offered me an opportunity to help grow his business, Gold Rush Nugget Bucket, which has been on the ABC TV show "Shark Tank." We built a positive business relationship and connected very well when I was an online marketing specialist. Now I'm working remotely from Seattle.
The power of building authentic relationships in business can go a long way. I had no idea that what happened was going to happen, but I was guided by my values and morals.
Tell us about your job.
I am a digital marketing manager and the lead on business development. I wear a lot of hats, but I primarily work on our digital presence, which ranges from social media to content marketing. I also work on business leads with wholesalers and distributors, and I coordinate with our vendors to push new content and innovate our brand. I also lead the charge on establishing and maintaining a key influencer network and building relationships with other companies in the industry.
How did the SOJC prepare you for your career?
The SOJC took a chance on me. I was a sophomore and a 19-year-old who didn't know why I was in school, beyond my parents telling me my whole life that I was going to college. I was lost, and my grades suffered for it.
If it weren't for Sally Garner going through the process for entrance into the SOJC with me, and then Chris Stadler sponsoring me to get in, I wouldn't be where I am today. The power of having people believe in your capabilities — especially when you're unaware of what your capabilities are — is awesome.
At the SOJC, I learned to think creatively and write out plans, which have helped me immensely. I also developed an understanding of paid and earned media, what a creative campaign looks like, how to execute on campaigns, the power of positive relationship building and the importance of having an action plan. My business values came from classes where I learned about transparency and honesty, which I have applied to multiple facets of my life.
My experience in the SOJC also allowed me to build self-awareness. I understood that I needed to improve my writing and presentation skills, so my public relations classes helped with that. I also had a strong passion for dreaming and thinking big, but I didn't know how to make my ideas reality. That's where advertising really helped me. And I often recall the kind words of professors like Chris Stadler, Kevin Brett, Deb Morrison and Pat Curtin, who inspired me to do and be better. I felt like I fit in, and with that, had a better understanding of who I was.
Did anyone or anything at the SOJC shift the course of your career?
Deb Morrison's Creative Strategy class was one of the first classes that spoke to me. I am very creative, I just never knew it. The structure of most educational systems makes it difficult for individuals like myself, who don't know themselves well enough to know how to succeed. Her words, as well as those of a number of guest speakers she brought in, inspired me to think more and to be creative. She always said, "stay curious," a point I've taken to heart and applied to many aspects of my professional and personal life.
What's the most important piece of advice you'd like to give current SOJC students?
Don't be afraid to seek mentorship or support. Once I allowed myself to open up to people about who I was, I was able to see and acknowledge that there is a lot I don't know. And there's a lot I wish I had sought help for, rather than dealing with the consequences later. The SOJC is full of great mentorship opportunities, but you do need to get out of your comfort zone and seek them out.
I think a lot of people like me end up at the SOJC because their natural talents lie in areas that aren't often seen in education. To them, I say, don't be afraid to put yourself out there. You may find answers you didn't know you were seeking. Self-awareness is an ongoing pursuit, but the more you learn about yourself, the more you can help others succeed as well. The power of being yourself is essential for personal and professional success.
What's next for you?
We are developing a mobile application to provide public maps for locating places to find gold and go gold panning. I also just finished co-authoring a paper to be peer-reviewed at Seattle University about intentionality in regard to career discernment.
I am grateful for all opportunities thrown my way! If it weren't for a positive business relationship I never expected, none of this would be a reality for me. It goes to show that treating people well and being a good person is good business!
And if you're a student looking for extra guidance in your career path or other ventures, please feel free to reach out to me with any questions. My email address is DavidWHyslop@yahoo.com.