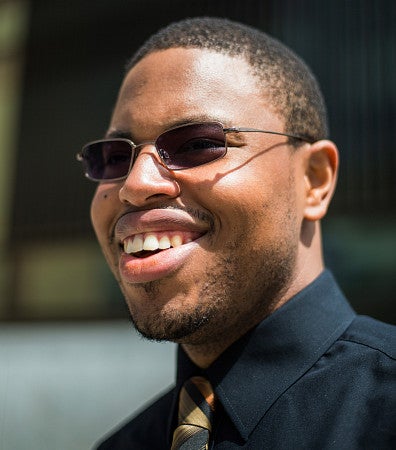 Bruce Poinsette '11 always harbored a love for storytelling. As a young Black male growing up in Lake Oswego, Oregon, he often felt alienated from his Caucasian peers. That isolation propelled him toward writing — a casual pastime that quickly grew into an avid curiosity.
"It was my entry into learning about the world," he said.
At the UO School of Journalism and Communication (SOJC), Poinsette found his chance to make writing his profession. Now he carves out a path for himself as a full-time freelance journalist, educator and Black activist, telling stories that expose social injustice.
"I look around, and I just see this need for information," he said. "I don't have all the answers on how to do it in the most profitable way, or some way that causes a revolution in journalism. I just want to do something to shift the narrative on a larger level and get more people involved."
Though Poinsette's decision to attend the SOJC stemmed from an affinity for journalism that persists to this day, he didn't know exactly what he wanted to do when he was a student. It was not until he was hired as a columnist with the Daily Emerald, UO's student-run paper, during his junior year that Poinsette said he started taking his craft seriously.
"Once you get closer to graduating, there's an emphasis on generating clips and just getting your work out there," he said. "I think that kind of lit the fire as far as forcing me to find my voice and saying, 'This is actually something that I really want to do.'"
That same year, Poinsette was developing new levels of political awareness about the media landscape. Fueled by a passion to shed light on Black communities, he registered for J483: The International Journalistic Interview. It was there that he learned, under Professor and James N. Wallace Chair in Journalism Peter Laufer, the fundamentals of storytelling that would lay the groundwork for his future career.
"I was going to class every day listening to Mumia Abu-Jamal's Black Political Prisoner podcasts and Democracy Now!" Poinsette said. "I was also interested in drug war policy. [Laufer] was really encouraging of my engagement with that and my desire to make a contribution to those types of stories."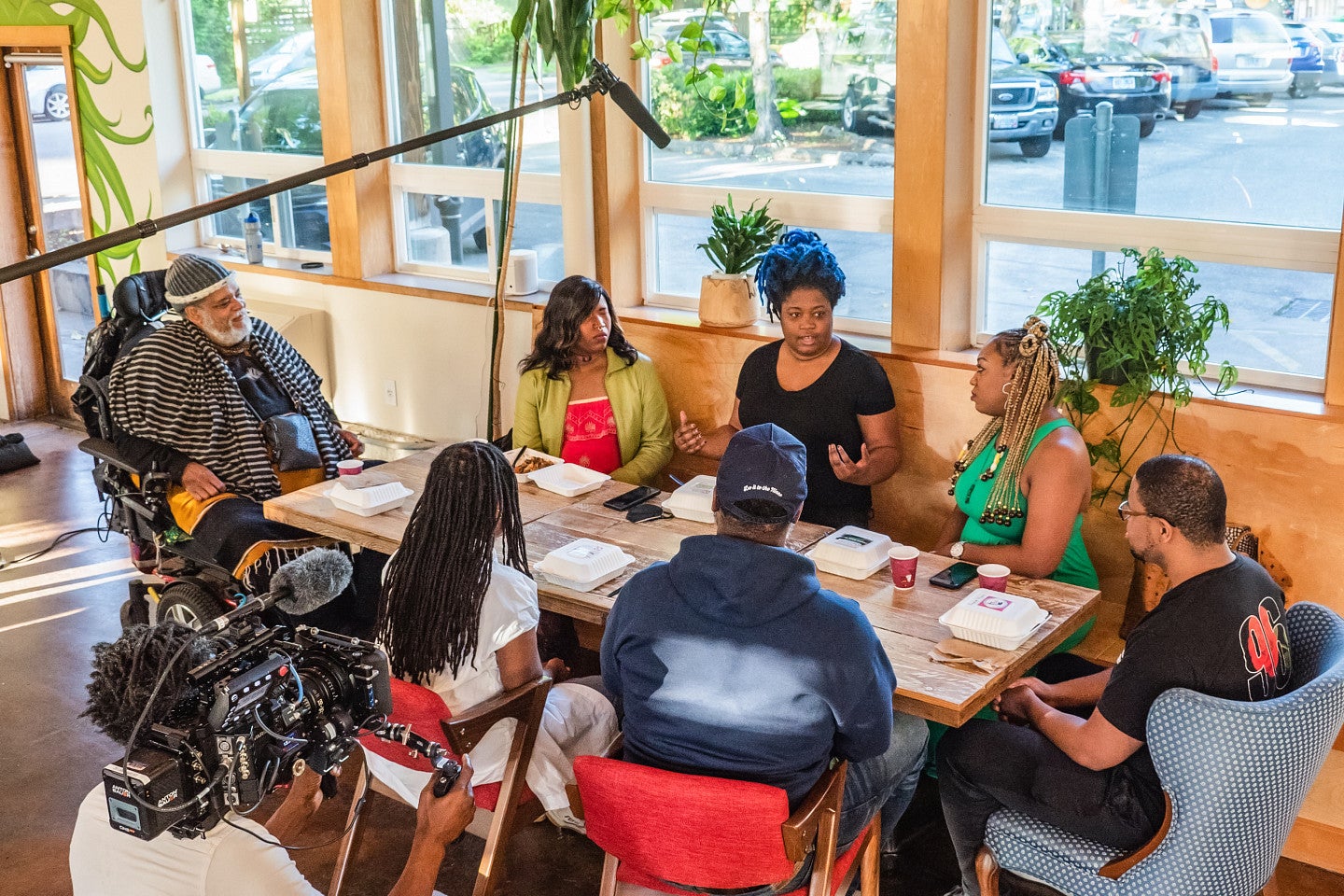 Building a career in freelance journalism
After graduating with a bachelor's degree in journalism, Poinsette wasted no time chasing his ambitions. He pitched a freelance story to The Skanner, one of two historically Black newspapers in the Portland metro area, and accepted a full-time position a few months later. The role morphed into a two-year reporting experience before he resolved to take a chance on full-time freelancing.
"I identified a variety of opportunities to write and be an independent contractor. So I was just in this position to take a shot on myself," he said.
Today, Poinsette writes for a variety of Oregon nonprofits. His work provokes thought on social justice and equity issues and has appeared in multiple publications, including The Oregonian, Street Roots, Oregon Humanities and We Out Here Magazine.
Meeting the demand for information
For his latest project, the Dream Bigger Journalism Workshop, he partnered with the Coalition of Black Men to implement a media literacy curriculum for Black middle school students. Its goal was to provide Black youth with fact-checking tools to more effectively navigate different writing styles. He requested funding from the SOJC, which was granted, because his interest in facilitating diversity in the media follows the roots of his journalistic education.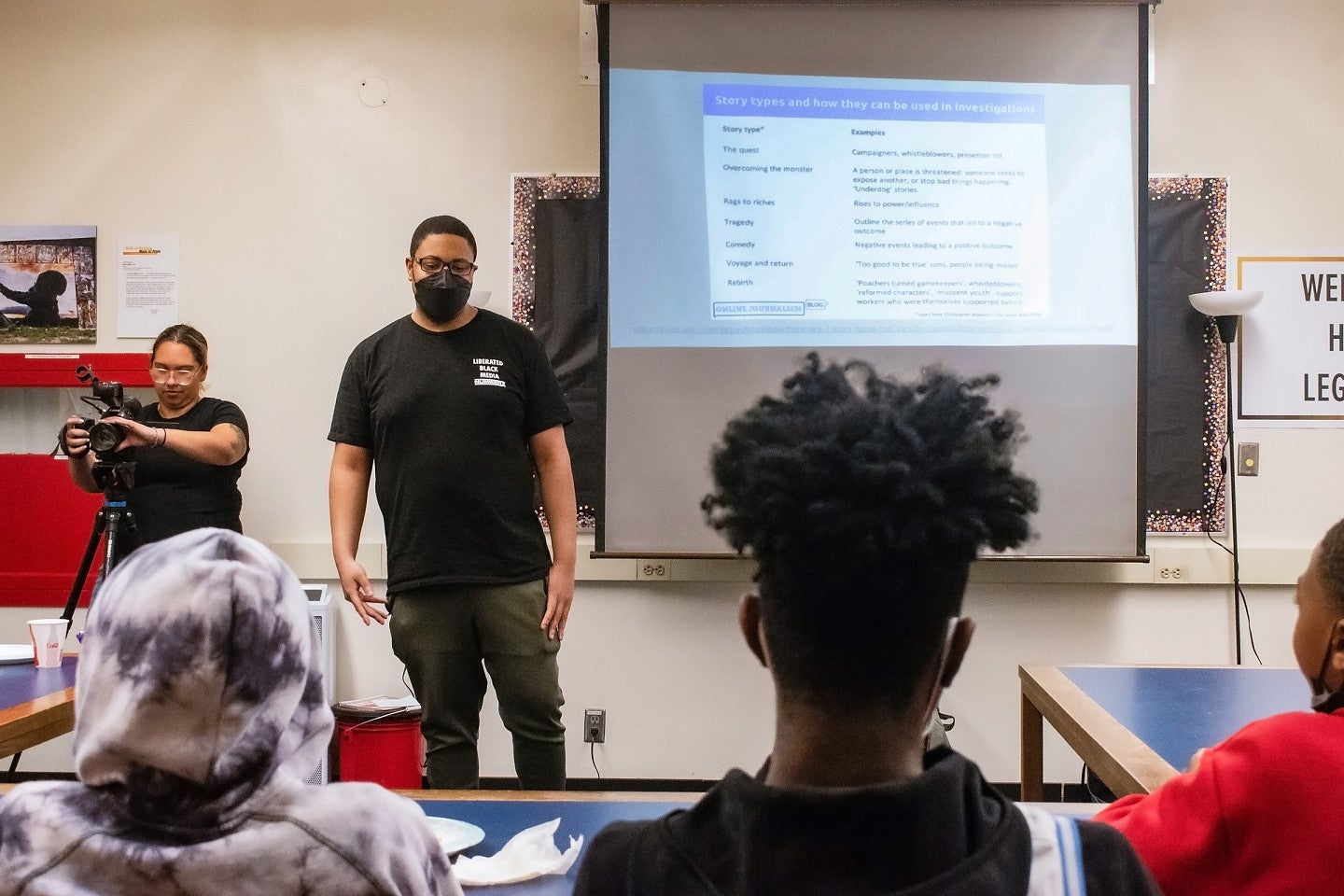 "We did a test run at Astor, Tubman and Ockley Green [schools] in the spring, and we were really trying to lean into the collaborative part of the process," he said. "It was a pilot run, so it was also important that we left space for it to evolve."
While Poinsette strives to illuminate the relevance and power of the media, he also recognizes that the industry is in the midst of uncertain times.
"It's really tough out there, especially when you talk about print journalism," he said. "But on the flip side, the demand and need for information — it's still there."
Looking back on his time in Allen Hall, he advises burgeoning SOJC students to "make yourself versatile" because it can elevate job prospects and yield the freedom to chart a unique career path.
"It gives you creative control — being able to see all these opportunities before they necessarily come up because you're always in different spaces," he said.
In addition to freelancing full time, Poinsette teaches journalism and creative nonfiction with Literary Arts' Writers in the Schools program and contracts with the UO Division of Equity and Inclusion. He also hosts a podcast, The Blacktastic Adventure: A Virtual Exploration of Oregon's Black Diaspora, which captures the variety of Black stories in Oregon, as well as The Bruce Poinsette Show on The Numberz FM, Portland's Black radio station.
Poinsette also collaborated with SOJC's Agora Journalism Center to facilitate a 3-part panel series exploring the current state of Black news media in Portland and the future of the local landscape. Listen or watch "Black News Future" discussions here.
As Poinsette looks ahead, he said he envisions growth in every area of his work. From hosting more podcasts to teaching more writing classes, he plans to keep facilitating Black media collaboration as much as he can.
"I just want to keep doing what I do, but more," he said. "I want to use my circumstances to help move the needle."
—By Kayla Nguyen, class of '23
---
Kayla Nguyen, class of '23, is a fourth-year journalism major and art minor working as a writing intern with the SOJC Communication Team.