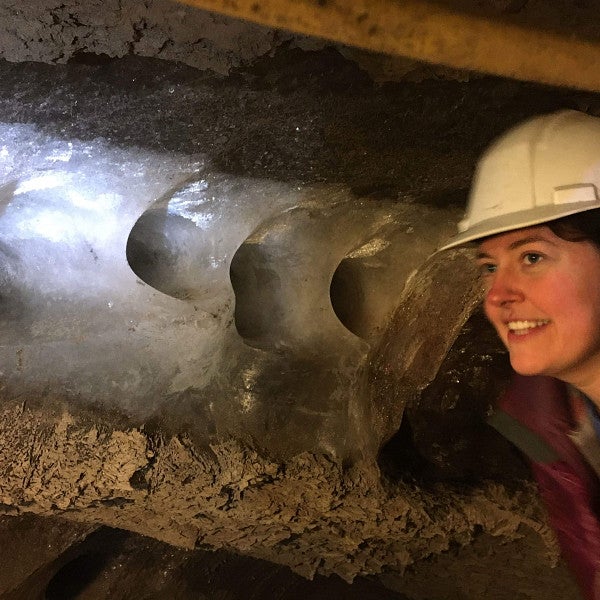 Story by Jeff Collet
Photos courtesy of Allyson Woodard
Becoming a science communicator was always Allyson Woodard's dream. But she never anticipated that a master's degree in multimedia journalism would lead to a job producing exhibits at a science museum.
Back in 2015, Woodard was in the midst of her studies in the UO School of Journalism and Communication's Portland-based Multimedia Journalism Master's (MMJ) program and had already completed the coursework for a second master's in environmental studies. Eager to combine her science background with her communication skills, she began networking with the Oregon Museum of Science and Industry (OMSI) with hopes of becoming its blogger. OMSI did offer her an internship — on its exhibit design team.
Much to Woodard's surprise, exhibit design was the science communication gig she didn't know she was looking for. Museum exhibits, after all, bring together a variety of media to tell an effective story — exactly what she had been learning as a multimedia journalism grad student.
After graduation, Woodard turned her internship into a full-time position as an exhibit developer at OMSI, where she has been working ever since. In her job, she uses many of the technical skills she gained in the MMJ program, including video production and photography.
We caught up with Woodard to find out what her work at OMSI entails and how her multimedia storytelling skills help her succeed.
Tell us about the path that brought you to this point.
I've always been interested in environmental topics. I had a strong sense that I wanted to serve as a translator between science and the public. When I was an undergrad, I studied English and biology and flirted with becoming a scientist. But I am more of a communicator than I am a researcher.
Out of undergrad, I took a position with an environmental nonprofit, which was awesome. But I found myself wanting communication skills I didn't have, and I wanted to dig more into theories of environmental studies. I went back to school at the University of Oregon because the environmental studies program is interdisciplinary, and I was able to pair that with the multimedia journalism program. I guess I surprised myself in that my job actually uses all of those skills!
How did you land your job
I was interested in science and environmental communication, and I started thinking about nontraditional ways to use my skills. I had the idea that science museums might need a blog. Maybe I could network with OMSI and convince them to hire me to write a science blog? I ended up getting an internship there doing exhibit development instead, and I just really fell in love with it. It wasn't until I started the internship that I realized how many of my skills transferred.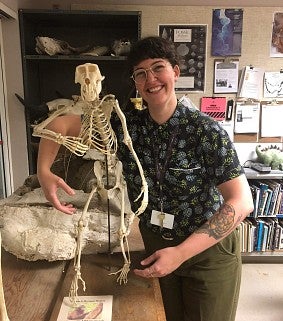 What does an OMSI exhibit developer do?
It all starts with grant writing. We get funding from agencies like the National Science Foundation for the exhibits we produce, and I write grants or serve as conceptual lead on them.
Once we get funding, I wrangle content development for the exhibits. That starts by reaching out to topic and cultural advisers and learning a bunch about the topics. We have big collaborative teams that get to work developing the exhibit, and I coordinate communication between the topic experts and the design and production experts.
We also help shape the narrative of the exhibit. We'll talk with our advisors, designers and evaluators and say, "What do we want visitors to learn from this?" and "How do we present that in a way that is educational and accurate, but also super engaging and fun to interact with?" It's pretty complicated, and I really enjoy that part of my job.
Lastly, we write the copy, help test everything, answer questions for those building it, and then help fix whatever isn't working.
What is something you enjoy about your job?
I really appreciate that my projects usually last for three or four years. You really get to know the people you work with, and you have time to sit with a topic and digest it. I just did an exhibit about permafrost and climate change in Alaska. It's been pretty cool getting to know the scientists up in Alaska who have been advising the exhibit, and traveling up there and witnessing things firsthand.
What are the unique challenges of developing exhibits?
Exhibit spaces can be overwhelming to visitors. You have a bunch of choices when you first walk in. You can go here or there. We have a lot of kids visit, and we encourage people to be really active using their hands and voices. It can get really loud in that environment. You have to take that distracting atmosphere, hook people and get them to observe information and feel inspired. I draw a lot of wisdom from people who design for the internet.
You also have to worry about safety. For instance, in the permafrost exhibit, we wanted to have a mock freezer. You would open the freezer door and there would be something inside it. But our fabricators immediately said, "Someone's going to sit on the door and get their fingers pinched and broken in the door." So we came up with a different design involving a sliding lid. Simple stuff like that we put a lot of thought into. We build stuff to last over the long haul. Usually the content is outdated before the thing totally breaks down.
What has surprised you most about your work?
How few words you can use when writing copy. Just like on the internet with a headline that grabs your attention, you need something that draws people in but also conveys a lot of information very quickly. The most I usually put on a label is like 50 words. That's really hard! Sometimes I joke that my job is writing scientific haiku.
How did the Multimedia Journalism Master's program prepare you for this role?
OMSI hadn't traditionally looked at journalism students when they were looking for exhibit developers. But I think multimedia journalism is a great place to look, because we're trained to think about different media and how they interact with each other, and then choose the media that best supports the story.
---
Jeff Collet is going into his second year as a graduate student in the SOJC's Portland-based Multimedia Journalism Master's program. He has been a content creator for the SOJC Communication Office in Portland since November 2017. Jeff studied visual communication design as an undergraduate at Western Oregon University. Prior to that, he served over nine years in the U.S. Army and Army Reserves as a combat photographer/videographer and multimedia illustrator. See more of his work at jeffcollet.com and follow him on Instagram @colletasyouseeit.