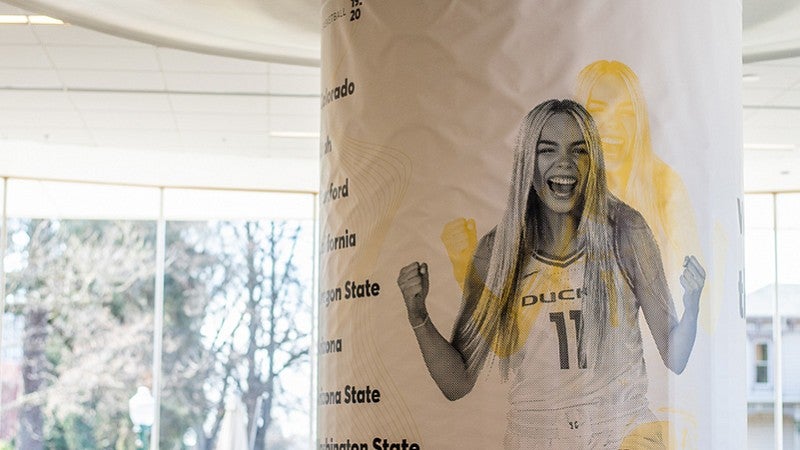 On the way to a game and through the Erb Memorial Union last winter, dedicated fans could see bold black and white photos of the University of Oregon's Women's Basketball team inviting them to experience The Wonder.
The advertising campaign was created by Allen Hall Advertising, a full-service, student-run agency within the UO School of Journalism and Communication (SOJC). From handling client money and booking radio ads to writing and shooting TV commercials, students in AHA get professional experience making real-world work for clients like the University Health Center, University Theatre, Tutor Tree and other businesses in the Eugene area. 
One of AHA's biggest opportunities the past two years was to creating campaigns for the UO's star-studded women's basketball program. From 2017 through 2019, they ran a "Wonder Ducks" campaign, rendering the talented players as superheroes all over Eugene. This year, AHA students revamped the idea to be modern and personal, building on the success from previous years and taking it to a new height. 
The UO Athletic Department hired AHA to find a way to increase attendance from the Portland metro area and increase ticket sales — a daunting task since the women's basketball team already fills the stands of Matthew Knight Arena.
Students presented their ideas to Tim Boyle, an SOJC alum and the CEO of Columbia Sportswear, in Portland to ask for his funding and feedback. Highly impressed, Boyle granted the AHA students a generous budget. With Boyle and the UO Athletic Department's support, the students produced a range of creative assets, including street banners, bus wraps, player posters, and eye-catching designs that are currently on display all over the UO campus, Eugene and as far as the Portland metro area. 
Having their work produced and used in the world while they're still students is a huge boost, not just for advertising students' resumes, but also for their confidence as young professionals. 
"After working with this team, I was able to prove to myself that I do belong here, and I know I have the confidence I need to move forward in the industry," said Katie Mack, an art director and designer on the account. 
It might be the creatives who produce the ads in AHA, but leadership and coordination are just as integral to any account's success, especially one as large as UO Women's Basketball. SOJC senior and a second-year member of AHA, Jay Levesque, took the director's role for this crucial account.
"AHA helped prepare me for real-world agency experience and overall boosted my confidence in both my personal and professional traits," Levesque said. "I learned how to deal with stress, work in teams and create content on short deadlines."   
As the advertising students on the UO Women's Basketball account work on staying fresh and relevant as the season continued, AHA created another team of superstars for their next big client, the Oregon Department of Aviation. 
The department's 100th birthday is in 2021, and AHA will be producing material to celebrate, as well as orchestrate, an entire rebrand for Aviation in Oregon. The students have already met with the Oregon Department of Aviation representatives and started strategizing a new look and feel for the brand. Next year the same students will work on the account, creating promotional material and possibly designing an Oregon license plate.
"It's not going to be easy," said Jackson Reed, a junior art director on the account. "But it's going to be fun." 
For Reed, who has memories of going to air shows and the Evergreen Aviation and Space Museum as a child, it's a career dream come true before he even graduates from college. 
"Being able to help ODA with their brand is an amazing opportunity for us to help communicate how aviation is used in our daily lives," he said.
From the enthusiastic reactions people have when they see Women's Basketball player posters, to the opportunity to rebrand a department of the state, AHA students are constantly reminded that their work transcends the boundaries and expectations of "student" and puts them on the playing field with professionals.