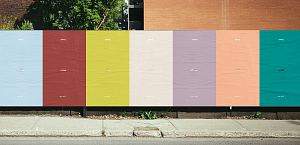 It takes courage to whisper when others are shouting, to ask questions instead of accepting ideas at face value and to change direction with a deadline looming.
UO School of Journalism and Communication (SOJC) graduates Joaquin Sabarots, Matti Merdler and Patience Greene did all three in their 2020 advertising capstone project — which has fueled their successful transitions into the advertising industry. Advised by instructor Bob Rickert, this three-person team created a comprehensive advertising campaign for Allbirds, a certified B Corp and relative newcomer to the footwear industry.
"We try to find clients that are in a growth phase," Rickert said. "This means there's opportunity for students to offer insights that clients haven't discovered yet."
Rickert also thoughtfully selected teams for this senior capstone. Although Greene, Merdler and Sabarots had not worked together before, Rickert saw commonalities that would feed successful collaboration.
"[Greene, Merdler and Sabarots] don't all think the same way, but they're very accepting," Rickert said. "They listen to others' approaches to see if there's a way it can work. They all have a maturity about them that will carry you through the ups and downs of building an advertising campaign."
From the outset, Greene, Merdler and Sabarots maintained open dialogue. The project began in spring 2020, as the pandemic was bearing down on Oregon, so they spent hours on Zoom discussing ideas and providing candid feedback.
"With creative work, you have to be honest with each other off the bat and not take anything to heart," Sabarots said. "You have to trust that everybody's comments are meant to better the work, and that's where our heads were at. That helped our group in the long run."
Based on Allbirds' emphasis on simplicity, the group developed the slogan "Walk quiet" and identified young adults ages 18 to 30 as their target audience. Because this audience primarily values aesthetics and authenticity, the group decided that a quietly confident campaign would be the most effective.
"If you're not yelling, you appear more confident in yourself and what you have to say," the team wrote in their final project.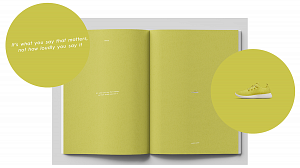 It was a challenging concept to convey visually, however. Sabarots, the group's art director, and Merdler, the designer, initially focused on white noise, which can drown out other sounds to promote relaxation. Greene, the group's copywriter, pushed back on this idea.
"I could see that the strategy was there and trusted my teammates," Greene said. "But it should never feel forced. It's like building something. If you're trying too hard to make it work, there's probably something slightly out of place."
After a meeting with Rickert confirmed that the visual aspect of their campaign was not working as intended, the group had three weeks to retool their designs. They began by returning to the words of Allbirds' co-founders Tim Brown and Joey Zwillinger. A quote from Brown caught the team's attention: "We've tried to whisper when everyone else is screaming."
"If you whisper, people have to lean in to listen to you," Greene said. "You're actually engaging people more the quieter you become."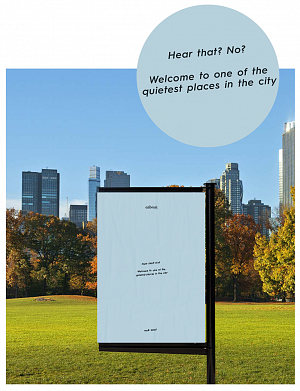 The team decided to evoke whispering in their campaign by emphasizing white space and calming color blocks in their design. They even proposed nontraditional advertising like handing out branded earplugs at concerts and an out-of-home advertisement that would whisper "psst" at passersby, inviting them to come close enough to read a poster. All of the campaign's text was small and succinct, emphasizing the importance of simplicity.
"Even though it was Week Seven [when we changed focus], it was so easy to create because it just flowed so well," Merdler said. "It took us seven weeks of pulling teeth, and then when we got that 'aha' moment, all of it was done in a week."
The team's persistence garnered high praise from their instructor.
"In the end, this was among the best campaigns I have seen [from the capstone course]," Rickert said. "It's succinct, it's smart, and they put an enormous amount of sweat equity into their work. Making work that simple is actually the hardest thing to do."
This emphasis on simplicity ties in neatly with Sabarots' current work as an art director for TBWA\Media Arts Lab, which provides design for Apple.
"Apple's design is all about simplicity," Sabarots said. "And in the advertising industry, you have to know how to work collaboratively and be vulnerable with people. So having practiced pitching ideas throughout my college years has helped me immensely in my career."
In addition to honing skills during this capstone project, Greene and Merdler became inseparable. They applied to advertising jobs as a team in spring 2020 and now work closely together at Haloumi, a marketing and advertising agency in Portland where Greene is a copywriter and Merdler is the art director.
"I'm so thankful that the Allbirds campaign brought me and Patience together as a creative team," Merdler said. "We already learned how to make our work flow well, and we've been together ever since."
—By Jenni Denekas, class of '22.
Jenni Denekas, class of '22, is a Multimedia Journalism and Strategic Communication dual master's student and the content strategist at SOJC Portland.