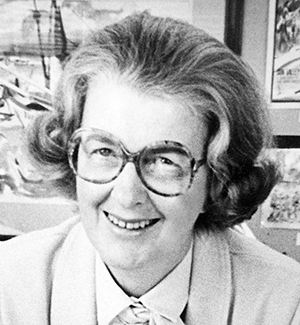 Milly Wohler once explained to a colleague at The Oregonian how, at six feet tall, she was able to move through the newsroom with grace. "Tall girls can reach higher, and big feet give you better balance." Wohler's life illustrated that sentiment.
In 1943, she graduated from the UO with a journalism degree and a key to Phi Beta Kappa. She spent two years as a reporter at the San Francisco Call Bulletin before marrying fellow UO alumnus Ben Wohler, in 1945. His military service took them
to Florida, where she continued to work and even considered buying a newspaper.
In 1947, the couple decided to return to their native Oregon to start a family.
Motherhood expanded her focus, and she spent most of the 1950s balancing her roles as full-time homemaker and caretaker of her children while writing freelance columns for The Daily Journal of Commerce at her kitchen table. She returned to work part-time, writing wedding stories for The Oregonian, after the untimely death of her son Bill in 1960.
In 1966, when her youngest son, John, began school, she began as a full-time staff reporter for The Oregonian's Day section. She served the paper as club editor and travel writer before taking over as editor of the Day section in 1977. In 1980, she became the first woman in the history of the paper to hold an upper-management position, when then-assistant managing editor Al McCready stepped down while his wife, Connie, was Mayor of Portland. When he returned, Wohler became editor of the Travel section. She won numerous awards, including first place in section editing from the National Federation of Press Women, and one first-place and two second-place awards for writing and section editing from the nation's most prestigious travel writing competition, the Lowell Thomas Travel Journalism Competition of the Society of American Travel Writers Foundation. To date, it is The Oregonian's only first-place Lowell Thomas Award.
But it was her influence in the newsroom that is her legacy. She was a trailblazer, reporting on battered women when the issue was considered taboo and covering the women's movement long before others took notice of it. These stories appeared on the pages with "traditional" women's fare such as recipes and household hints and brought The Oregonian national notice. She set an example for dozens of young men and women on The Oregonian staff—by pushing them to be better writers, by providing mentoring and encouragement, and by sharing with them her wit and wisdom about everything: writing, parenting, and life. Oregonian editor Sandy Rowe once called her "The Grand Dame of The Oregonian."
Wohler retired in 1995 and died in 2001 at the age of 79. At her memorial service, Oregonian publisher Fred Stickel remarked: "Milly Wohler and people like her are the bedrock of good newspapers. With them, you can do anything; without them, nothing."