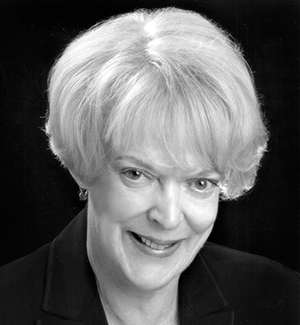 Even as a young girl, Mary Ann Dean Smith says she knew "writing was essential." At the University of Oregon, her passion for writing was intensified in her introduction to journalism class. She knew, she remembers, that "she was onto something big." She has spent her adult life teaching writing, promoting writing, and getting funding for writing.
She was a top student at the UO, a recipient of the Crown Zellerbach Scholarship and the Oregon Press Women's Book Award. As a freshman, she was named a member of the Alpha Lambda Delta scholastic honor society. She wrote for Old Oregon, the school's alumni magazine, and for the Oregon Daily Emerald. She was a member of Phi Beta Kappa and Mortar Board and of journalism honorary societies Theta Sigma Alpha and Kappa Tau Alpha. She also was active in Delta Gamma sorority. She graduated cum laude from the university's Clark Honors College in 1963 with a major in journalism.
Her experience at the Emerald had taught her that a reporting career—"with deadlines snapping at her heels"—might not be her first choice. After graduating, Mary Ann Dean did, in her words, "what women did at the time"—she got married and began a family. Wanting an adventure, she and her husband, Ken Smith, moved to New York. Her son David was born in 1964; her twins, Judy and Jonathan, in 1968. Wanting a career that allowed her to balance her love of writing with raising children, she pursued and earned a master's degree in English education from New York University in 1969.
The family returned to their native California, where Smith taught English and journalism at Northgate High School in Walnut Creek, California, and at Loma Vista (California) Intermediate School, among others. During the summer of 1974, she was one of twenty-five teachers to attend a five-week summer institute at the University of California, Berkeley, taught by Jim Gray. The teachers returned after the summer to their schools to conduct in-service workshops for their colleagues. These workshops led to the Writing Project model.
Smith left the classroom in 1984 to work full time with Jim Gray on the Bay Area Writing Project and eventually became the program's director.
In 1991, she and Gray went to Washington, D.C., to obtain congressional sponsorship and captured the interest of Senator Thad Cochran of Mississippi, who had heard about the writing project from teachers in his home state. Teachers had told him it was "the best professional development ever." Cochran, a conservative, recommended to them that they get a Democrat on the House side to sponsor a companion bill. They asked George Miller, a Democrat from California, to take the lead in the House. The bill passed. Thus the National Writing Project was born.
The National Writing Project has grown to a staff of fifty. Smith, who now serves as its director of governmental relations and public affairs, is part of a nine-person executive unit. She is coauthor or editor of three books—Writing Portfolios: A Bridge from Teaching to Assessment (1992), Teachers' Voices: Portfolios in the Classroom (1993), and The Whole Story: Teachers Talk About Portfolios (2001). In addition, she is author or coauthor of more than twenty articles on the project and on the teaching of writing. She has spoken about the writing project at dozens of conferences and given invited testimony in front of the U.S. House of Representatives and the U.S. Senate. She has taught more than 300 workshops for educators and administrators.
Today the National Writing Project has sites at nearly 200 universities, including the University of Oregon, in all fifty states, the District of Columbia, Puerto Rico, and the U.S. Virgin Islands. Collectively, these sites serve more than 130,000 teachers a year, with more than a million participating since that first workshop in 1974. During its sixteen years of federal funding, the project has received more than $160 million to improve the teaching of writing.