2013 Hall of Achievement Inductee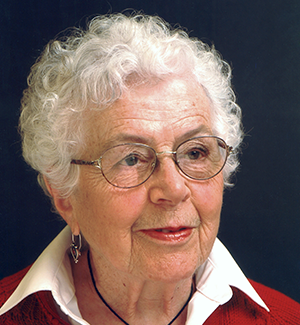 Madeline DeFrees was only a few years out of the convent and only an hour into her first driving lesson when she hit the accelerator, careening at 50 miles per hour down the winding, not-completely-paved roads of Montana's Rattlesnake Valley.  With fellow writer and volunteer driving instructor William Kittredge hanging on for dear life, DeFrees ignored his admonition to slow down. If she was going to learn to drive, it was now or never.
DeFrees approached her teaching and writing life with the same single-minded determination.  She joined the Sisters of the Holy Names of Jesus and Mary in 1937, adopting the name Sister Mary Gilbert, and taught school throughout Oregon before graduating from Marylhurst College in 1948 with a B.A. in English.
After earning her Master's in Journalism in 1951, she began her college teaching career at Holy Names College in Spokane, Wash. and in 1953 published her first book, The Springs of Silence, an autobiographical work about her experience upon entering the order. In 1963, she published Later Thoughts from the Springs of Silence and, in 1964, published her first poetry collection, From the Darkroom. Her poem A Catch of Summer was featured by Best Poems of 1965.
Two years later, at the suggestion of renowned poet and notorious western Montana bar scene fixture Richard Hugo, she moved to Missoula to teach full time at the University of Montana.
It was at Montana that DeFrees began to wrestle with the tension between her writing and convent life.  DeFrees was in a contemplative order in the convent, where she spent the bulk of her time in prayer and meditation, writing poems in her head most of that time. The more she wrote, the more she wanted to write.
In 1973, DeFrees was dispensed of her religious vows, clear that she was not leaving the Catholic Church but rather devoting herself to writing. In 1978,  she published When the Sky Lets Go under her given name.
After leaving the convent, DeFrees went on to teach at the University of Massachusetts, the University of Washington, the University of Victoria and Pacific University in Forest Grove, Oregon.
In 1981, DeFrees won a Guggenheim Fellowship and a grant from the National Endowment for the Arts. Again faced with the prospect of divided focus, this time between her own work and that of her students, DeFrees retired from teaching in 1985 to write full time, telling an old friend, "… If I'm any good, and I think I am, I want to spend as much time as I have left writing."
Her poetry collection Blue Dusk, published in 2001, features a selection of poems she wrote from 1951-2001. The book earned her the prestigious Lenore Marshall Poetry Prize and a Washington Book Award. She also received the Levertov Award in 2004, given annually to an artist or creative writer "whose work exemplifies a serious and sustained engagement with the Judeo-Christian tradition." Her most recent collection, Spectral Waves was published in 2006.