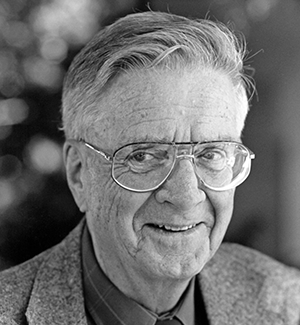 Countless journalists around the world credit their success to Lyle Nelson. He was the former director and driving force behind the John S. Knight Professional Journalism Fellowship Program, which provided an opportunity for outstanding midcareer pro-fessionals to study at Stanford in order to broaden and deepen their understanding of the dimensions of major issues and trends shaping the nation and world.
Nelson is recognized nationally as a leader in higher education and an outstanding teacher. His students have said that he inspired students in journalism and gave them the motivation to work hard and work honestly.
During World War II, Nelson worked in Washington, D.C. as a technical editor for the U.S. Army Ordinance Department, and served as an information specialist for the Bureau of Reclamation. In 1947, Nelson returned to UO as an associate professor of journalism and assisted UO President Harry Newman. Nelson played a fundamental role in fending off the Oregon House of Representatives' plans to demand "loyalty oaths" at public universities, and was awarded for distinguished service by the American College Public Relations Association in 1953.
Nelson served as University of Michigan's vice president of university relations from 1957-61. Four years later, he became the director of university relations and a communications lecturer at Stanford University. He also created and directed professional journalism fellowships by bringing accomplished journalists to Stanford to teach.
He was appointed executive director of the White House Conference on Education in 1965 and served as the chairman of the National Board of Foreign Scholarships.
Nelson was also the director of the California Nature Conservancy for many years, and worked on the national board of governors of the Nature Conservancy for eight years. He went on to receive the highest national award for outstanding service in conservation in 1974, the Conservancy's Oak Leaf Cluster.