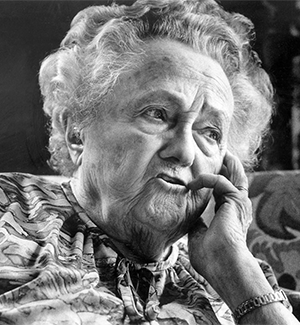 It is no exaggeration to say that Lucile McDonald helped to lead the way for women journalists in Oregon, the United States and around the world. While she was a student at Oregon, she worked for the Daily Guard and was the first woman news editor for the Oregon Daily Emerald in 1917.
After graduation, at a time when few women worked in the newsroom, she began her 36-year career as a newspaper reporter, working at the Bend Bulletin, The Oregonian, and the Salem Statesman Journal. She went on to work for the Cordova Times in Alaska and spent 23 years as a feature writer for The Seattle Times.
Her distinctions as a journalist include being the first woman news reporter in South America, the first woman copy editor in the Pacific Northwest, the first woman telegraph editor, courthouse reporter and general news reporter in Oregon, the first woman overseas correspondent for a trade newspaper and the first woman on a New York City rewrite desk. While she was renowned for her reporting, McDonald was also a prolific book author. A Washington State Governor's proclamation officially named March 9, 1991 "Lucile McDonald Day." Lucile McDonald died in 1992.