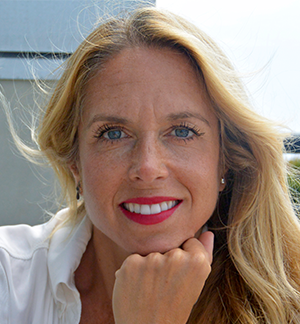 2011 Eric Allen Outstanding Young Alum
Kari Boiler says that her success has been a combination of "guts and naivety." Born in Portland, Oregon, Boiler attended Peninsula High School in Washington state before attending the University of Oregon. At the UO, she chose advertising as a major, attracted by the "creativity, culture, big brands, travel, communication and strategic skills."
She was a member of Delta Gamma women's fraternity and an avid runner and intramural soccer player; she worked part time at the NIKE store in Eugene to earn money for school, spending her summers at the NIKE store in Portland as well as waiting tables at Jake's restaurant. These efforts helped her fund an overseas study trip to Lyon II in Lyon, France, during her junior year, an experience she calls "amazing" and one that sparked her interest in living and working overseas.
After graduating, she landed an internship at Wieden + Kennedy and returned to her native Portland, working in account services for clients that included NIKE and Oregon Tourism. Boiler remembers that time as "sink or swim." She chose to swim but remembers it as "more or less a doggie paddle . . . figure it out as you go." There she worked closely with Glenn Cole '92 and John Boiler '87, (Architecture) who would later become her husband.
"You really couldn't have a better launch pad to help form your future," she says of the agency. "The fast pace, importance of a clear thought, strategic refinement, multitasking and organizational skills, client management experience, and [you are] surrounded by amazing people."
At Wieden + Kennedy, Boiler distinguished herself by her contributions to the Global Nike World Cup campaign of 1998, the 1996 Olympics Initiative, and regional support for campaigns for the Nike Asia Pacific region. In 1997, she got her opportunity to work overseas when she was promoted and transferred to Wieden + Kennedy in Amsterdam, Netherlands, to further her international business experience on global brands such as NIKE, Coca-Cola, Audi, and Lego. "We did a lot in five years—we really lived and worked there," she remembers. "It hardly felt like being expatriates. It was an incredible experience that taught me flexibility, adaptability, creativity, incredible work ethic, and how much I love cheese."
She and John, since married, had their first child, Charlie, in 2001 while still in Amsterdam. She took a leave from Wieden + Kennedy in order to focus on motherhood, and she bought her first Bugaboo stroller. Visiting the U.S. with her young family, she found that the stroller was the center of attention. Using the business sense she honed at Wieden + Kennedy, she persuaded the company, based in Amsterdam, to launch Bugaboo North America, which she did (with fifteen strollers in her garage) after moving back to Los Angeles in 2002. The company hit the U.S. map after a flash of brilliance in which Boiler made a cold call to the producers of the popular series Sex and the City, offering an exclusive on a new model for Miranda, one of the show's characters, who was pregnant at the time. The stroller debuted on the show in June 2002 and had a six-month waiting list by the time of its U.S. release six months later. "I knew nobody at HBO," Boiler remembers. "They didn't know me. It took five minutes and had massive impact on our launch moment." For her, it was an A-ha moment, a reminder to "stop thinking so hard and just try it."
From 2002 to present, Kari has served the company in varied roles, first as marketing director and since 2008 as president, Bugaboo Americas. Bugaboo has been credited with redefining the stroller category in the U.S. Boiler currently lives in Manhattan Beach, California, with her husband John Boiler, daughter Charlie, son J.P., and dog, Ned.