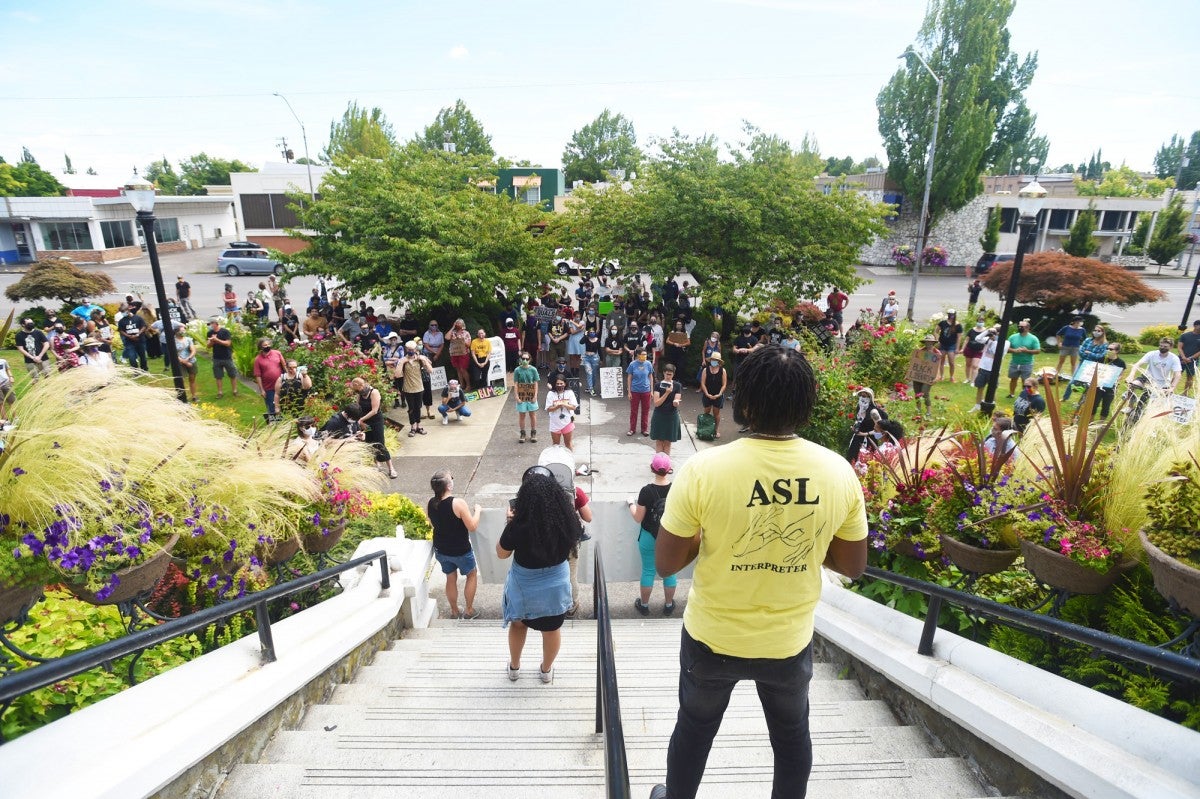 A Black Lives Matter rally marched from Central Park to Benton County Courthouse in Corvallis, Oregon. (Photo credit: Kimberly Harris)
Since May 2020, more than 350 journalists reported assaults, arrests, or preventions from documenting protests. The First Amendment protects journalists' rights to report, but studies show press passes aren't enough to protect people from being arrested or attacked.
Black journalists face added challenges when they cover protests
Omar Jimenez, a Black and Latino reporter for CNN, was arrested while reporting live from a protest. Josh Campbell, a white reporter, was a few blocks away from Jimenez.
In the CNN article addressing the discrepancy, Campbell said, "I was treated much differently than [CNN correspondent Omar Jimenez] was. I'm sitting here talking to the National Guard, talking to the police. They're asking politely to move here and there. A couple times, I've moved closer than they would like. They asked politely to move back. They didn't pull out the handcuffs. Lot different here than what Omar experienced."
Black journalists covering racial inequalities have to bear more emotional, mental and physical weight than their non-Black reporting peers. They are often called upon to educate their newsroom and racism, provide advice as a token while experiencing emotional trauma from covering violence against Black people.
Journalists have been attacked, tear-gassed, tased, struck with rubber bullets and hit with batons
Linda Tirado, a freelance journalist, shares a selfie from the hospital. She was shot with a rubber bullet by the police in Minneapolis, causing her to potentially lose sight in her left eye. In Portland, photojournalist Clementson Supriyadi reported being assaulted and attacked by Oregon State Police. Through a video of the photojournalist's arrest on Twitter, viewers can hear people yelling, "That's press!" to the officer as they arrest Supriyadi.
A Louisville, Kentucky, TV reporter, Kaitlin Rust, and her crew were hit by a pepper ball on-air by an officer aiming at her. Attacks can be accidental, but in these cases, journalists are hurt after they identify themselves as press. Rust and her crew encountered another moment while reporting on a New York protest in September when they had to be escorted away and shielded by security guards after protesters confronted them.
Amelia Brace, a TV reporter from Australia, covered protests outside of the White House in June. She filmed a police officer attacking her crew's camera. Brace testified before the United States Congress Committee in September over the attack. She was also shot at with nonlethal rounds from the police, along with her crew. Brace testified before the United States Congress Committee in September over the attack.
Evidence of various incidences of police using force and violence on journalists shows how press passes and First Amendment rights are not shields from the police or protesters. Reporters with official badging are tased, pepper-sprayed and struck with rubber bullets by police. A Detroit officer knocked a reporter's cellphone out of their hands after pepper-spraying them. Other articles feature Twitter postings of videos and photos of protesters attacking journalists.
This isn't the first time journalists have been attacked at protests
There is a long history of journalists being attacked or targeted for reporting. However, when prominent media reporters are attacked, the events gain more attention. Journalists from corporate media outlets like CNN, FOX and local outlets worldwide have been victims of violence.
It's critical for journalists to freely report on human rights in the United States and a fundamental right. Law enforcement and people going unpunished for abusing a journalist's right to report contradicts the Constitution's promise to Americans. 
This spring, School of Journalism and Communication (SOJC) faculty sent an email to students asking for journalists to have "heightened sensitivity" and offered professors to reach out to for advice, along with a list of ethical, legal and strategic points to follow while reporting during protests.
Poynter published a guide for journalists covering unrest featuring 25 strategic ways journalists can avoid harm and conflict while reporting on the ground. 
Organizations like the U.S. Press Freedom Tracker and Freedom of the Press asked journalists to reach out about their experiences of being attacked by the police or protesters to record each case. The Reporters Committee for Freedom of the Press offers journalists resources of attorneys for those who need help while covering uprisings.
Living through historic events calls for journalists to document them. Resources and tips are available to journalists who decide to go out and report on the ground of demonstrations.
— By Kimberly Harris, '21
---
Kimberly Harris '21 is a journalism major from the SOJC. She is a photojournalist for the Daily Emerald and editor in chief of The Siren Feminist Magazine through the Women's Center at UO. As a 2020 intern with the Charles Snowden Program for Excellence in Journalism, she interned at the Democrat-Herald as a photojournalist.