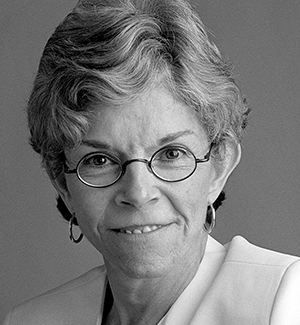 While few could deny that Joann Byrd has helped set the standard for excellence in journalism, some might say she had a head start. Byrd began her career at the seasoned age of thirteen writing a weekly column for The East Oregonian. Her early efforts offered only a hint of the success that was to follow.
Byrd's first job after graduating from the University of Oregon was with The Spokane Daily Chronicle. In 1978, she joined The Herald in Everett, Washington rising quickly to become executive editor in 1992–at the time, the highest-ranking woman in Northwest journalism.
While working for The Herald, Byrd earned a master's degree in philosophy with an emphasis in media ethics from the University of Washington. Her commitment to media ethics did not go unnoticed. She soon began teaching journalism ethics at the University of Washington, and in 1995, left The Herald and the Northwest to serve as ombudsman for The Washington Post.
Next, Byrd joined the Poynter Institute for Media Studies in St. Petersburg, Florida, again to teach journalism ethics, this time to mid-career professionals. Since January 1997, Byrd has been editor of the editorial page of the Seattle Post-Intelligencer.
Nonetheless, her leadership has extended beyond individual newspapers. She is a member of the Pulitzer Board. She was a founding member of the board of directors for New Directions for News and was also a fellow at the Freedom Forum Media Studies Center at Columbia University. Byrd represents the American Society of Newspaper Editors on the Accrediting Council on Education in Journalism and Mass Communications and in 2001, she will become chair of the ASNE's Ethics Committee.
Bob Steele of the Poynter Institute says of Joann Byrd, "When I talk about American journalists who are champions, Joann Byrd is always on my top ten list. Over her illustrious career, Joann has demonstrated that she cares deeply about the role of journalism in society, and about the citizens in our communities. When we talk about journalism in the service of democracy, we can talk about Joann Byrd as a master practitioner."