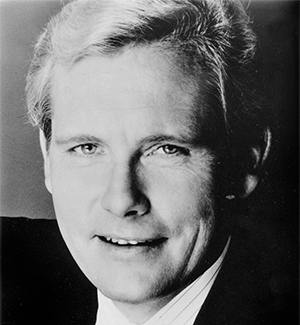 What began as a news feature has changed the lives of hundreds, possibly thousands, of children. In October of 1981, CBS-affiliate WBZ-4 in Boston aired the first segment of Wednesday's Child, a weekly news feature by anchor Jack Williams designed to raise public awareness of special-needs adoption. Today, more than 525 children in the Boston area have been adopted, and news stations across the nation have developed similar programs.
Williams' commitment to special-needs children does not end with these broadcasts. He has raised more than $6 million for special-needs adoption.In 2000, with his wife, Marci, he created the Jack Williams Endowment for Wednesday's Child, a charitable foundation to ensure continued support, to raise awareness, and to facilitate special-needs adoption.
Williams is also a first-class journalist. His interest in broadcasting began when he was growing up in Idaho; at thirteen, he built his own radio station at home. Two years later, he was hired as an announcer by Idaho radio station KYTE. After earning his bachelor's degree in Journalism in 1968, he worked at KIRO-TV in Seattle and KORK-TV in Las Vegas as an anchor and news director. He joined WBZ-TV in 1975.
Williams has won four Emmy Awards for his work at CBS4, including two for individual reporting for the series "Crisis at Birth," and one for Wednesday's Child. He is the only anchor in Boston to earn two Emmy Awards for individual reporting. In 2001, he received the Governor's Award from the New England Emmy Association.
His work with children has likewise received top honors, including one of the first Adoption 2002 Excellence Awards from President Bill Clinton and Hillary Clinton in 1997; a Presidential Citation from Ronald Reagan in 1986; and recognition from hundreds of organizations including the U.S. Department of Health and Human Services; the American Academy of Pediatrics; and B'Nai Brith. He has seven honorary doctoral degrees and was chosen in 1996 to be a Phi Beta Kappa Fellow.
Williams is one of the original board members of the Genesis fund, an organization that established the National Birth Defect Center at Kennedy Memorial Hospital (now Franciscan Hospital for Children) in Brighton, Massachusetts, and he is on the advisory board of the Pike Institute at Boston University's Law School, which advocates for handicapped.