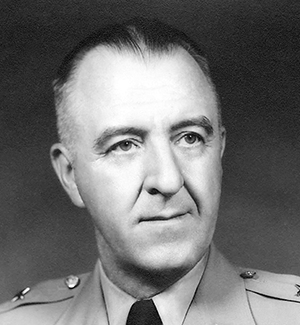 Herbert Butler Powell, one of only two four-star generals in the UO alumni ranks, had an outstanding career combining military life and diplomacy. His life epitomizes patriotism.
Powell, an Oregon native and descendant of the original settlers of Monmouth, received his UO journalism degree in 1926 and began working as a reporter for The Bulletin in Bend. But the military was a true calling for this ROTC graduate, and in 1926 he began his career as a commissioned second lieutenant in the U.S. Army. He quickly rose through military ranks; when he retired forty-three years later in 1963, President John F. Kennedy, whom he had advised during the Cuban Missile Crisis, appointed him Ambassador to New Zealand.
His career also included such roles as 25th Division Commander; Commandant of the Infantry Center; and Commanding General, Third Army, Fort McPherson, Georgia. His last assignment was Commanding General of the Continental Army Command at Fort Monroe, Georgia, where he oversaw all active reserve and ROTC units in the forty-eight contiguous United States. Powell's journalism background proved useful in cementing relations between the Army and the civilian community at Fort Benning, Georgia and earned him a national award for public relations achievement.
Upon his death in 1998, Robert M. Walker, then acting secretary of the U.S. Army, remembered Powell as "an officer of the highest ideals." Walker wrote, "His life was characterized by dedication, vision, and patriotism and was an inspiring one for American youth."