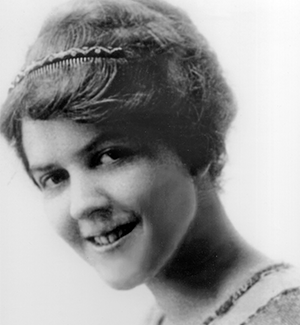 Grace Edgington graduated from the University of Oregon in 1916 with a Phi Beta Kappa key and one of the first four diplomas awarded in the new field of journalism. She was twenty-four, a writer, and throughout her life she would remain a writer as she learned to be a rancher, became a mother, accepted the demands of a political life, and to many in her home state, earned their affection as the first lady of Idaho.
Following her graduation, she began to build a life for herself as a single, independent woman writer. She wrote for The Eugene Morning News and The Oregonian. She taught at the University of Washington and at the University of Oregon, where she served as the editor of Old Oregon magazine.
At Oregon she met Leonard Beck Jordan, a World War I veteran on a football scholarship finishing his undergraduate studies in economics. Like Grace, he graduated Phi Beta Kappa, and they married in 1924.
Grace's career was ostensibly "on hold" as she took on the responsibilities of wife and mother. Len worked as a financial manager and foreman for large ranches. They had three children, Pat, Joe, and Steve. The family prospered, but in 1932, the bank that held their savings failed. A bank in Portland offered them the opportunity to take over a remote sheep ranch deep in the Snake River Canyon on the Oregon-Idaho border. If they could return the investment plus interest, the ranch would be theirs.
For the next ten years, Grace home-schooled her children and lived the rugged life of an Idaho pioneer wife—with a typewriter. She wrote about life on the ranch and the hard work that accompanied it, stories that became her best-known work, Home Below Hells Canyon.
When her children were in high school, she moved to Grangeville, Idaho; Len joined the family in 1943 after the ranch was sold. Grace resumed her career, teaching and writing for both the Idaho Free Press of Grangeville and the Lewiston Tribune.
In 1945, Len was elected to the Idaho Legislature, serving one term. His political career resumed in 1950 when his fellow Republicans persuaded him to run for governor. His platform was deeply conservative, advocating thrift and individual responsibility—values that the family knew well from their days at Kirkwood on the Snake River. Grace served as his speechwriter.
When her youngest son left for college, Grace resumed her own career in earnest, balancing her responsibilities as the first lady of Idaho with teaching and writing. Home Below Hells Canyon was published in 1954. The book sold 10,000 copies in Idaho and was translated into several languages.
As Len's term as governor was ending, he was appointed to the International Joint Commission to develop the St. Lawrence Seaway. For two and one-half years, Grace would be immersed in a life she considered "full of snobbery and posturing" in Washington, D.C. In 1957, Len resigned and the Jordans returned to Boise, where Len went back to ranching. Grace once again directed her energy to writing, publishing the novel Canyon Boy in 1960 and researching and writing The King's Pines of Idaho in 1961. She rejoined the Idaho Writer's League and taught writing workshops at Boise Junior College and at the Y.W.C.A.
It was during that time that she conceived of The Idaho Reader. An anthology of stories about Idaho by Idahoans, it would be her gift to the state and to its writers, and a gift from Idaho to the rest of the world, she planned.
In 1962 Len was called upon to finish the term of deceased U.S. Senator Henry Dworshak. Back in Washington, Grace reserved the mornings to continue work on The Idaho Reader; the book was published in 1963. It was a work ahead of its time: it would be three more years until the formation of the Western Literature Association—and it firmly established Grace Jordan's place in Idaho's literary history.
She wrote a regular column about life in the nation's capital, "Where Rolls the Potomac," for ten years and formed a writing workshop for the Women's Congressional Club. After Len had served two terms as senator, the couple returned to their home in the west.
She produced two books, The Unintentional Senator (1972), and Country Editor (1976), in four years and wrote numerous newspaper articles and columns as well as poetry. She continued to give workshops for the writer's league and established a Boise women's talk group that still exists today.
In 1981, two years before her husband died of cancer, she and Len shared the Boise State University President's Award for Western Life and Letters. Grace, in her early nineties, was not finished publishing. A collection of her poems, Idaho Reflections, was printed in 1984.
On September 17, 1985, Grace Jordan died following surgery for a broken hip. She left behind seven books, one unpublished novel, hundreds of newspaper columns, and an invigorated Idaho literary scene.