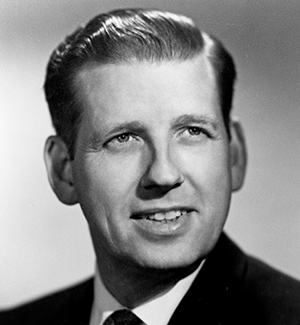 Most people fortunate enough to have worked with Glenn Starlin remember him for his remarkable leadership skills and his genteel character.
He began his teaching career at the University of Iowa in 1939 and worked as an instructor in speech and drama at the University of Akron in Ohio from 1940 until 1943.
In 1947, following World War II, Starlin joined the University of Oregon faculty. He was instrumental in developing the radio-television production curriculum in the Telecommunications and Film program, introducing a graduate program and establishing the campus radio station, KWAX.
In the late 1950s and early 1960s, Starlin helped to establish the state's first educational television broadcast facility, KOAC-TV in Corvallis. He was centrally involved in the development of Oregon Public Broadcasting, and in 1954-56, he helped launch the National Educational Television and Radio Center–now known as PBS.
Starlin's influence soon became global. He consulted on the development of public broadcasting around the world, and served for many years on the boards of the Western Radio and Television Association and the Association for Professional Broadcasting Education.
At UO, Starlin served as vice provost for academic affairs and as acting dean of Liberal Arts (now Arts and Sciences). He retired in 1977.
Today the Glenn Starlin Endowed Graduate Fellowship rotates annually between the Department of Theatre Arts and the SOJC and is presented to the student "with a demonstrated commitment to scholarship and career potential." In 1990, the Museum of Natural History Courtyard was dedicated in Starlin's name.
Robert D. Clark, President Emeritus of the University of Oregon said, "Glenn Starlin had a keen imagination and creative spirit, and high standards that demanded much of colleagues and those who worked under his direction. His congenial spirit charmed us all and led to the heightening of our own aspirations."