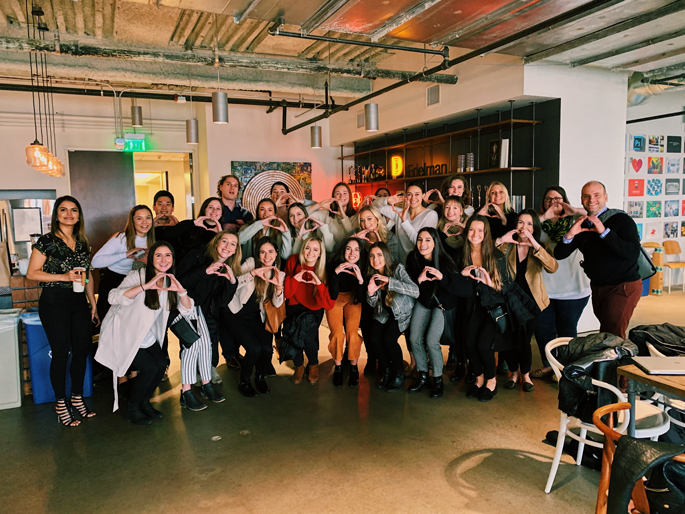 Story and photos by Bella Barilati and Vicky Conroy
One of the best parts about the UO School of Journalism and Communication is the experiential learning opportunities it offers students.  
Over winter break, we had the chance to travel with 49 of our fellow public relations students to San Francisco for the SOJC's second-annual Golden Gate Ducks networking trip.
While we were there, we visited agencies such as Edelman, big-name tech companies like Nintendo and corporate communication teams at companies including Visa and Salesforce.
Here are four tips we learned along the way that we hope will help you make the most of your next networking trip:
1. Do your research.
Before even stepping foot into the buildings of the companies we were touring, I knew what type of work they did. I looked into the clients they worked with (mostly tech), recent case studies, their other locations and the size of their companies.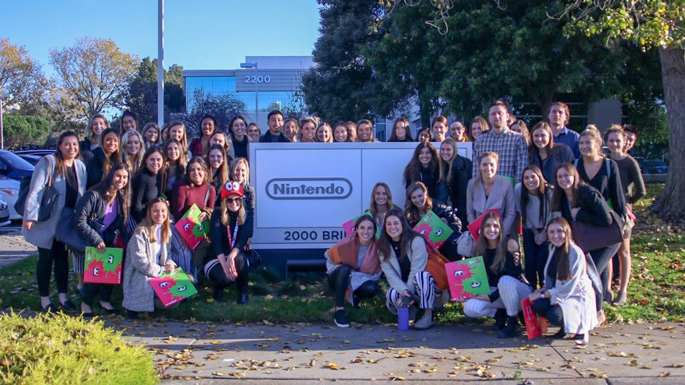 Once you know the basics about an agency, it is easier to come up with targeted questions. Within my portfolio -- which I highly recommend bringing -- I had a notebook where I kept all of my notes and two separate lists of questions: "General Q's" and "Specific Q's."
It was helpful to have broader questions that I couldn't find in my research but was still interested in learning. Once they answered those questions, I was able to formulate specific follow-up questions to get all of the information. It's convenient to also have those "Specific Q's" for each separate agency you visit to get the most out of your meeting time.
Don't be nervous to raise your hand and asked your question. That's why the members of the agency are there: They want to give you information. If you're too nervous, it's OK. I was too nervous on my first agency tour to ask any questions, but I still received helpful advice.
—Bella Barilati
2. Take notes.
Even more valuable than asking questions is writing down their answers -- to both your questions and the questions others ask. Some of your peers may ask something you never even thought of!
Not many students get this opportunity to receive an in-person tour of popular agencies, so make sure to write down what stands out to you. Do you want to work at this agency? Then find out how. Take notes on the employees' experiences, and when they present, be sure to write down their names and positions. That way you can network with them later on Linkedln or other social channels.
One last piece of advice: Pay attention to the culture and the feeling you got when you were there. It will trigger your memory when you're looking over your notes later and deciding where to apply.
—Bella Barilati
3. Get ready to network.
One of the biggest takeaways from the trip was how much networking you get to do in such a short amount of time, especially with fellow Ducks. On our visit to Edelman, more than half the speakers on the panel were SOJC graduates. It made it less intimidating to go up to them, because you already had something in common.
Take advantage of the alumni networking event, even if you're tired from a long first day of visiting firms. Even one conversation can spark talk about an internship or job opportunity that you wouldn't have known about otherwise. There's never a bad conversation with someone who is working in the field you want to get into, so soak up all the advice and tips they can offer! Pro tip: People love to talk about themselves, so you can always just ask questions about their lives.
Don't forget to follow up with LinkedIn connections after the trip is over. Reach out to all the new contacts you made to let them know you had a great time talking to them. It might just lead to a future conversation or informational interview.
—Vicky Conroy
4. Be open minded.
Before leaving for San Francisco, you'll be assigned to a group that has a "track," or the schedule of the different agencies you will be visiting. My biggest advice is to not be disappointed if you didn't get your top pick. Be open minded! All of the agencies that let us Ducks come and visit are great, and each can provide a different perspective that you may not have thought about before.
The third stop on my group's track was Visa, and I wasn't expecting to like it as much as I did. I always thought I would be working at an agency, not an in-house corporate setting. But after visiting Visa, I am exploring different career options because of how much I enjoyed speaking to their communication team. Take advantage of every agency you visit, and remember that this is a unique experience that not everybody gets.
—Vicky Conroy

We highly recommend signing up for this trip or one of the other trips offered through the SOJC. The best way to learn is through experience!  
We also want to thank Kelli Matthews, Dean Mundy and Courtney Munther for organizing this trip and preparing us to have the best trip possible.
---
Bella Barilati is a fourth-year undergraduate student in the UO School of Journalism and Communication. She is majoring in public relations and minoring in nonprofit work. This is her fourth term pursuing her passion for creativity as the senior events intern for the SOJC Communication Office. You can find her on Linkedln.
Vicky Conroy is a third-year undergraduate in the UO School of Journalism and Communication. She is majoring in public relations and minoring in business administration. Vicky is currently in her second year as the junior events intern for the SOJC Communication Office. You can find her on Twitter and Instagram @vickyconroy and at vickyconroy.com.