Story and video by Jeff Collet
Jack Fisher has been obsessed with reading, watching and listening to stories about adventure since he read his first "Great Illustrated Classics" — abridged versions of novels such as "Robinson Crusoe," "Treasure Island" and "20,000 Leagues Under the Sea" — as a child.
Now, as an alum of the UO School of Journalism and Communication's Portland-based Multimedia Journalism Master's program, Fisher wants to inspire others through storytelling the way he was inspired as a child. His medium of choice is a podcast called Long Way Radio.
"Long Way Radio is a podcast about adventure," Fisher said. "I define adventure as stepping into the unknown and using the tools you have to accomplish something, whether that's a concrete goal, an athletic goal or simply a goal of learning and exploring and seeing what's out there."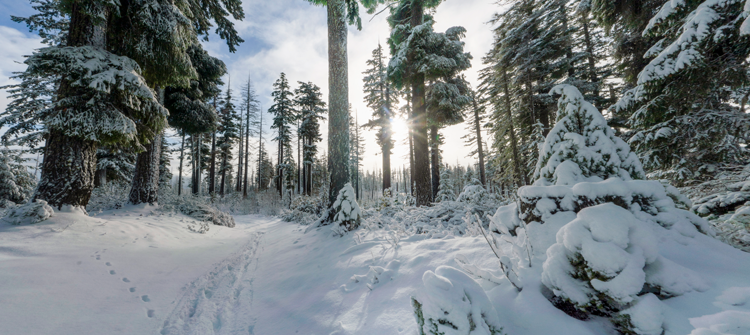 In December, Fisher presented Long Way Radio and its website, longwayradio.com, as his terminal project, the final requirement for graduation from the Multimedia Journalism Master's program. He has spent the past several months lining up and conducting interviews with outdoor athletes, travelers and explorers who share adventure as a common driver.
Long Way Radio's first run of guests includes:
Jorge Latre, a NASA engineer and ultramarathon runner who completed the Iditasport 1000 — a race over the 1,000-mile Iditarod Trail — in snowshoes
James Simmons, an educator and traveler who has hitchhiked over 15,000 miles around the world
Julian Smith, a science and travel writer who retraced the travels of 19th century British explorer Ewart Grogan and detailed the story of his journey in the 2010 book "Crossing the Heart of Africa"
Fisher plans to make Long Way Radio an ongoing project beyond the Multimedia Journalism Master's program. He already has a backlog of yet-to-be-released episodes and a lineup of future guests to interview. As the podcast grows, he plans to add literary discussions to the episodes to revisit the adventure texts that have most inspired him.
Fisher said the adventure narratives we are accustomed to in literature and film often make the central characters seem godlike and untouchable as they work to overcome seemingly impossible challenges. He feels these stories often fail to account for the years of progress and skill-building that led up to that person's decision to embark on an adventure.
"In many ways, they are awe inspiring," Fisher said. "But what I'm aiming to do with this is to really give people a chance to get to know these adventurers, maybe see a bit of themselves in them and realize they can do this too."
Fisher's own adventure narrative began when he, inspired by the Great Illustrated Classics, joined the Boy Scouts and spent his youth camping, hiking and developing outdoor skills around New England. As he grew up, he honed his skills and scaled up his adventures. In 2011, he took a road trip to the interior of Alaska, followed by a solo trip throughout the western United States, before eventually settling in Boulder, Colorado.
While in Boulder, Fisher pursued a bachelor's degree in geography at the University of Colorado and found a job working at the Neptune Mountaineering store. His daily life brought him into constant contact with legends of the outdoor adventure community, and he forged connections with mentors and met others who, like him, wanted to grow their skills and put them to the test.
Fisher said he was finally closing in on the life he had long read about. But a part of him still felt like an outsider.
In spring 2014, Fisher and a partner set out to make their own mark in the adventure community. Their goal: to be the first people to cross Iceland from the southernmost point to the northernmost using only human power, and with only the shelter and supplies they could carry. They spent months training, charted every detail of their route, optimized their packing list and boarded a plane for Iceland.
That journey, however, was cut short. The weight of their packs and the uneven terrain in the early stages of the route caused a pain in Fisher's right knee, which eventually became so inflamed he could no longer walk. That was it. The trip was over.
Fisher doesn't regret the work that went into the Iceland trip or doubt his abilities. But he saw it as a wake-up call about the unforgiving nature of adventure and how it can defeat even the most prepared explorers.
"All of a sudden I realized how much I didn't know," he said. "I might have this good base of knowledge. But that doesn't mean I can just fly across the ocean and do some crazy stuff that hasn't been done before and come back a hero. That's not how it works."
Nonetheless, Fisher's thirst for adventure didn't wane. He continued rock climbing, paddling and skiing and began to travel more internationally. Trips to India, Nepal and Peru exposed him to the adventure of cross-cultural human interactions.
Whether he is camping in the mountains in the dead of winter or is the only westerner at a bus stop in Nepal, Fisher's goal is to feel comfortable in moments that would be outside most people's comfort zones. He wants to pass on that feeling to the listeners of Long Way Radio.
"If we can learn how to be in places that are decidedly unfamiliar and unnatural to us, I think it gives us a really powerful sense of belonging," Fisher said. "It makes me feel like I belong on Earth. And I intend to keep pursuing that feeling and pushing it as far as I can."
---
Jeff Collet is a second-year graduate student in the SOJC's Portland-based Multimedia Journalism Master's program. He has been a content creator for the SOJC Communication Office in Portland since November 2017. Jeff studied visual communication design as an undergraduate at Western Oregon University. Prior to that, he served over nine years in the U.S. Army as a combat photographer/videographer and multimedia illustrator. See more of his work at jeffcollet.com. Follow Jeff on Instagram @colletasyouseeit.