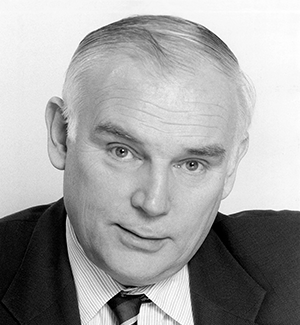 Trying to sum up Everette Dennis' career in a few words is, as Bernard Kalb says, "like trying to miniaturize hugeness." Most simply, Dennis may be one of the most important figures in modern journalism.
Dennis' leadership skills were apparent early when the young man from the Oregon coast became the editor of The Oregon Daily Emerald. After graduating from UO, he went on to earn a master's degree at Syracuse and a doctorate at Minnesota. He then began a distinguished teaching career at Kansas State that eventually led him to the University of Minnesota, Northwestern, Columbia and Fordham University.
As dean of the School of Journalism and Communication, he put the school on the path to the future with his work on the Oregon Report. The report, a pivotal work that continues to influence journalism education across the county, inspired him to create the Gannett Center for Media Studies (later the Freedom Forum Media Studies Center). In turn, the men and women chosen as fellows went on to produce work that explored all aspects of journalism.
Beyond making it possible for others to study the field, Dennis has been a prolific scholar. He has written or co-authored more than 30 books on the media and established the Media Studies Journal. Recognized as one of the most widely quoted experts on the media, Dennis has served as the president of the Association for Education in Journalism and Communication, and founding president of the American Academy in Berlin.
Today, he is the Director of the Center for Communication at Fordham University and its Felix E. Larkin Distinguished Professor of Media and Communication Industries. He also serves as executive director and board member of the International Longevity Center.
Of all of his contributions to the field, the one that his colleagues note most often is his willingness to help his own students and fellows as well as the students and fellows of other institutions.
"Everette Dennis is an extraordinary exemplar of a public intellectual, distinguished by serious scholarship, the ability to articulate and synthesize ideas, and a gift for transforming ideas into action," says Dr. Leo Bogart, sociologist and media scholar. "His broad vision and eclectic interests have taken him far beyond the field of journalism education. He is a marvelous moderator of disparate views, a caring and unselfish mentor, and an indefatigable organizer. He gets things done, he makes people think, and he does it all with a wonderful smile."