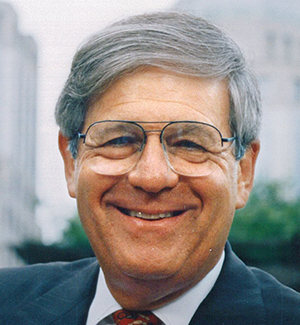 When Ed Artzt was on the staff of the Oregon Daily Emerald in 1951, his colleagues teased him about going into advertising. After all, they claimed, news journalism was the real thing. But no one today would deny that Artzt and his commitment to advertising and business are for real. His career has proved it. In 1953, Ed Artzt began working with Proctor & Gamble as an account executive for their advertising agency. A year later, he joined Procter & Gamble as a sales trainee and assistant branch manager. He rose steadily in the company, eventually becoming vice president and group executive for the European community. In 1984, he became president of Procter & Gamble International, then vice chairman in 1986 and chairman and CEO 1990.
Artzt is considered the "architect" of Proctor & Gamble's turnaround in the international market, making Procter & Gamble products household words not only in the United States but abroad, and increasing Procter & Gamble's foreign sales by some $1.8 billion within five years. Artzt' success has not gone unnoticed. In 1995, he was elected to the American Advertising Hall of Fame, and in 1996, he was the recipient of the UO Pioneer Award.
Artzt has put as much effort into his community as he did his business. Whether serving as the trustee for the Boys Clubs of Greater Cincinnati or as a member of President Clinton's Advisory Committee on Trade Policy, Artzt has lent his considerable expertise to improving the world around him. For that dedication to his work and his community, he has been elected to the National Sales Hall of Fame and the National Advertising Hall of Fame.