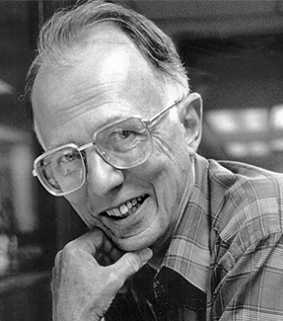 Dean Rea began his newspaper career in junior high school as a printer's apprentice in Ozark, Missouri. Since then, Rea has been a major force in the lives of his students, his colleagues, and in the newspaper business in Oregon.
Rea edited his college paper at Southwest Missouri State University. He received his master's in journalism from the University of Missouri in 1951 and moved to Oregon as the editor of the weekly Hood River News. He became the county editor for The Register Guard in 1954 and three years later, the assistant city editor, a job he held for seven years before beginning his teaching career—and finding his true calling.
Beginning in 1963, Rea taught for two years at the University of Montana before returning to Eugene and the University of Oregon in 1966 as an associate professor. Since then, Dean Rea has mentored hundreds of future journalists, helping to shape the careers of some of the most influential people working in the newspaper business today.
Rea retired from the School of Journalism in 1975—citing a desire to be a part of the newsroom computer generation—and became the managing editor of The Bulletin in Bend. He returned a year later to the assistant city editor position at The Register Guard, serving as features editor and assistant news editor before returning to teaching in 1989.
He has continued to teach as an adjunct ever since. A beloved professor, he is known best for his creative reporting assignments, for introducing future journalists to the business by hosting a lengthy list of impressive guest speakers in his reporting and law of the press classes, and for his uncompromising adherence to the highest standards and principles of journalism.
"For me, Dean Rea was simply the best in a journalism school full of great teachers," fellow HOA inductee Mike Fancher '68, says. "He taught me that the way to be a journalist was always to seek truth and act with integrity. He inspired me to believe that this wasn't just something I could do but something I must do."
As a colleague, he is no less inspiring. As one fellow teacher put it "He is our institutional memory, our benchmark, our motivation, and our ever-supportive colleague.  He is always there when we need him and often there before we know we do.  He is apparently indefatigable."
An active member of the American Amateur Press Association and author of "The Write Stuff Adventure," a creative writing manual, he is indefatigable, indeed—Dean Rea retired a second time in 2006, forty-three years after he began teaching and the year in which he also received the Adjunct Teacher of the Year award from the SOJC. At 77, he was last seen in Allen Hall sporting a new digital camera—which he will use in his new role as The Creswell Chronicle's sports photographer.