2014 Hall of Achievement Inductee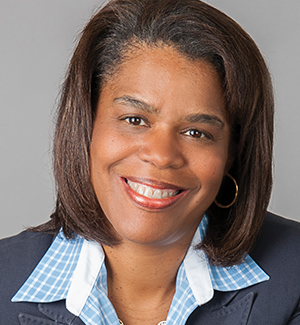 With few options for journalism programs close to home, Compton-native Dana Wade Smith left sunny California with dreams of becoming a journalist or advertising professional in a state she knew nothing about. She found a new home in the tall fir trees of Oregon, where she flourished at the University of Oregon School of Journalism and Communication.
She made sure to experience everything that Oregon had to offer – she was a student advisor, and interned at the bookstore, local television affiliate, KEZI, and a small advertising agency in town. She was a member of the new student welcome committee and was a faithful home Duck football game attendee.
Wade Smith enjoyed the rich advertising curriculum that was balanced with the traditional journalism classes, allowing her explore both of her passions. After a two-year internship with KEZI, where she wrote for the 6 p.m. news, she yearned for the creative outlet that advertising provided. She found her niche in the New York advertising culture.
She graduated in 1983 with a bachelor's of art, but was unable to attend her own commencement ceremony due to a national advertising competition in Washington D.C.
She dove into her career in New York City and worked as an account executive with several advertising agencies, eventually rising to the position of Senior Partner at Young & Rubicam.
Following her time at Young & Rubicam, she became the President of SpikeDDB, a joint venture between DDB Worldwide and film director Spike Lee – a premier agency for African-American and urban advertising. She delivered a 15 percent profit margin and record-breaking revenues over a six-year period, and acquired new client relationships including, Pepsi, Frito-Lay, Royal Caribbean, Jaguar, McDonald's and Remy Martin.
In 2007, Wade Smith switched gears from advertising to work at the executive search firm Spencer Stuart. She specialized in chief marketing officer, general management and senior-level communications leadership searches across the consumer packaged goods, professional services, retail and consumer durables industries.
Wade Smith was a founding member of Spencer Stuart's global Digital Leadership Exchange. She was the co-author of Talent 3.0 Solving the Digital Leadership Challenge, Digital Directors, Putting Your Expertise to Work in the Boardroom and author of The Digital Age.
After six years at Spencer Stuart, Wade Smith returned to the creative side of advertising and joined Sparks and Honey, where she was responsible for leading client business strategy and overall engagements as the Chief Client Officer. She earned agency wins with Visa and Pepsi, two of her most rewarding clients, along with AT&T and Ben and Jerry's.
She recently began a new venture as the Head of Marketing Innovation at Digitas Health. Wade Smith has been tasked with helping the agency transform into the leading health-and-wellness-oriented advertising agency.
Wade Smith has been away from the University of Oregon for several years, but her strong foundation was built here and she believes it is important to give back to the next generations of advertising majors at the SOJC. In 2006, she was named UO's distinguished young alumnus, she served as a member of the University of Oregon's Board of Trustees and the SOJC's Journalism Advancement Council and came back to campus to give her time to students as the Richard Ward Executive-in-Residence for Advertising.
Wade Smith has also been recognized by her peers as one of AdAge's Women to Watch, Ebony Magazine's Outstanding Women in Marketing and Communications and is on the board for Advertising Women of New York and the Worldwide Workshop.
Wade Smith and her husband of 16 years, Ryan, and 12 year-old son, Julius, reside in South Orange, New Jersey. In her free time, she spends her time with her family, plays tennis and participates in service work at her church.