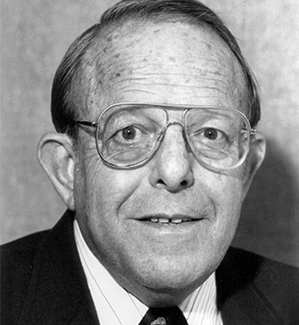 Aaron "Buck" Buchwach was born February 21, 1921, in Portland, one of four sons of Russian immigrants. He began selling papers on street corners at the age of six. At Lincoln High School, he was an all-city football guard and also edited the school's biweekly newspaper, The Cardinal.
Buck had $13 to his name when he entered the University of Oregon. He worked his way through school as a truck driver, then as a sportswriter and columnist for The Register-Guard.
While at the UO he was president of Sigma Delta Chi, assistant director of the athletics news bureau, and a campus correspondent for the Oregon Journal. He contributed articles to Old Oregon and made his first foray into public relations as promotion chairman for the fifty-first Junior Weekend on the UO campus. He also wrote for various Oregon wire services while keeping his grades high enough to earn a Phi Beta Kappa key along with his degree in journalism in 1942.
After graduation, he joined the Army and moved shortly thereafter to Hawaii to write for the Pacific Stars and Stripes newspaper. After the war, in 1946, Buck began work as a reporter for The Honolulu 
Advertiser. Four years later, he was lured away to a public relations job, where his penchant for attention-getting promotions would blossom.
His greatest was the February 1954 effort to help Hawaii gain statehood. Buck convinced the governor and important politicians to march down Bishop Street with a Dixieland band. He unrolled a spool of newsprint a block long on Bishop Street for people to sign the Statehood Honor Roll. The petition gained 120,000 signatures in fifteen days. Buck personally took the 250-pound roll of paper to Washington, D.C. The territory of Hawaii had to wait until 1959 for approval as a state, but Buck's promotion remained unforgettable.
He left the public relations business in 1955 and took a cut in pay to return to his true love—the newspaper. He was named city editor of The Advertiser and helped revitalize the staff.
As his boss would later recall "He was more interested in people than things. He knew what moved people, what opened doors. His management style was to motivate by suggestion and by earned praise, rather than by order. In short he knew how to get things done."
Buck flourished during the "show-biz" era of journalism. He interviewed every president from Herbert Hoover to Ronald Reagan, missing only Gerald Ford. He talked his way into General Douglas MacArthur's Tokyo headquarters, interviewed Madam Chiang Kai-Shek, had a Death Row conversation with Caryl Chessman at San Quentin, held hands with Helen Keller, lunched with Shirley Temple, and was one of the biggest fans of the Queen of the Fan Dancers Sally Rand. He drove around the streets of Honolulu with Jackie Kennedy in a red convertible. Buck played softball with Arthur Godfrey, was served drinks by John Wayne, and got a slap on the back from Clark Gable. The author John Steinbeck gave him an Irish Blackthorn pen with this note: "To my friend Buck Buchwach, who carries nicely that intoxicating smell of fresh ink."
Buck had seven children in all. A colleague described him as "a proud father who delighted in reciting the accomplishments and sharing the writings of his children as they moved through schools into adulthood."
Buck is remembered for his mentorship of writers and of others in the business. He is credited with discovering household advice columnist "Heloise" and later getting her column "Hints from Heloise" syndicated in 1961. He began developing local-born, non-Caucasian staff members, a major change in Hawaii journalism. He also helped organize Hawaii's Society of Professional Journalists chapter in 1983 and served as its president.
He supported a number of projects to benefit charities; with Hawaii entertainer Carole Kai and Honolulu Marathon founder Jack Scaff, M.D., in only ten weeks he organized and promoted the inaugural Great Aloha Run, which attracted almost 12,000 runners, setting records for the world's largest first-time running event. These days, the state's largest race averages about 20,000 participants annually and has raised about $6.5 million for more than 100 charities since its creation.
He would write The Hawaiian Cookbook in June 1974.
At The Advertiser, Buck moved from city editor to managing editor, and later executive editor and editor-in-chief, holding the latter position for more than two years before retiring in February 1989. His twenty-five-year battle with heart problems ended with a massive heart attack on September 3, 1989. He was sixty-eight.
Buck's promotion skills never deserted him. He managed to die on a slow news day, so his colleagues, including those on the competing Star-Bulletin, were able to give him the sendoff he deserved. An article written by Gardiner Jones for The Advertiserremembered him thus: "the effect of newspapermen and newspapers is, more often than not, indirect and not clearly observable. But certainly Buchwach and his editing played a major role in island history since World War II."