2014 Hall of Achievement Inductee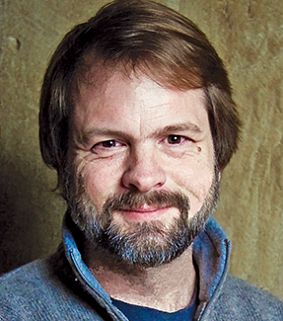 Oregon native Brent Walth started his journalism career at Milwaukie High School. He followed the guidance of his advisor, Bill Flechtner, to attend the University of Oregon School of Journalism and Communication. He graduated from the UO in 1984 with a bachelor of science in journalism and political science. He was able to combine his two majors, covering the Oregon Legislature for the Daily Journal of Commerce when he was 23-years-old.
He worked as staff writer for Willamette Week and as the state Capitol bureau reporter for The Register Guard. In 1995, The Oregonian hired him as Washington, D.C., correspondent. He later served as a senior investigative reporter on the newspaper's projects team.
In 2001, Walth and Rick Attig '83 were part of a team from The Oregonian to win the Pulitzer Prize for Public Service for their six-part investigative series, "Liberty's Heavy Hand." The series exposed grave injustice and abuses committed at the U.S. Immigration and Naturalization Service. The public outcry brought by the piece led to profound changes in Immigration and Naturalization Service policy.
He is the author of highly acclaimed 1994 book, Fire at Eden's Gate: Tom McCall and the Oregon Story, a biography of Oregon's environmental governor. In 1995, President Bill Clinton applauded Walth's book, calling it "a remarkable biography of the remarkable Oregon Governor Tom McCall."
His work has been cited in books and appeared in the 2006-07 edition of the Best Newspaper Writing. He is a five-time winner of the Bruce Baer Award, Oregon's top reporting prize; recipient of the Gerald Loeb Award, the nation's highest prize for business and financial reporting; and a finalist for the 2000 Pulitzer for explanatory reporting. In addition, he has won more than two dozen regional awards.
He received the University of Oregon Alumni Association's Outstanding Young Alumnus Award in 2002 and founded the Civic and Watchdog Journalism Scholarship in 2008, which is awarded yearly to a student who plans to pursue investigative reporting.
As a Nieman Fellow at Harvard University in 2006, Walth held the Louis Stark Fellowship for the examination of labor and workplace issues. As a fellow, he studied the causes and consequences of the widening income and wealth gaps in the United States, and the ways in which the media cover issues of economic disparity.
In 2011, Walth returned to Willamette Week to become the newspaper's managing editor for news.
He lives in Portland with his wife of 21 years, Shannon, and their 14-year-old son, Griffin.