2015 Hall of Achievement Inductee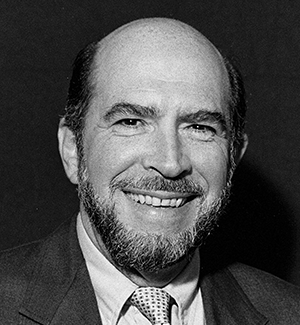 They called him gentle and steadfast, a powerful mentor and an outstanding scholar. They remembered his wry humor and his love for learning. They raved about his homemade chocolates and caramels, and the moments spent sharing them in his company.
This past January, as word spread of Arnold Ismach's death at age 84, dozens of friends, colleagues, peers and students of the SOJC's tenth dean posted messages of remembrance on Facebook. The notes revealed the remarkable breadth of Ismach's reach and impact, both within and beyond the walls of Allen Hall.
There were stories of encouragement: "Arnold helped this rookie journalist feel not only that she was in the right place, but that she had something valuable to say."
And messages of thanks: "Good-bye to a fantastic teacher, great mentor, legendary dean, and fellow chocolate lover. Thank you for being a role model."
And tributes to his far-reaching career: "Count me as one of many who will miss his wit, conscience, and support of Planned Parenthood and ACLU and SPJ and City Club… Rest in peace, Arnold."
Ismach served as dean from 1985 to 1994, leading the school through a period of rapid transition as student enrollment grew and journalism's digital age beckoned. Known as a deft fundraiser, Ismach established the School's first endowed professorships, added the first computers to classrooms, increased student scholarships, and developed an early vision for the renovation and expansion of Allen Hall. He also worked to strengthen the School's research tradition, hiring new faculty and laying the groundwork for the addition of a doctoral program.
"Arnold was very determined, and yet too elegant to be labeled stubborn," says Duncan McDonald, who succeeded Ismach as dean. "Whatever the faculty and the school needed, he stuck with it."
For all his achievements as an administrator, Ismach never lost his joy for teaching students, which he continued to do for six years after retiring from the deanship. Ismach's son, Ricardo, says that working with budding journalists helped his dad regain a belief in the profession's power to inspire change — a belief that had somewhat faded during his early career as a newspaper editor. "I think he recaptured the sense that journalism can bring light to things and change the world for the better," Ricardo says. "The constant exposure to bright, young, not-yet-jaded students helped him maintain some realistic optimism."
Ismach poured that optimism into a seemingly endless list of pursuits and passions. During his time at the UO, Ismach served terms as director of the Oregon Newspaper Publishers Association, the Oregon Association of Broadcasters, and the Greater Oregon Chapter of the Society of Professional Journalists.
He also became closely involved with civic organizations around town, taking on volunteer and leadership roles at Planned Parenthood, the Oregon Hillel Foundation, the ACLU of Oregon, and the City Club of Eugene.
Still, for all Ismach's official functions, he may be best remembered for the countless acts of kindness and friendship that endeared him to the university community. His Facebook page remains a tribute to that legacy, preserving the memories of Ismach's wit, humility, and passion — and his chocolates, of course. Nobody forgets the chocolates.
"He was probably best known for those," jokes McDonald. "When Arnold entertained, people didn't much care what they were eating for dinner. They wanted the dessert."