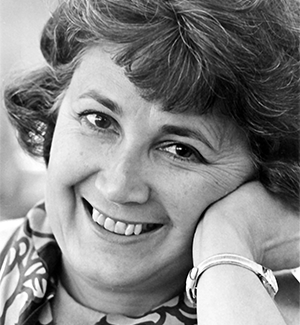 Ann Sullivan might object to being described as a feminist, or, as one obituary put it, "an iconic woman in Oregon journalism history." But her fifty-one-year career at The Oregonian served as an inspiration for many women who aspired to their own newspaper careers.
Ann Sullivan was born as Anna Mae Halverson in 1918, in Wheatville, Minnesota. Her family moved to Oregon in 1931 and she attended Multnomah Grade School. A straight-A student, she graduated from Jefferson High School, where she served as editor of the school paper.
She worked her way through the University of Oregon, performing odd jobs like waiting tables, sorting cucumbers for pickles, and grading papers. She married Charles Sullivan in 1941. They divorced about ten years later.
In 1942, she earned her degree in journalism from the University of Oregon. She worked briefly for United Press before The Oregonian – facing a wartime shortage of men in the newsroom – hired her for $25 a week the same year. She shortened her name to Ann Sullivan to fit the byline space in the newspaper.
It was, as Oregonian reporter Tom Hallman Jr. has described it, a "freewheeling era" for newspapers – cigarettes, booze, and the clack of typewriters characterized the newsroom where she was the only woman. One of her colleagues, a police reporter, was a fellow University of Oregon graduate named Tom McCall.
Sullivan was assigned to the city desk and energetically reported anything that came her way, including fires, police stakeouts, car crashes, and murder trials. She was so good that, when men returned from the war, she remained on the city desk.
The late J. Richard Nokes, who in 1982 retired as editor of The Oregonian, said he considered Sullivan a "star reporter," covering welfare, medicine, science, major courts, and county government simultaneously.
One of her longtime colleagues, the late John Guernsey, once described her as having "more guts than an Army mule."
She was a reporter on many of the "big" stories in Oregon during her time on the city desk. She covered the 1961 murder trial of child-killer Jeannace June Freeman.
She covered early open-heart surgeries at Oregon Health and Science University, and science writing became a passion. She won several awards for her medical writing and was cited in 1982 by the Oregon Medical Association for forty years of journalistic excellence in medical writing.
One of her biggest stories was the Oregon State Penitentiary riot in 1968; she was credited with helping to bring the riot to a peaceful conclusion, negotiating with her sources inside the prison for the release of hostages. For this story, she was nominated for the Pulitzer Prize. Another memorable story was a Northwest Magazine retrospective on her former colleague, Oregon governor Tom McCall, in 1982.
She did all this while raising two daughters as a single mother.
Throughout her career, many women considered her to be an inspiration, although she personally disdained the women's liberation movement, saying she herself didn't feel any prejudice.
She was well-known for having her own way of doing things – and a famously messy desk. She retired in 1993 at the age of seventy-four, after fifty-one years.
When asked how she'd like to be remembered, she said, "Tell them I was a reporter."
Ann Sullivan died in 2008 of congestive heart failure at the age of eighty-nine.