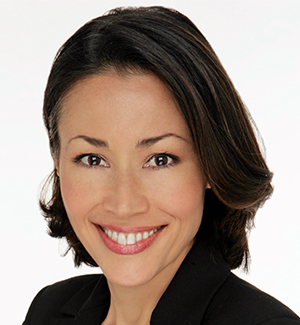 When Ann Curry started out as a television reporter, more than a few obstacles stood in her way. As a woman, she was entering an industry where a news producer once told her that women couldn't be reporters because they lacked news judgment and couldn't carry the camera. As a woman of color, she was entering an industry where, as she told Proud magazine, no one on the news shows she watched as a child even remotely resembled her.
"But the one thing anybody who knows me well will say about me," Ann explains "is that if you give Ann Curry a challenge, if you tell Ann Curry she can't do something, then she is going to show you that she can."
Curry's determination was nurtured by parents who, when faced with their own obstacles, refused to give up. Her mother, a Japanese rice farmer's daughter, and her father, a son of a single parent during the Depression, got married despite the racism of the time and raised five children, encouraging them to aim high. Heeding her father's advice to do work that made a difference in people's lives, Curry found increasing success in a fiercely competitive industry.
Curry has been widely recognized for her work. Among many awards, she has earned two Emmys—one for her coverage of the October 1987 Los Angeles earthquake and another for her coverage of the explosion of a gas pipeline in San Bernadino—as well as four Golden Mike Awards. She received the NAACP Award for Excellence in Broadcasting and the Japanese American National Museum Award for Excellence.
"Ann is the consummate professional," says Al Roker, one of her Today Show co-hosts.