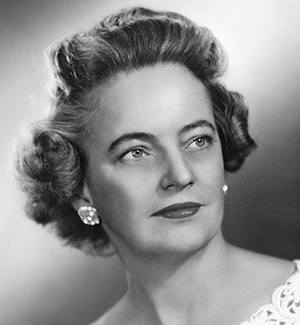 As one of her former students recently noted, if journalism is a calling, then many fine journalists working today first heard the call from Alyce Sheetz. She was not simply a teacher but a beloved adviser, mentor, counselor and booster.
Perhaps Sheetz motivated so many young people because rather than seeing high school journalism classes as "toys," she embraced their potential as a place to develop practical skills. Or perhaps it was because she was uniquely capable of getting students to share her belief that journalism is a "tremendously exciting field."
Whatever the reason, Sheetz along with her students soared.
Her commitment to journalism excellence was recognized in South Eugene High School's student news paper The Axe, which earned nine All-American and Medalist ratings and a high school Pacemaker Award, given to the nation's best high school newspapers.
Her exemplary teaching earned Sheetz national awards including the Golden Key Award from Columbia University, the Pioneer Award from the National Scholastic Press Association, the Medal of Merit from the Journalism Education Association and the Carl Towley Award for outstanding achievement in scholastic journalism.
But perhaps more than journalism and teaching awards, Sheetz' greatest legacy are the students she helped guide. Steve Smith, editor of The (Spokane) Spokesman Review, says he owes his career to the woman students called "Sheetzie." According to Smith, in every class from Day One, Sheetz taught ethical, professional journalism and a commitment to craft.
When Sheetz left South Eugene High in 1969, she continued her efforts on behalf of journalism and journalism students as an assistant professor in the SOJC, as the editor of Old Oregon and as the director of the Oregon Scholastic Press sponsored by the University of Oregon.
Her students went on to apply the lessons she provided in a variety of fields.
Robert Hulteng, a partner in a San Francisco law firm, says of the teacher he had from 1967 to 1969, "I realize that less weight may be given to the opinion of one who strayed from the path of professional journalism," Hulteng notes. "Nonetheless, I can attest that the training I received as a journalism student and editor at South Eugene High School was invaluable. Digging out the facts, identifying the lead, respecting the deadline—these are all things I still do every day in a legal practice. Throughout 17 years of education at various levels, I know that I never had a better, tougher, fairer or more giving teacher than Alyce Sheetz."