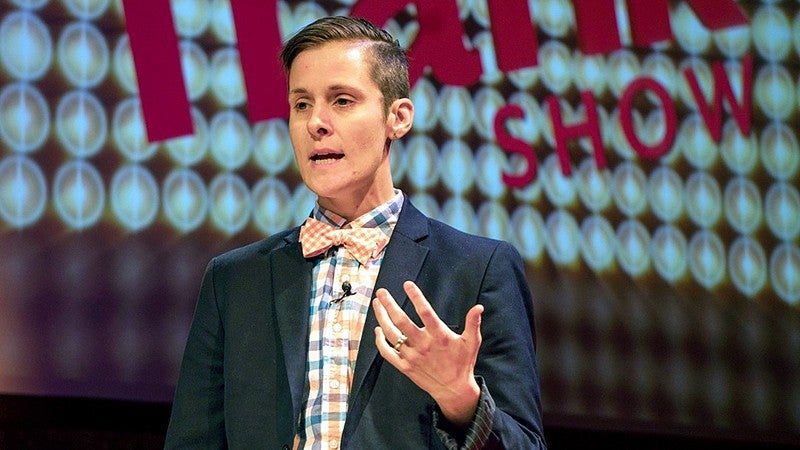 How can strategic communication influence social change in politics, policies and pop culture? As an associate professor of public relations and a researcher in the Stan Richards School of Advertising and Public Relations in the Moody College of Communications at the University of Texas at Austin, Erica Ciszek, PhD '14, looks at the role of strategic communication in understanding gender, LQBTQ issues and much more.
 
Before enrolling in the UO School of Journalism and Communication's (SOJC) doctoral program, Ciszek wrote for gay newspapers and magazines in Boston, worked at public relations and advertising industries and interned at Comedy Central. The SOJC was where Ciszek truly discovered what she wanted to do: enact social change through strategic communication.
What did you study at the University of Oregon?
I did my PhD in Media and Society between 2010 and 2014.
Why did you choose the UO?
The university, the opportunity to live in the Pacific Northwest for a couple of years. I sort of just jumped into the opportunity unknowing what it would hold.
What has your career path been so far?
I did undergrad at Colby College, and I graduated there in 2008. Then I went on to do my master's degree at Boston University, and I worked concurrently doing a variety of different jobs, all of which were in communication fields. I interned in my undergrad and grad school for a gay newspaper in Boston, I wrote for a gay magazine in Boston, I interned at a public relations agency, I interned at Comedy Central. I didn't know what to do after my undergrad, so I continued onto my master's.
After I finished my master's, I worked in advertising at MullenLowe U.S., a pretty well-regarded agency owned by Interpublic Group. I worked in advertising for a bit, and then I decided to do a fundamental shift in terms of who I was and what I valued. I decided to pursue my PhD, so that's how I ended up at the University of Oregon. After the UO, I got my first job at the University of Houston, and I was a faculty member there for four years. I'm currently in my third year teaching at the University of Texas at Austin. 
What drew you to public relations and strategic communications?
My research interest focuses on social change and strategic communication, so I realized any shift in policy, politics or pop culture requires well-thought-out, articulated, executed and intentional work.
I became interested in the forces behind those changes. There are many moving pieces behind those entities' production, whether it's public policy, entertainment or communication forms. So that's how I became interested in exploring the creation of those changes and shifts. 
What are some of your goals for the future?
I am in the process of going up for tenure next year, so I'm just working on publishing some research, with lots of different projects in the pipeline. The most recent work I focused on is the role strategic communication plays in how we understand gender.
I take it from the perspective of folks' experiences on the margins of gender, particularly gender-diverse and trans folks who are working in communication spaces, and how they influence public discourse in the representation of genders in communication media. I'm also thinking more about how we develop a theory that is more centered on social justice. I've also researched the role of brands and brand activism related to LGBTQ issues and publics.
How did your time at the UO prepare you for what you do now?
The faculty and staff in the SOJC were fundamental to my experience and the outcomes of my experience there. I had a fantastic advisor, Pat Curtin, and the other folks in my PhD cohort were central to my time there and my experience there.
Who are some faculty members at the UO you remember influencing you the most?
I was Deb Morrison's teaching assistant on several occasions. Deb Morrison was essential in terms of pedagogy and learning how to be an effective educator and resonate with students. I was Kelli Matthews' teaching assistant for a couple of semesters. She played a pivotal role in that as well. I fondly remember going out to Rennie's after one of our PhD classes with Janet Wasko, Leslie Steeves, and Bish Sen.
What is a piece of advice you'd give someone beginning their public relations career?
To get as much experience as possible, do all the things all the time. Even if you think you're going to hate them, those are usually the most productive moments of self-learning.
— By Joanna Mann '20
---
Joanna Mann is a senior majoring in journalism with a minor in music. During her time at the SOJC, she worked as an intern at Eugene Weekly, was a news reporter for the Daily Emerald, and worked as a writing intern for the SOJC's Communication Team. She enjoys working in print journalism with a focus on local news, arts, and culture. You can view her work at joannamann.com.