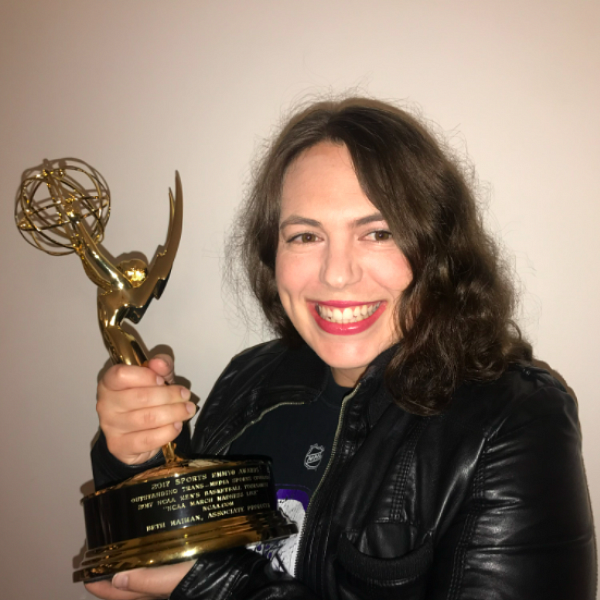 Beth Maiman '15 has first-hand experience with the challenges of being a woman in the male-dominated world of sports reporting.
As a sophomore journalism student at the University of Oregon School of Journalism and Communication, she worked at the Daily Emerald newspaper as their only female sports reporter. Maiman eventually became the sports editor for the newspaper in her junior year.
She worked with SOJC professor of practice Lori Shontz to start Oregon's student chapter of the Association of Women in Sports Media (AWSM) in 2014. The organization helps women pursue a career in sports media by offering them guidance and mentorship.
Maiman graduated from the UO in 2015 and currently works as a digital producer for the NCAA Digital and March Madness Live. All of her hard work on March Madness paid off in 2017 when her team won an Emmy for Outstanding Trans-Media Coverage for the NCAA Men's Basketball Tournament.
How did you become interested in sports?
Growing up in Los Angeles, my dad would take me to the Los Angeles Kings hockey games and the University of Southern California football games. I fell in love with sports as a result.
When I was in preschool, they asked me what I wanted to be when I grow up. I said a football player, and I still laugh when I think about it. I obviously wasn't going to grow up to be a football player. Working in sports is the next best thing for me.
Why did you decide to start a student chapter of the AWSM at the University of Oregon?
It's very common to be the only woman in a media scrum covering sports. I was working on a paper about women in sports for my Gateway class. Through my research, I discovered AWSM and saw they had student chapters and read more about the association's goals and what they do to help women break into the industry.
I thought it would be good to have a community for women interested in working in sports to talk to others, challenge each other, motivate one another, and provide mentorship.
What do you love about the community you've found through the AWSM?
It's connected me with so many people not only in a professional way, but I've made a lot of friends through AWSM. Now that I'm out of college, I have mentors who can help guide me through my career.
How do your journalism skills and past internship experiences influence your reporting?
The SOJC provided a strong foundation for me to learn the basics and principles of journalism, media ethics, media law, interviewing, and reporting. I took some of the skills that I learned in classes and applied them to jobs.
The opportunities I had in school definitely helped me get to where I am today. I don't think I would be where I am if I didn't have those opportunities back in Eugene.
What was your journey to NCAA digital?
I interned at CNN in the sports department during college, and CNN is under the Warner Media umbrella, which is part of Turner Sports. They produce March Madness and NCAA Digital. I met some people at NCAA Digital during my CNN Sports internship while I worked there.
During my senior year of college, I took Lori Shontz's Sports Bureau class. I wrote a story on the Prefontaine Classic program, and our final was covering the NCAA Division 1 Track and Field Championships. She set the course up so we could freelance for media outlets and produce clips for our portfolios.
I reached out to people I knew at NCAA Digital through my internship at CNN Sports and asked if they wanted coverage of the event. Since they are based in Atlanta, they were happy to have someone in Eugene covering it. I freelanced for them during the four days of the NCAA Division 1 Track and Field Championships in Eugene. Flash forward two years, and I'm applying for a job on the team.
Since I covered the NCAA Division 1 Track and Field Championships, I already knew people who worked at NCAA Digital and had connections with them.
What advice do you have for people that want to work in the sports industry?
They have to be willing to put in the work and take any opportunity they get. Do a good job, stay motivated, take skills you learned from previous internships/jobs, and apply them to your next position.
For females specifically, I would say it's true that because of the way the world is, sometimes people will question you because they don't understand how a woman can like sports or know sports. That often means you have to be right more times than wrong. You have to do your research and come armed with information. It can sometimes be exhausting but don't let that get you down because there are amazing females in sports media that continue to pave the way for the next generation.
— By Alli Weseman '22
---
Alli Weseman (she/her/hers) is a first-year student in the SOJC's multimedia journalism master's program in Portland. She has freelanced for Portland Monthly Magazine and hopes to work in a newsroom one day.