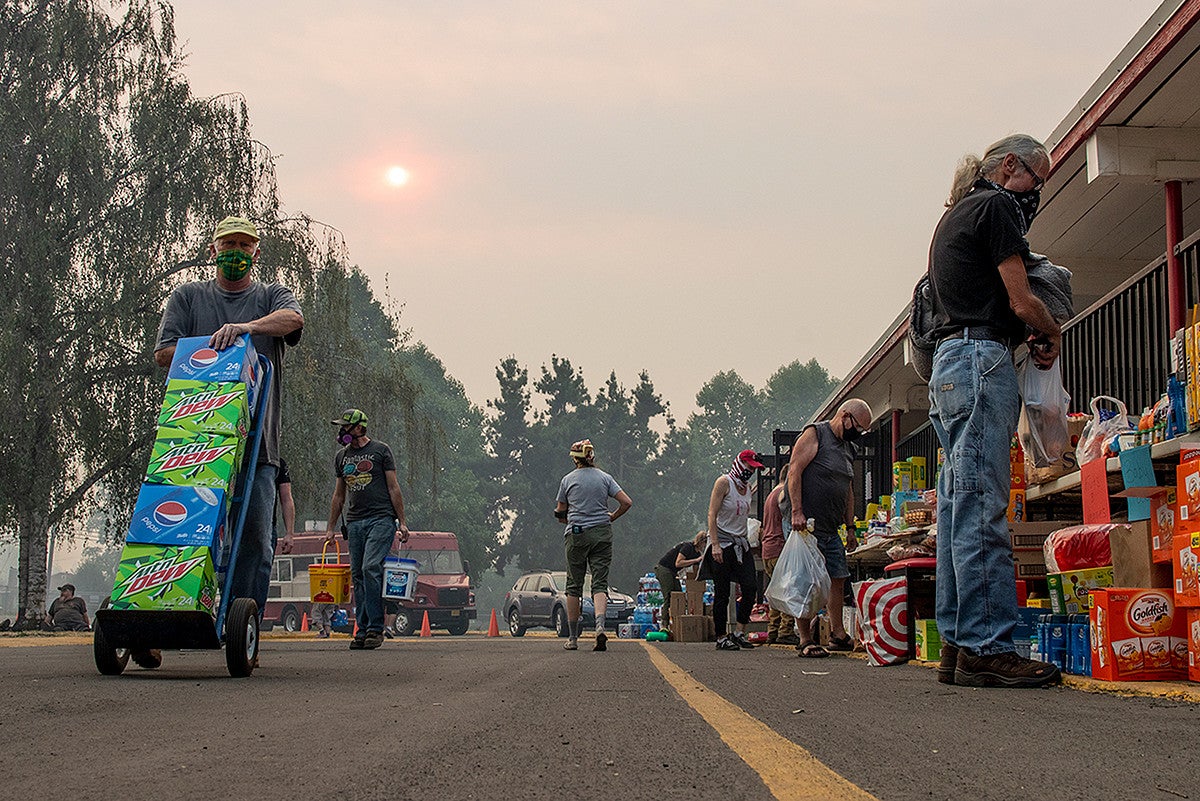 Dan Morrison is well versed in covering conflicts. He photographed the Israel invasion of Southern Lebanon, the Angolan Civil War and the War in Afghanistan. He even lived among cannibals in Papua New Guinea.
He can tell you when a split-second decision saved his life and when it is best to leave a situation before it turns dangerous.
"If you going to go to these events, things happen fast, and you have to be on your 'A' game," Morrison said. "And if you don't want to be there, you shouldn't be there."
As a photojournalism senior instructor at the UO School of Journalism and Communication (SOJC) and a freelance news photographer, he has mentored and trained many students who want to become photojournalists. Once they feel comfortable covering stories out in the field, Morrison helps them freelance for KVAL in Eugene, where he has worked for 15 years.
During pre-pandemic times, they covered campus and community events — sports, parades, public speakers. But after George Floyd was killed in police custody and protests erupted worldwide, SOJC students wanted to document what was happening around the state.
When the students were determined to cover protests in Eugene and Portland as freelancers, Morrison gave them safety and preparatory tips, such as introducing themselves to the local leaders who organized the events. He offered guidance on what they should carry in their press kits: a gas mask, a bulletproof vest, a tactical helmet, full medical equipment, and a baking soda solution to rinse their eyes out in case they were tear-gassed. As they prepared to go out in the field, he also reminded the journalists to keep their press identification visible and stay vigilant.
"Dan's guidance was very helpful, and it was encouraging for him to see the work and say, 'This is quality here,'" said SOJC journalism senior Austin Johnson '21. "It was also kind of like a rite of passage being able to throw yourself into that situation and find out you're going to swim instead of sink."
As summer turned to fall, wildfires broke out in Southern Oregon, forcing people to flee from their homes with only a moment's notice. Morrison worked with recent journalism grad Payton Bruni '20 to cover the Holiday Farm Fire for KVAL and gave him pointers on how to cover an unfamiliar and sensitive subject.
"He told me not to go anywhere where you aren't supposed to or get in the way of firefighters doing their work unless you're certified and working with the public information officer," Bruni said. "The last thing you want to do as a photojournalist is go out there as a freelancer, no name, not organize with the PIO and inhibit the work firefighters are trying to do to save people's lives and homes."
After finishing up his photo assignment at the Thurston Evacuation Center, Bruni got a notification on his phone that residents in the Mohawk and Marcola Valley received a Level 3 evacuation notification to leave the area immediately. He decided to go into the town to document the eerie scene.
"The entire town is deserted, and you're aware that you're standing in an area that just got a Level 3 evacuation, so it kind of makes your skin crawl as you're out there taking photos," Bruni said. "I've learned more than I ever thought I would  from this experience."
Their school year may have been interrupted by COVID-19, but that didn't stop these reporters from using their skills to document a historic time in Oregon's history.
"These guys are lucky in the sense that if they want to do work in areas of conflict, this is the way to find out if they liked doing it," said Morrison. "If they do like doing this, they know how to do safely and get out alive."
— By Alli Weseman '22
---
Alli Weseman (she/her/hers) is a first-year student in the SOJC's multimedia journalism master's program in Portland. She has freelanced for Portland Monthly Magazine and hopes to work in a newsroom one day. You can find more of Alli's work at alliwesemanphotography.com.