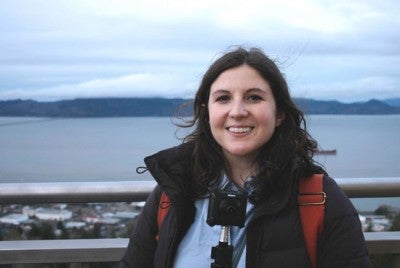 Story by Carleigh Oeth, BA '17
Photos courtesy of Rachel Bracker
Virtual reality and 360 video are quickly gaining momentum as the state of the art in multimedia storytelling technology. But they're not just a flash in the pan. These new platforms have the power to immerse viewers in a story that was not possible just a few years ago.
As a result, the demand for journalists and content producers with VR and 360 video skills is on the rise.
Rachel Bracker, MA '16, a recent graduate of the UO School of Journalism and Communication's Multimedia Journalism Master's program, has already found her place in this growing industry with 360 Labs, a Portland-based production company that seeks to create meaningful experiences through immersive, 360-degree video.
"I didn't go to the MMJ program thinking I would go into virtual reality — it just kind of happened," Bracker said.
Bracker initially graduated from the UO with a bachelor's degree in international studies. But after working with a small video production firm for a few years, she decided to apply for the SOJC's Multimedia Journalism Master's program to shift her career trajectory in the direction of journalism.
We sat down with Bracker to talk about what she learned in the MMJ program and what it's like to work in VR.
Why did you apply for the Multimedia Journalism Master's program?
I knew I was interested in journalism during my last term at UO. When I moved to Portland, I was looking to grow my skills as a videographer, editor and director.
After doing freelance client work for enough years, you definitely feel there are certain stories you aren't going to be able to tell because a client doesn't want to tell that story.
Also, I wanted to do a career path pivot into journalism. I don't think you go into the program knowing everything, and if you think you do, you're going to find out pretty soon you don't. You can grow.
Did any experiences you received in the MMJ program shape the course of your career?
Working at 360 Labs and Recode were opportunities I only had because of the MMJ program, which was huge. Also, the flexibility of the program is so cool. There are all kinds of opportunities, so if you're interested in something, they make it happen. Faculty in the MMJ program support you and find a way to incorporate it into your education. They offer a lot of workshops based on what people are interested in right now.
How did you end up working for 360 Labs?
[In the MMJ program,] I said I really wanted to get into VR, but we didn't have a class on that at the time. I asked if there were any contacts in Portland who work in this industry who they can introduce me to so that I could do an independent study or internship there. That's how it happened. When you're in a graduate program, there are doors that are going to be open to you that wouldn't otherwise be open.
When I graduated, I started working for [360 Labs] on a freelance basis, so it translated into a career opportunity. It was so cool. It's one of the things I'm most grateful for from the grad program.
How did the MMJ program help prepare you for your job?
I learned a ton of technical stuff. That was something really cool about the MMJ program: The faculty are very forward-thinking and accommodating to individual students in terms of what they want to pursue.
I also learned a lot of properties of editing in the program. We spent time watching a lot of really great examples. I think any time you watch really great work, you're going to be influenced in your own editing. Also, you're working with a bunch of other people — you take your project in rough-cut form, and you have this feedback session. Every class does this. It was one of the most valuable things. You have this whole room actively thinking about constructive feedback for you and coming up with great ideas — the faculty too. I learned so much from their feedback and response. I still reach out to people in my program for advice.
What do you do at 360 Labs?
I do primarily editing right now. They use cameras where they output one file per camera, so stitching and syncing are really important to get those to become a 360 video. It's a bit cumbersome and technically difficult. With 360, you're always going to have parallax where it's never 100 percent a perfect image. (Every 360 video you see out there right now, if you look closely you'll see those funny little areas — sometimes you don't even have to look that hard!) So I work on refining those areas. After that, you render it all out into one file. From there, editing isn't really much different from traditional video.
Bracker came back to help the MMJ program lead a 360-video workshop in the fall. 
Would you say making VR more real or more immersive is an obstacle in the industry?
There is definitely an obstacle with that. The immersiveness of VR is going to depend on what setup you're using, where you are and how you're accessing it. If you have an Oculus Rift [VR headset], great — it'll look pretty darn good. I think there's a price point that makes it difficult to have the best quality, but I don't think that should be a barrier for anyone who's interested. You need to experiment and start creating, because the technology is going to catch up with us.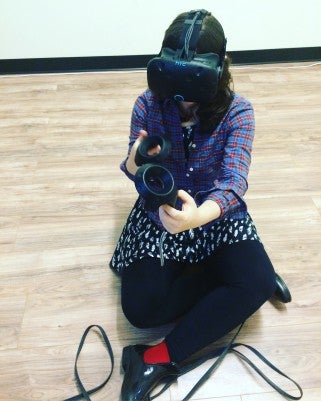 What do you think is the value of 360 video? What does it offer that standard video does not?
You can feel more connected to subjects presented in 360 because of the immediacy of feeling, like you are truly transported to a place. I think on certain issues, seeing something for yourself is going to bring home a message that written words — or even traditional video — might not convey.
I also think it's interesting to think about how the interactions might be more natural and authentic than with three camera people and huge setups and tripods. The footprint of 360 can be so small, so I'm really excited about that and how the subjects feel more like themselves. Once you're aware that you're being filmed or monitored, you stiffen up a little bit. So anything that helps erase the barrier has potential to connect audiences in a compelling, visceral way.
Does 360 video raise any new ethical issues?
There could be ethical issues, but I don't think we should just give up and not try. Let's figure out our new code of ethics for this medium as we go. The ethics behind it is a huge part of it.
A professor expressed to me that when a new technology comes out, we feel immediately that the ethical implications are automatically negative, but it's just a heightened awareness of what it can do — an awareness that might have been dulled from years of consuming print and traditional media that we should have as readers. We should have a healthy amount of skepticism about how the information is brought to us and portrayed. We have this awareness with VR because it's so new, and it's kind of a positive thing. I don't think the answers are all negative.
Do you have any advice for current SOJC students or anyone considering the MMJ Master's program?
I've actually been thinking about this. Your education is your investment in yourself, and as much as you might think, "I don't have the skills to do this, I don't know about that," this is your time to learn and think strategically about what you would like to do. I was not a technical person on the outset … but I've had to become more of a technical person to pursue my career interests. So my biggest piece of advice is to look at the skills you might want to develop and make an investment in yourself to learn those skills, and think strategically about what you could do in your career once you graduate. Don't limit yourself; the opportunities are there if you want to pursue them.
My second piece of advice is: If the course you want doesn't exist, talk with the faculty and let them know that it's something you're interested in learning, and someone is going to find a way for you to do that, because that's what they care about. Look for what you want to strategically enhance your skills.
What does the future hold for you?
We'll see what the future holds! Something I'm really interested in doing [with 360] is going out and making short documentaries, separate from client work, about stories that are interesting in our local communities. I've learned a lot in the program that helped me, and I'm so grateful for it. I want to work more with 360 labs and fulfilling that role, and then I'm definitely interested in the short documentary VR work. I'm interested in a lot of cool things going on around Portland and I'd love to share those stories. The New York Times loves 360 — they have one of those videos up every single day! I think for anyone who loves 360 video, that's a great opportunity.
---
Carleigh Oeth is a senior studying journalism in the SOJC. She is from Portland, Oregon, where she held an editorial internship with the city's local arts magazine, Artslandia, during the summer of 2016. This is her first year as a part of the SOJC's communications team, and she is also working as an associate editor for the Daily Emerald. You can view some of her work on her online portfolio and visit her on Instagram @carleighoeth.